Aquafitness
Our Aqua programmes are a fun way to improve your overall health and fitness in a low impact environment that reduces the strain on joints and muscles. Taught to music by our professional instructors, there are classes suitable for all levels of fitness and are payable on a casual basis.
Final classes for 2023 - Friday 22 December
Classes resume Monday 8 January to a reduced timetable.
Normal timetable resumes Tuesday 23 January
Summer Group Fitness AquaProgramme
Coastlands Aquatic Centre
| | | |
| --- | --- | --- |
| MON | AquaHigh | 9.15am |
|   | AquaLow | 10.30am |
| TUES | AquaDeep | 9.15am |
|   | Sit n Be Fit | 1.00pm |
| WED | AquaHigh | 9.15am |
| THUR | AquaDeep | 9.15am |
|   | AquaGroove | 7.00pm |
| FRI | AquaFit | 9.15am |
| SUN | AquaZumba | 9.00am |
Waikanae Pool
| | | |
| --- | --- | --- |
| MON | AquaHigh | 9.15am |
| TUES | AquaHigh | 7.00pm |
| WED | AquaHigh | 9.15am |
| FRI | AquaHigh | 9.15am |
Otaki Pool
| | | |
| --- | --- | --- |
| MON | AquaHIIT | 6.15pm |
| WED | AquaFit | 6.15pm |
| THUR | AquaFit | 9.15am |
| FRI | AquaFit | 9.15am |
To book, email [email protected] or call 04 296 4746.
Feel the joy of rediscovering exercise…
Take the next step in your journey to health and wallow in the sensation of awakening your stronger, more flexible body.  This lovely low impact class in deliciously warm water will remind you what it feels like to 'Move'.  Our professional, experienced instructors want to share their love of exercise and knowledge of movement with you.  They will ensure your technique is sound as you become aware of correct posture and how to engage it.  Importantly they will also focus on balance, strength and the one we all want more of… flexibility!
Ōtaki Pool
| | | |
| --- | --- | --- |
| MON | 10.15am | AquaMove |
| THURS | 10.15am | AquaMove |
| FRIDAY | 10.15am | AquaMove |
Coastlands Aquatic Centre - These classes require enrollment for a full term
| | | |
| --- | --- | --- |
|   | Time | Class |
| MON | 11.30am | AquaEase |
| TUES | 9.00am | AquaMove |
| | 9.45am | AquaMove |
| | 10.30am | AquaMove |
| | 12.15pm | Express Move |
| | 1.45pm | AquaMove |
| THURS | 12.15pm | Express Move |
| | 1.00pm | AquaMove |
| | 1.45pm | AquaEase |
| FRI | 11.30am | AquaMove |
Fun, Fun, Fun… 
Oh, and exercise too! Come along everyone – you truly don't want to miss these fabulous classes. Imagine this… fantastic music, engaged passionate knowledgeable instructors and lovely like-minded people all there to improve fitness, gain strength, and you guessed it… have fun! These are not your everyday fitness classes… these are specially designed AQUA fitness classes – where magical properties reduce stress on joints, and resistance during all movement facilitates a highly beneficial overall body exercise… and don't forget, the aquatic environment is also great for recovery from injuries! If you haven't tried working out in water, then you definitely should. We have a range of classes, and I know you'll find one that's suitable.
AquaLow: If it's moderate intensity, minimal impact you're after, AquaLow may just be the perfect class for you. We offer three 45-minute Low Intensity classes a week, designed with your joints in mind. Your knees will thank you as you enjoy the weightlessness and resistance of the water while improving fitness and toning muscles.
AquaHigh: If it's intensity, energy and a heart pumping workout you seek, try this class. You'll increase your cardio fitness, gain strength and tone muscles during a session where all exercises can be scaled to suit your ability. With four high intensity classes per week your fitness will improve in no time.
AquaDeep: Taught in deep water with buoyancy belts, this incredible class has no impact at all… but don't think for a second that you're not going to get a great workout! This is our highest intensity class and a favourite of many. Your core stability, endurance and cardio fitness will all be tested… but the results will be well worth it, and the fun will keep you coming back for more. We have two deep water classes available each week so come and give it a try.
Ōtaki Pool

| | | | |
| --- | --- | --- | --- |
| Monday | 9.15am | AquaFit | |
| | 10.15am | AquaMove | |
| | 6.15pm | AquaHIIT | |
| | | | |
| Wednesday | 6.15pm | AquaFit | |
| | | | |
| Thursday | 9.15am | AquaFit | |
| | 10.15am | AquaMove | |
| | | | |
| Friday | 9.15am | AquaFit | |
|   | 10.15am | AquaMove | |
Coastlands Aquatic Centre
| | | |
| --- | --- | --- |
| Monday | 9.15am | AquaHigh |
| | 10.30am | AquaLow |
| | 7.00pm | AquaHigh |
| Tuesday | 9.15am | AquaDeep |
|   | 12.15pm | ExpressMove (term time only) |
| Wednesday | 9.15am | AquaHigh |
| | 10.30am | AquaLow |
| Thursday | 9.15am | AquaDeep |
|   | 12.15pm | ExpressMove (term time only) |
| | 7.00pm | AquaGroove |
| Friday | 9.15am | AquaHigh |
| | 10.30am | AquaLow |
| Sunday | 9.00am | AquaZumba |
Waikanae Pool (during the summer season)
Mondays 9.15am
Tuesdays 7.00pm
Wednesdays 9.15am
Fridays 9.15am
Zuri Brudenell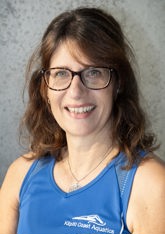 Hi, my name is Zuri (which in Swahili translates to mean 'beautiful').  In 2021 I was awarded "Yoga Teacher of the Year" by the Exercise Association of NZ – with over 30 years of teaching experience including qualifications in Exercise to Music, Step, Aerobics, Swiss Ball, Yoga, Zumba, Pilates and more.
I have a background in classical and modern contemporary dance and I once appeared alongside 'Mr Motivator' on the UK breakfast television show GMTV (my 15mins of fame!).
With a passion for health, fitness, and well-being I have the energy to motivate and inspire you.
My classes are FUN, enjoyable and safe – with options to suit many different levels.  The combination of great music, the gentleness of the water AquaFit is perfect for everyone so if you haven't tried it yet I highly recommended you come and give it a go
---
Caroline Jenkins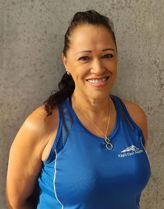 Passion changes everything
My passion for fitness started in 1985 when I began teaching Les Mills Group Fitness. Over the next 30 years I represented Les Mills as a Presenter, Trainer, Assessor and Group Fitness Manager.
I also Competed, Coached and Judged for the New Zealand Competitive Aerobic Federation.
3 years ago I discovered Aquafit and absolutely loved it. This challenging aqua workout was a surprise to me and I know you will be challenged and inspired by this fantastic program. The people, the movement and the music create a fun environment of change and wellness.
Discover Aquafit today.
---
Ambika Rethinavelu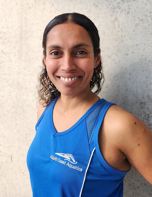 I teach a wide range of fitness classes and customized wellness programmes.
My passion for everything in fitness, wellbeing and living a healthy lifestyle from a very early age has taken me through this wonderful journey which I am fortunate to call "work"
My life outside of work is pretty much the same as being at work. I am always on the move, either walking my dogs, cycling, running outdoors, working on choreography for my fitness classes, cooking, baking and the list goes on.
---
Lana Jago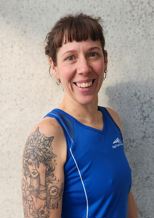 Hi, I'm Lana. I have a Masters Degree in Health Psychology and 10 years' experience as a health and nutrition coach, and I love empowering people to optimise their health and wellness.
 My real passion for health began 20 years ago when I was diagnosed, and became seriously ill, with a chronic health condition. Recovering from a lengthy hospital stay and two major surgeries taught me the true value of my health, and gifted me (at the ripe old age of 23!) the understanding of what it really takes to build and maintain it. I believe health is something we should never take for granted, but also that ageing (according to society) is a myth that I'm committed to debunking!
 I love teaching AquaFit because I'm passionate about supporting people in their wellness journey and making a difference in our community...and because it's just so much FUN! I bring energy and a smile to all of my classes, and I look forward to seeing you bring yours too.
---
Bernadine Rangi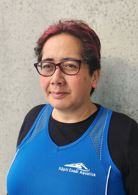 Kia Ora,  my name is Bernadine, and I have always been passionate about health and fitness for as long as I can remember.  My interests have included strength training, walking, aquajogging, and dance.
 I have been a group fitness instructor for 10+ years in New Zealand and Australia in both gym and community settings.  I have taught several fitness programs, including Zumba and Groove.
 I look forward to sharing your Aqua fitness journey with you.
---
Nakita Humphreys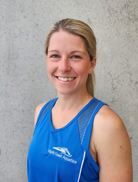 I'm Nakita and I have recently discovered the world of AquaFit! How freeing it is to move your body in the water!! I have been a group fitness instructor previously and getting into teaching AquaFit has brought me back to my roots of moving my body.

My classes a more fast paced, with a lot of laughs. Come along and move your body with me, it's all fun in the water! 
---
Alisha Gabrielsen  
My name is Alisha, and I am a very proud mother of my two beautiful children. They are my pride and joy and certainly keep me on my toes being very active and busy!
 I am so excited to be part of the Aquafit team having a background in dance teaching gaining a Certificate in Ballet Teaching Studies with the Royal Academy of Dance and a Diploma in Commercial Dance I have a huge passion for the performing Arts, health, fitness and exercise industry. I love passing on the joy of dance to all my students and am excited about adding some of those elements into my Aquafit classes.
 Come and join in the fun!
---
Sally Stopforth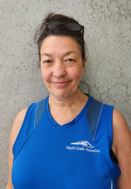 I have worked in the Dance industry as a performer, teacher, and choreographer here in both NZ and Australia. I moved to the Kapiti Coast in 2003 and have been teaching here both in dance and AquaFitness since. Here at the Aquatic Centre I am teaching AquaMove and introducing a new class, AquaGroove. A class that is not too fast and not too slow.
---