Digital toolkit
We have a range of digital resources available to our community through our digital inclusion work.
---
What's in our digital toolkit?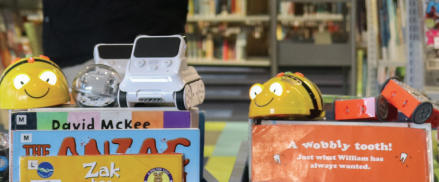 We have a range of cool equipment to educate and inspire, so whether you're into coding, creating or learning there's something to try out!
Coding kits
BeeBot – programmable robots; a perfect starting point for teaching control, directional language and programming.
Edison Robot V2 – programmable robots that empower students to become not just coders, but inventors, problem solvers and creative thinkers.
Drones
RoboMaster TT Tello Talent Drone – programmable drones with camera.
Electronic and coding kits
Makey Makey – an invention kit designed to connect everyday objects to computer keys.
JackBord – Jackbord is an all-in-one robotic, electronic, and programming teaching tool created by Jack Penman at JackBord Works Limited which is based in Waikanae.
Maker tools
Flashforge Adventurer 4 3D Printer – a creative, practical, hands-on way to learn about design, technology and problem solving.
Virtual reality headsets
Meta Quest 2 – immerse yourself in games, stories or history
---
Our digital direction
We're aiming to achieve four outcomes for the Kāpiti community through our digital inclusion work. These were set up by our former digital inclusion specialist, Dr Simon Laing.
Access
We want to provide the Kāpiti community with access to the world of information using the latest digital technologies.
Motivation
We'd like the Kāpiti community to be excited about connecting and engaging with the digital world.
Skills
We want to help make sure the Kāpiti community has the necessary capabilities to act within the digital world in a safe, productive and secure way.
Trust
Our aim is for Kāpiti libraries to be trusted by and engaged with our communities to make learning and the use of digital technology possible and accessible.
---