Matariki
Information and ideas for Matariki, the Māori New Year, a significant festival that is celebrated throughout Aotearoa New Zealand.
Matariki is a time to celebrate our land, our people, our culture and heritage.
Matariki at the Library
Each year, Kāpiti Coast District Libraries and the wider community celebrate Matariki with a programme of events, displays and  pakiwaitara (stories). This year our focus is on Mahinga Kai.
Come to one of our Matariki events!

What is Matariki?
Matariki is the Māori name for Pleiades (Seven Sisters), a small star cluster in the constellation Taurus.
In Aotearoa New Zealand, the Matariki star cluster disappears from view around April but reappears again in late May or early June.
 Matariki's reappearance in the dawn sky traditionally signalled the start of the Māori New Year.
Today we celebrate Māori New Year with the first new moon following the rising of Matariki
Matariki, the Māori New Year, will begin on 2 July 2021.
For some, like the Whanganui and Taranaki tribes, the winter-time rising of Puanga (Rigel in Orion) is used to signal the new year, not Matariki.
Some iwi think of Matariki as a mother surrounded by her six daughters.
Translation of Matariki
Matariki may be translated as tiny eyes (mata riki), or eyes of God (Mata Ariki).
Matariki is the name given to the Pleiades star cluster, but is also the name for the central star in the cluster.
The surrounding stars are named Tupu-ā-nuku, Tupu-ā-rangi, Waitī, Waitā, Waipuna-ā-rangi and Ururangi.
Matariki Around the World
Matariki can be seen everywhere on the planet. Its high visibility in the night sky makes it special to many different cultures, including Māori. 
In Greece, several major temples face straight towards Matariki, as does Stonehenge in England.
In Japan, the Subaru brand is named after the Matariki stars. In Samoa, Matariki is called Matali'i.
According to Greek myth, the Pleiades are the seven daughters of Pleione and Atlas – Electra, Maia, Taygete, Alcyone, Celaeno, Asterope and Merope.
Matariki Traditions in Aotearoa
Hear the Ngāti Toa Rangatira Matariki Story retold for children by Te Waari Carkeek of Ōtaki. Source: Te Papa Tongarewa.
Matariki has long been an important navigation beacon for sailors. The ancestors of Māori used Matariki and other star constellations to help them cross the Pacific Ocean to Aotearoa New Zealand.
On land, Matariki was strongly connected to harvesting and planting. In the months before Matariki's rising, Māori would harvest and preserve food to see them through the winter months
The rising of Matariki marked the start of the cold season. This was traditionally a time when people started to come together after living in the various food gathering sites during summer and autumn.
Because Matariki appeared at the end of the harvest time, feasting (hakari) and recreational activities (Nga-Mahi-a-te-Rehia) were an important part of the seasonal celebrations. It was also seen as an important time for family to gather and reflect on the past and the future.
The first sighting of Matariki was acknowledged and celebrated by a tohunga (priest) with karakia (prayers) to acknowledge the new year.
Tohunga (experts) used Matariki to predict if weather would be good or bad for the following season. The brighter the stars, the warmer the season and the more plentiful the crops would be.
Following the arrival  of Europeans, the old Māori tradition of celebrating Matariki gradually dwindled. One of the last traditional festivals was recorded in the 1940s.
The beginning of the 21st century has seen a revival in Matariki celebrations. The first modern Matariki celebration was organised in Hastings in the year 2000.
How to find Matariki
Te Ara – the Encyclopedia of New Zealand offers the following Beginners Guide to Finding Matariki:
First find the pot (the bottom three stars of the pot are also called Tautoru, or Orion's Belt). To find Puanga (Rigel) look above the pot until you see the bright star. To find Matariki, keep going.
To the left of the pot, find the bright orange star, Taumata-kuku (Aldebaran).
Follow an imaginary line from Tautoru (the bottom three stars of the pot), across to Taumata-kuku and keep going until you hit a cluster of stars.
That cluster is Matariki. If you have good eyes you should be able to pick out individual stars. If it looks fuzzy, look just above or just below and the stars will be clearer.
Stars / Ngā Whetu - Whakataukī / Proverbs
Matariki ahunga nui.
Matariki, provider of plentiful food.
Me mātau ki te whetū, i mua i te kōkiri o te haere.         
Before you set forth on a journey, be sure you know the stars.
Mehemea ko Kōpū e rere ana i te pae.
Like Venus appearing over the horizon in the morning.
(Comparing a beautiful woman to the appearance of Venus)
Ahakoa he iti whetū ki runga ki te rangi nui pōkēkēao ūhia kia ngaro, e kore e ngaro.
Even though the stars shining in the night sky might be obscured by a passing cloud, they will never be obliterated!
Kei te hāereere a Hine-pūkohu-rangi, me tōna kete whawhao rangi.
Hine-pūkohu-rangi is strolling about with her basket to fill the sky.
(Hine-pūkohu-rangi, the celestial mist maid, is the personified form of fog or mist.)
More whakataukī are available on our Te Reo Resource page.
Celebrating Matariki?
Here are some simple ideas and activities for celebrating Matariki with friends and whanau:
Explore Māori music.  Visit Ōtaki Library to browse our collection of Māori Language recordings.
Listen to the sounds of nature. Māori have a wide range of taonga puoro (Māori musical instruments) that carry sounds connected to nature.
Create your own taonga puoro out of found materials, like bones, shells and stones. For original music performed on traditional Maori instruments (taonga puoro) listen to the CD Te Kū Te Whē by Hirini Melbourne & Richard Nunns.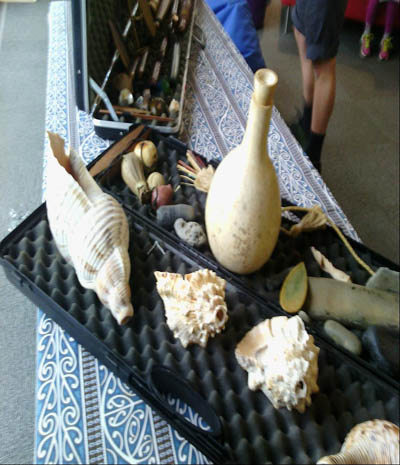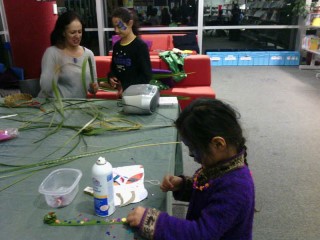 Get arty-crafty. Māori Art for Kids by Julie Noanoa & Norm Heke is great book from our collection. It has 15 fun and easy projects for children aged seven and over. It includes poi, masks, weaving and taonga puoro activities.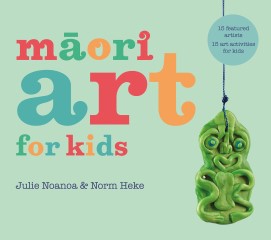 Fly a kite. Manu is the word for both bird and kite. Kites are an important part of modern Matariki celebrations – a symbol of the relationship between heaven and earth.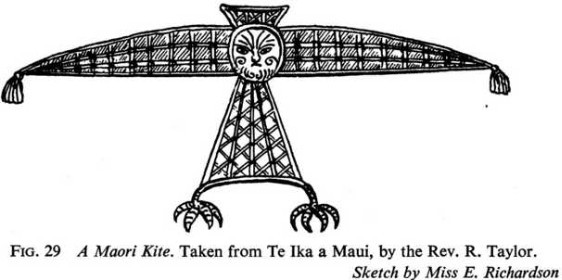 Make a bird feeder. Help see our manu through the cold winter. Here are some DIY bird feeders to fill your garden with birds.
Plant a tree or prepare your garden for new planting. We have plenty of gardening books to help you with your growing project.
Spend a night under the stars. Snuggle up, tell stories and have fun with family or friends.
Learn more about the stars. Here is a useful guide to Māori star names. We also recommend How to Gaze at the Southern Stars by Richard Hall and Tātai Aorangi: Work of the Gods by Kay Leather and Richard Hall.
Make a wish or resolution. Each year at the library we make a wishing tree from harakeke branches. It is quickly filled with people's moemoea (dreams). We also have Matariki inspiration stones.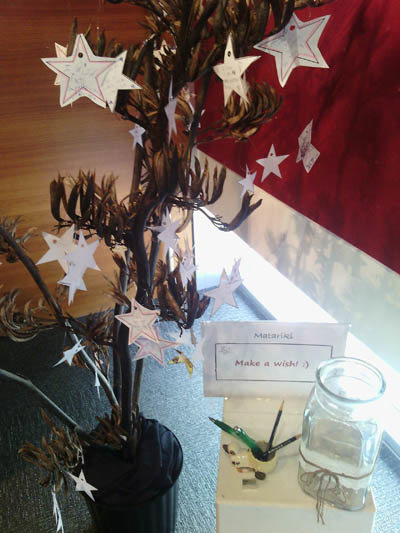 Matariki for Kids
Here are some colouring in pages for those cold and rainy Matariki days: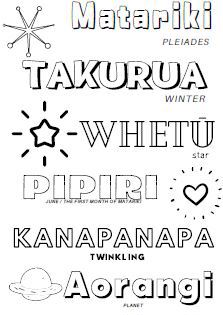 Matariki - Kupu Hou / New Words / Vocabulary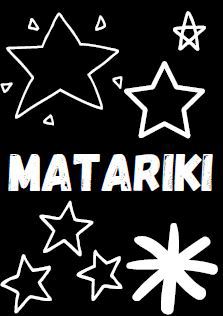 Matariki - In the night sky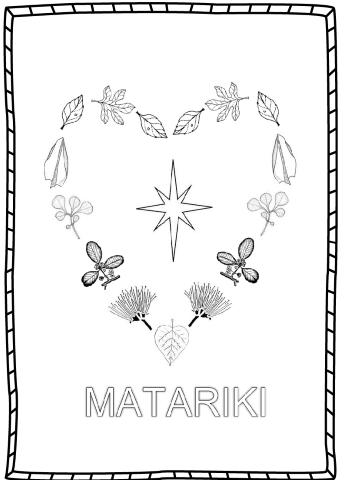 Rau Aroha - Leaves of Love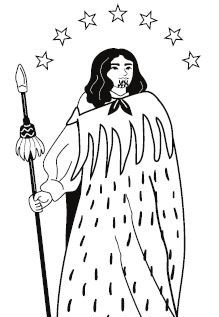 Matariki Wahine