Enjoying our natural environment
Kāpiti has abundant open space with a diverse range of natural systems for people to experience and enjoy.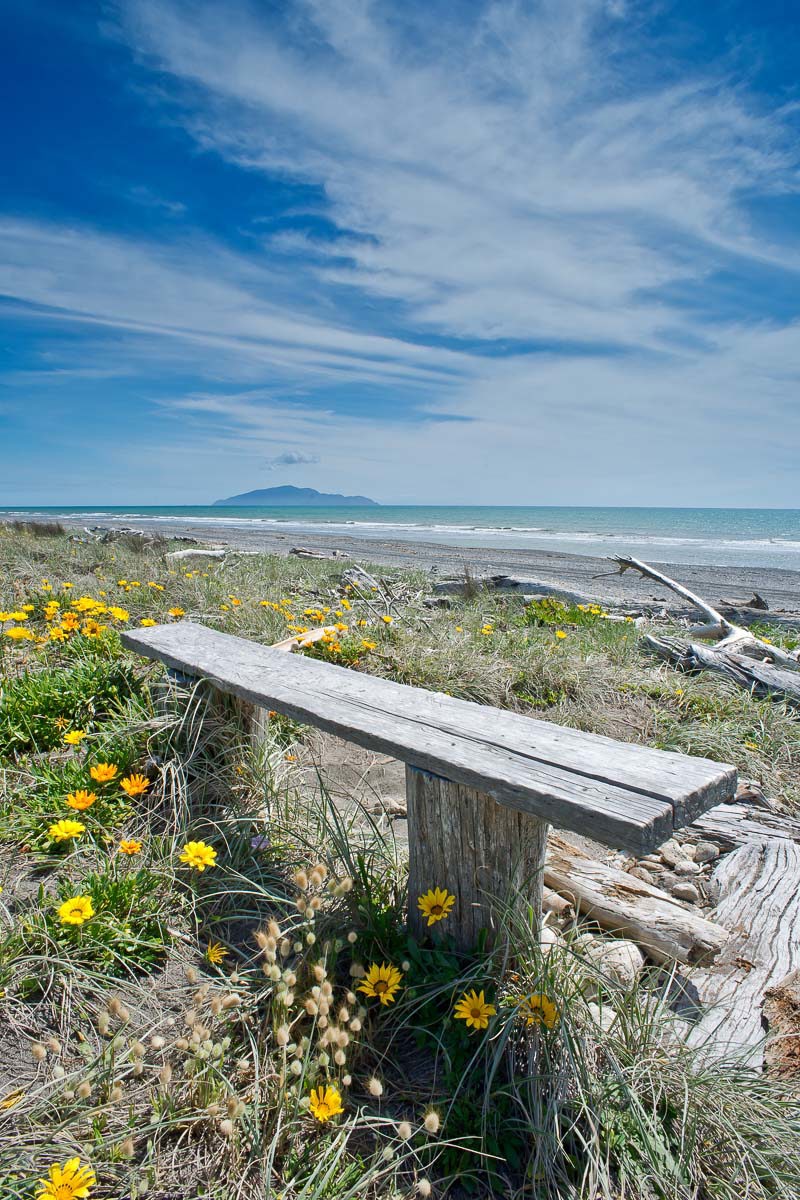 Only 40km from Wellington, our beaches coastal dune lands, wetlands, rivers, forests, foothills and mountains are all easily accessible. Our destination website showcases our natural environment in more detail.
Kāpiti Island, and the Tararua Forest Park are the outstanding features of the district.
At the sourthern end of the district Queen Elizabeth Park, administered by Greater Wellington Regional Council (GWRC) and Whareroa Farm, administered by the Department of Conservation (DoC) are significant open spaces enjoyed by thousands of people both locally and regionally.
Kāpiti Island
Kāpiti Island lies five kilometres off the Kāpiti coastline. The island is an internationally famed nature reserve protecting some of New Zealand's most endangered birds. The 1965 hectare island is one of the few relatively accessible island nature reserves in the country and is one of New Zealand's pre-eminent sites for bird recovery.
The island, currently administered by DoC, is the summit of a submerged mountain range created by an earthquake 200 million years ago, was first identified by naturalists as a possible bird sanctuary as early as 1870 and has been reserved for this purpose since 1897.
Find out how to arrange a visit to the island and conditions of entry.
Tararua Forest Park
Much of the district falls within the Tararua Forest Park, which offers great day walks and tramping and hunting through rugged terrain that includes large tracts of virgin bush and sub-alpine tussock.
Established in 1954, the mighty 116,535 ha forest park connects the districts of Wellington, Wairarapa, Horowhenua, Kāpiti and the Manawatu and is the largest conservation park in the North Island. It is a catchment for at least nine river systems across the six districts – including both the Ōtaki and Waikanae rivers.
Ōtaki Forks is the main western entrance to the Tararua Forest Park. The forks are where two tributaries of the Waiotauru River and the Waitatapia Stream meet the Ōtaki River.
View more information about Tararua Forest Park here.
Queen Elizabeth Park
Bounded by Paekākāriki, Raumati South and State Highway 1, Queen Elizabeth Park is managed by the Greater Wellington Regional Council.  It is one of the most popular parks in the Wellington region – providing walking, cycling, picnicing, swimming, and beach activities for over 415,000 visitors annually.
Accessed through Paekākāriki, McKay's Crossing and Raumati, the 638 ha park has significant Māori and Pakeha history.  In pre-European times it was the site of Whareroa and Wainui villages. During World War II it was the site for one of three camps in southern Kāpiti housing over 20,000 U.S. Marines. 
View more information about QE Park here.
Whareroa Farm 
Whareroa Farm is a 447 ha sheep and beef farm – opposite Queen Elizabeth Park near Mackay's Crossing in Paekākāriki.
The name of the farm comes from Whareroa Pa, which was occupied by Ngati Maru during the 19th century. The property was first administered by Lands & Survey, and later Landcorp who against considerable public protest offered it for sale. It was bought by the Crown and returned to public ownership in 2005. 
Whareroa Farm is administered by the Department of Conservation. The area now has legal status as a Conservation Covenant and is the site of major community restoration efforts. An active volunteer group, The Whareroa Guardians Community Trust, has planted over 30,000 plants since 2007 - this work continues. The Kapiti Mountain Bike Club are in the planning stage of a proposed network of mountain bike tracks in one of the valleys.
Whareroa Farm is open to the public, 8am to 6pm winter, 8am to 9pm summer. The scenery along the walking, cycle and horse tracks includes areas of mature kohekohe bush, small streams, hills and picnic areas. Visitors can see farm animals grazing. A new track takes walkers and cyclists right up to Campbell Mill Rd (a public cycle, walk and bridle way), with access to the Akatarawa Forest Park. 
Horse riding - carpark to Campbell's Mill Road, distance 2.5 km: This track starts at Campbell's Mill Road and is an easy uphill ride through the farm.
Gate access: Equestrian access through Whareroa Farm and along Campbell's Mill Road is controlled by locked gates. To rent a key contact Kāpiti Coast District Council on 04 296 4700 or 0800 486 486. Please leave gates as you find them.
This is shared-use track. Watch for walkers.