Our part in the Road to Zero
Keeping our transport network safe 
Aotearoa New Zealand is on the Road to Zero.  
With a vision for a nation where no one is killed or seriously injured in road crashes, the Road to Zero strategy targets a reduction in annual deaths and serious injuries by 40 percent by 2030.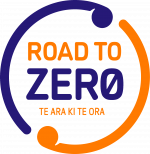 It's a bold ambition but with a national road toll of 320 last year it needs to be. We support the Road to Zero wholeheartedly.  
As the owners and managers of over 400km of roads and 500km of footpaths and shared paths we have an important part to play in getting there. 
Our roads are used by many people, of all ages and abilities, in different ways and for different purposes.  
For some, roads are a crucial part of their business. For others, the network is about getting kids to school, doing the shopping or simply going for a walk or bike ride. This means we typically have a mix of motorised vehicles and vulnerable road users (cyclists and pedestrians) using the network with differing demands, needs and risks. 
The transport network is essential for our district, contributing to a thriving economy and a resilient community.  
Because of this we work to improve transport safety in a number of ways – there is no silver bullet for reducing harm on our roads. Our mahi incorporates everything from road safety education to engineering solutions to lifting the skills of cyclists. 
Crash trends in Kāpiti 

 
Crash statistics for the two decades to 2020 show there were a total of 3350 crashes reported in Kāpiti. In that time, 2019 the worst of those years, with 224 recorded. 
In 2018 we saw the highest number of death or serious injury crashes since 2005, with 17, although since then there has been a reduction in injury crashes – possibily impacted by the COVID-19 lockdowns taking all but essential traffic journeys off the roads for several weeks. 
Overall in that 20 year period there has been a slight increase in the number of crashes and injury crashes in Kāpiti, reflective of a growing population and a changing transport landscape.  
Working with people

 
Education is a big part of our road safety work.  
Many across Kāpiti will know our road safety educator Bruce Johnston, who works with schools, community groups and organisations to spread the road safety message. 
Bruce's work includes supporting school road patrols, working with parents to make sure child car restraints are installed properly (which can seem impossible for the sleep-deprived) and promoting road safety throughout the district.  
A current focus is on improving the skills of E-bike riders, who have been making the most of the new technology on our growing cycleway network – and getting injured. 
"We're seeing a lot of riders that haven't jumped on a bike for twenty or thirty years - born-again cyclists as we call them. They charge straight in only to misjudge their abilities, reaction speeds or their bikes," Bruce says. 
This can put them and other road and pathway users at risk. To help bring riders up to speed, we partner with Greater Wellington Regional Council to deliver free cycle, e-bike and scooter skills training for children and adults through the Pedal Ready programme. 
"Pedal Ready is a great way for riders to build their confidence up and learn skills that can protect them and other road users from serious harm." 
Bruce says all road users have a responsibility to make sure they are capable, considerate and lawful when out and about in what are our busiest shared spaces. 
Making our roads safer 

 
We know there are some areas around the district where physical improvements to road infrastructure could make them safer for all users. 
We've got many areas where changes like better lighting, line marking, signage or traffic calming would make a difference.  
We have a range of projects planned for the coming years and we'd love to be able to do them all at once, but as with all engineering jobs we need to prioritise, plan and fund our work. Everything costs money and resources are finite, so we need to make sure our effort goes where it will make the biggest impact. 
Because road safety is a joint effort much of our work is co-funded by Waka Kotahi NZ Transport Agency. As well as responding to community concerns we need to make sure what we have planned meets their funding criteria and will achieve the best road safety results for any investment. They'll look at things like road function and location, safe and appropriate speeds, and the potential for reducing death and serious injuries. 
If a project doesn't meet Waka Kotahi requirements, that doesn't mean it can't be fully funded by Council alone. However, it could mean another project might have to be dropped or postponed. There are always trade-offs to be made. 
In addition to safety improvements we complete significant maintenance and capital projects every year to maintain and improve the network, ranging from streetlight maintenance, repairing and resurfacing roads and footpaths, to traffic modelling and network planning. 
Challenges

 
There are a number of factors keeping us on our toes. The Kāpiti district's continued growth, government directives around things like housing intensification, a changing transport network and travel modes and the impacts of climate change, among other drivers, are all putting pressure on our transport network. 
We're committed to the continued delivery of a safe, comfortable and accessible transport network, and is working with the community and our partners to make sure we adapt to our changing future.