Speed
Waka Kotahi's Land Transport Rule: Setting of Speed Limits 2022 came into force on 19 May 2022, which resulted in all speed limits being migrated from Council bylaws to the National Speed Limit Register (NSLR). The register is an online, map-based, central source of speed limits in New Zealand.
Our Speed Limits Bylaw 2015 (amended 2021) was revoked by Council on 26 January 2023.
The NSLR can be used to search for speed limits on New Zealand roads, obtain details of specific speed limits and obtain certified copies of speed limits.
Safe and appropriate speeds
Speed kills. In the event of a crash, regardless of its cause, the speed of the impact is the most important factor influencing whether people in the crash survive.
All around New Zealand, many posted speed limits are higher than they should be, and in Kāpiti there have been community calls for changes to safe speeds for many years.
Our transport network of roads and pathways is used by many people, of all ages and abilities, in different ways and for different purposes. Given ours is a growing and increasingly busy community, it has never been more important to make sure our roads are safe for everyone.
---
Our vision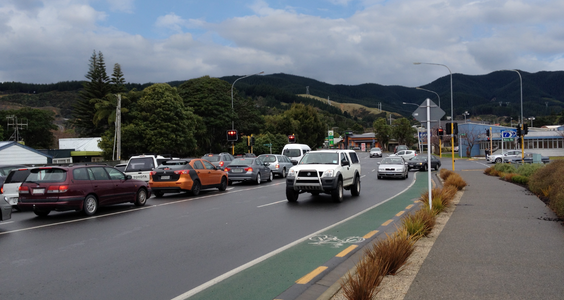 A connected and efficient multi-modal transport network, safe for people of all ages and abilities to be on or around.
---
The rule
Land Transport Rule: Setting of Speed Limits 2022 was introduced by Waka Kotahi in 2022.
The Rule makes the setting of speed limits more efficient for Road Controlling Authorities. It enables a network approach rather than a road-by-road approach, which will improve speed management planning and consultation.
The Rule requires Road Controlling Authorities to have a 10-year vision for local speed limits, and a three-year implementation programme for applying safe and appropriate speed limits and implement speed related infrastructure.
Speed Management Plans take a more holistic approach to network management where speed management is considered alongside investment in infrastructure. They empower Road Controlling Authorities to set speed limits for roads within their jurisdictions while also encouraging regional coordination.
---
Speed Management Plan
We are taking feedback on our first Speed Management Plan.
We are proposing a staged approach to implementing any changes to the transport network. This will allow us to identify what works and what does not and apply that information when reviewing the Plan, help us to deliver the Plan with the resources available, and allow us to focus on the high-benefit areas.
---
Speed management matters
Safe and appropriate speed limits give people the best chance of survival without serious injury if they are involved in a crash.
The likelihood of someone being killed in a crash, if struck by a vehicle at 50km/h, is 80%. At 30km/h it is 10%.
Safer speeds work. In Auckland, deaths and serious injuries on roads and streets reduced by 30% and 21% respectively after safe and appropriate speeds were implemented in June 2020. In comparison, across all Auckland roads for the time period (24 months), road deaths increased by nine percent.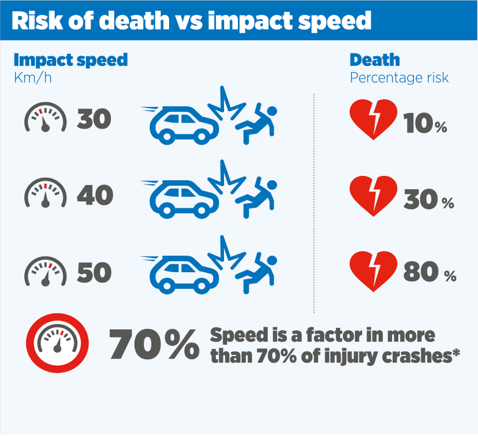 Approximately 71 percent of injury crashes recorded nationally have involved speeds higher than New Zealand's safe and appropriate limits.
---
The situation in Kāpiti
Between 2000 and 2022, 23 deaths, 235 serious injuries and 991 minor injuries were reported on Kāpiti roads.
Overall, in that period, there was a slight decrease in the number of crashes and injury crashes in Kāpiti. After a peak in 2017 of a reported high of 16 (five deaths and 11 serious injuries), the number reduced to 10 (one death and nine serious injuries) in 2022.
We would like to see the number of people killed or seriously injured continue to reduce. Safe and appropriate speeds not only reduce the risk of crashes but also make the transport network safe for all users – both young and old – for those using active transport modes – like enabling children riding bikes to school on the road to do so safely.
We've heard from our community that safer roads are a priority. Many resident-developed outcome statements seek calmer and safer speeds and our communities have been asking for measures to improve road safety, especially around schools.
Consultation during the Speed Limit Review in 2018/19 saw a majority of the 224 submitters support lower speeds across the district.