Details
Wild Rising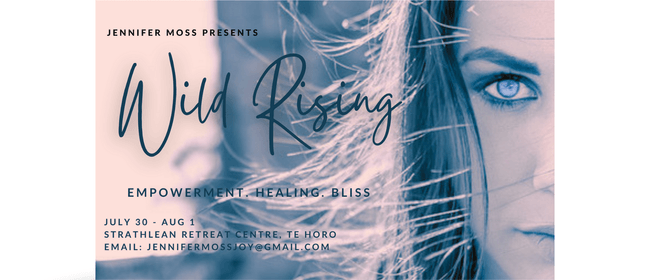 Strathlean Retreat Centre, Te Horo, Kapiti Coast
FRI 30 JUL 4:00 P.M. - 10:00 P.M.
It's time... to rediscover YOUR wild...YOUR vitality...the life force that gets us excited and thriving.
Want some?

I can help you remember, to rediscover & enjoy the power already within us and activate the fire within!!!
The weekend is for you. A fabulous weekend of empowerment, healing & bliss! To immerse yourself in beautiful surroundings, wonderfully inspirational workshops & sessions & with the strong & loving support you need.

I am a Joy Empowerer & Heart Kindling Specialist.
Intuitively guiding you to rediscover your wild…your joy! And may I say...how mega excited I am to be bringing you this unique opportunity.
I am proudly supported by wonderfully talented Jess from Om Shanti Sound Healing.

Offerings will include:
- Tools & strategies to rediscover your innate intimacy & power
- Ritual and ceremony to support and bring in all you desire
- Fully immersive Sound Healing with Tibetan Singing Bowls
- Supported body image discussions
- Voice work to assist with blocks in the body
- Group meditation
- Body discovery through dance
- African Drumming to get our groove & flow on!
- Kirtan ceremony

Included in the retreat price
All workshops & group sessions
2 nights accommodation
5 nourishing meals
Retreat gift pack

This retreat is open to all those who primarily identify as women and are ready to take the journey inward!

Delighted to provide you with more information upon personal contact.