Ōtaki Pool
Ōtaki Pool is located on the grounds of Haruātai Park, catering for all ages and aquatic abilities.  This facility also features a free-to-use splash pad.
We're all learning to live in a world where COVID-19 is the norm. Remember, if you're unwell, take a test and please don't visit our facilities. Exercise good hygiene, and while there's no longer a requirement to wear masks when you visit our facilities, if you feel more comfortable wearing a mask we encourage you to do so.
Lane schedule
When there are bookings or programmes in the main pool there will be a minimum of three lanes for the public.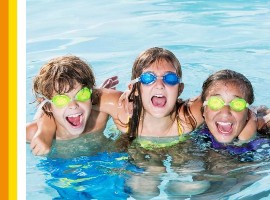 Summer at our pools
Throughout summer we have lots of pool parties and activities planned, visit Experience Kāpiti to learn more.