Friends of the Ōtaki River wins regional heritage and environment award
Published 26 Sep 2016
The Friends of the Ōtaki River has been recognised at the Wellington Airport Regional Community Awards, winning the Heritage & Environment section.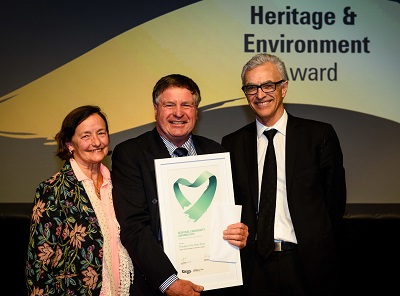 Kāpiti Coast District Council Chief Executive Pat Dougherty says he's delighted to see our Kāpiti Coast Civic and Community Award winners recognised at the regional level.
"This dedicated group of volunteers has made a huge contribution through their work to enhance the Ōtaki River and estuary as well as raising environmental awareness," says Dougherty.
"I was lucky enough to attend the recent Ōtaki River Walkover hosted by the Greater Wellington Regional Council and the Friends of the Ōtaki River. The transformation that has been achieved in recent years is amazing. It is very impressive what can be done when a strong group of volunteers and the local councils work together along with the community."
Chairman of the Friends Max Lutz says he's very grateful to the Wellington Airport and the Wellington Community Trust for the award, as well as to the Council for their support through the nomination process.
"The work our group does is a huge team effort," says Lutz.
"We're very lucky to have an enthusiastic core of 25 – 30 volunteers that turn out each week to do things like potting seedlings, weeding, or making signage.
"We actively seek outside funding for our projects, and are lucky to have so many local people and businesses get in behind our projects."
In this last year the group – which has 290 listed members – has planted over 5,000 native trees, opened the Greenfield picnic area and a boardwalk at the estuary, opened an information kiosk / shelter where people can get information on the walkways, established an arboretum and invested in predator traps.
For their Arbor Day planting the group works with pupils from a different local school each year, this year teaming up with Te Horo School.
Check out some of the work done by the Friends of the Ōtaki River:
(Click to view larger images)