Saint Luke's Church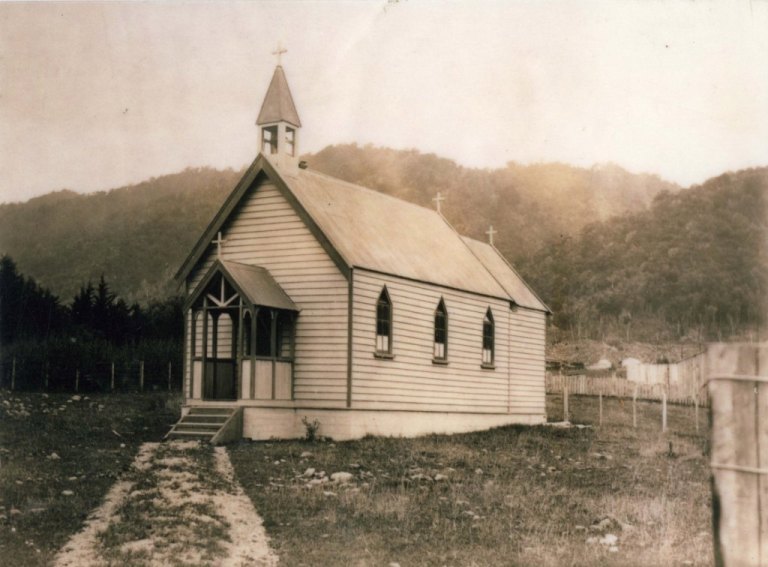 The original Church four years after removal to this site, photo taken in 1902. Photo courtesy of the Parish of Waikanae.
Location: 1 Elizabeth Street, Waikanae
In 1877, Wi Parata Te Kakakura, a paramount Chief, built St. Luke's Church at Tuku Rākau, on Te Moana Road, near Greenaway Road in Waikanae. The Wellington and Manawatu railway line changed the focus of village life in Waikanae and by 1886 most activity was centred alongside the railway station. In 1898 the church was moved to its present site. By this time Tuku Rākau was almost deserted. The church was consecrated by Bishop Wallis in 1906. Up to that time, services were mostly conducted by lay people, frequently in Māori. In 1914, work began on building a hall.
The stone wall and gates were erected in 1958 as part of the centenary of the Wellington Diocese. Three memorial trees were planted – a kauri for Bishop Abraham, First Bishop of Wellington, a puriri for Bishop Wallis, and a totara for Bishop Hadfield. Major extensions to the church took place in 1977 and 1985. Parts of the original church have been incorporated in the present structure, in particular, the bell-tower. Windows in the sanctuary depict Wiremu Parata and Octavius Hadfield. Wiremu Parata lies with his family on the north side of the church.
Supporters of the Heritage Trail