Explore Kāpiti
With 40 kilometres of coastline dotted with beautiful beaches and incredible views, it's no surprise Kāpiti is so popular during the warmer months with locals and visitors alike!
We have more than 500 hectares of parks and sports grounds and almost 100 kilometres of tracks, trails, and horse-riding paths. We're spoilt for choice when it comes to exploring our backyard – there's something for everyone to enjoy!
Get out with the kids!
We have a calendar full of events and an activity sheet for ngā tamariki (the kids) – they'll be so busy zipping down flying foxes, splashing at the pools and building driftwood forts (and so much more), they'll forget to be bored!
You can print your own activity sheet at home (one for each of your tamariki can be a great idea). Remember to colour in each bubble when you've done that activity, and remember your favourites to do again later.
Download our kids' activity sheet[PDF 812 KB]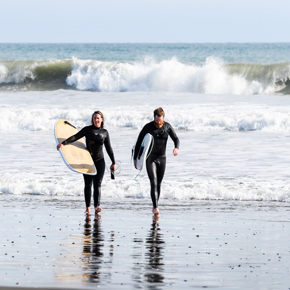 Our beaches
We're spoilt for choice with our beaches, and with 40 kilometres of coastline, it's hard to choose just one to visit.
Whether you're swimming, fishing, kayaking, kite-flying, picnicking, horseback riding, dog walking, sand castling, or playing beach cricket, our map will help you find all the sand and surf Kāpiti has to offer.
Our tracks and trails
Kāpiti has an excellent network of cycling, walking and horse-riding trails for all ages and fitness levels.
Get out and make the most of our beautiful Kāpiti Coast with family and friends.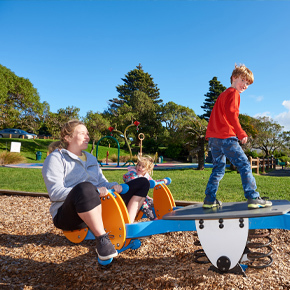 Parks and playgrounds
From quiet relaxation to working off energy, our parks and reserves have something for everyone! Choose from the hills, coast, forests, waterways, local urban parks, or one of our 49 neighbourhood playgrounds. You can even use our parks search to find a park or playground that suits your needs! 
All our parks, playgrounds and reserves are looked after by Council staff and are free for everyone to use.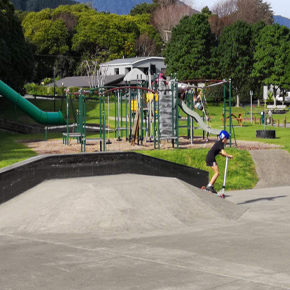 Stay and play
Check our #stayandplay series for inspiration on things to keep the kids busy for free over summer. Obviously Kāpiti has a pretty awesome coastline and beaches, but did you know about all the hidden gems we have in our Kāpiti parks?
Check out some of our favourite places to play, and #stayandplay in Kāpiti this summer!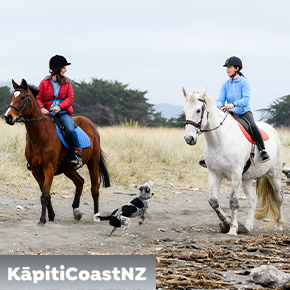 Explore Kāpiti
Get away and explore something new! Kāpiti Coast's natural beauty is breathtaking, with spectacular views from bush-clad tracks around the district.

Escape to Kāpiti for the day, the weekend or longer… and bring your walking shoes!