Service status
Last updated: 3.45pm Monday 8 May 2023
In recent times, the Kāpiti Coast District has experienced increasingly regular and significant weather events. This page will keep our community updated on what's happening with our services due to maintenance or through weather events, from road closures to communities and facilities impacted, and what to do if you need to report incidents or events, or need help. 
Please log reports of damage through Antenno, and check out our other channels at Follow us. 
---
MetService weather warnings
No warnings currently in effect.
See MetService Severe weather for further information. 
Now's a great time to clear your gutters and spouting of leaves!
Note: we share MetService weather warnings, but not weather watches. See MetService Weather warnings and watches for how these differ.
---
Sandbags
Sandbags, sand and empty bags are available for anyone living in flood-prone areas. You can collect these from the Council depot in Fytfield Place, Paraparaumu.
---
Road updates
If a road is not listed in this section, it is open.
Roads closed
Upcoming road closure
Akatarawa Road will be closed to through traffic 8–19 May
This is to allow work to be done on drainage culverts. During this time access will be limited to residents only during the day (7.30am–5pm), with traffic management in place. The road will reopen at night and on weekends. We don't anticipate working outside day time hours from Monday to Friday but in the unlikely event this is required we will keep the community informed here and on our usual channels.
Rimu Road, from just north of Iver Trask Place, 21 May for up to four weeks
This is part of our work to improve our stormwater network. See Amohia Street stormwater upgrade for details.
Restricted access
None at this time.
---
Parks and reserves
Currently no closures. 
---
Tracks and trails
Closures
Waikanae River Trail north bank, Otaihanga footbridge to Greenaway Road weekdays 17 April–31 May
The Waikanae River Trail is closed on the north bank between the Otaihanga footbridge and Greenaway Rd. This closure is to allow Greater Wellington to carry out flood protection work, including removing gravel from this stretch of the river, to help reduce risk of flooding for nearby homes. This section of trail will only be closed on weekdays. Please use the alternative route, which is the south bank and Expressway bridge.
This trail will be open for everyone to enjoy on weekends.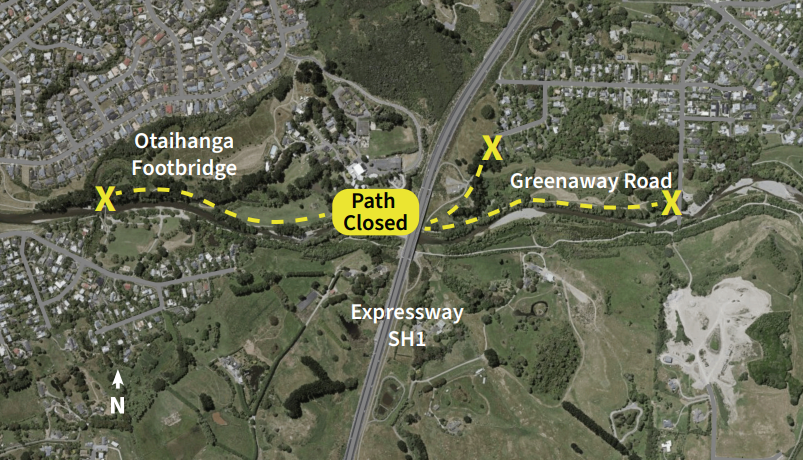 Larger image[PNG 990 KB]
Partial closures
Ratanui Road path, from #65 to Expressway shared path
Gravel being renewed, starting Monday 8 May, through to early July. Please follow workers' guidance on site, for everyone's safety.
Whareroa Farm – Carex Valley
Due to recent water damage, the Horse Track is temporarily closed to horses. The track remains open for walkers, but take care.
Upcoming closures
No upcoming closures.
North Manly Street access closed to 2-wheel drive vehicles
This access was damaged in recent storm surges.  It has been repaired but due to dune erosion the ramp is now too steep for 2WD vehicles.