Tracks and trails
Our district has a great network of cycling, walking and bridleway trails that are safe and accessible for people of all ages and levels of fitness. With over 100kms of different trails, the options are endless and it's a great way to get out and enjoy the scenery of the Coast with family and friends.
To make it easy for you to get out and explore our most popular trails we've designed a new easy-to-read Kāpiti Coast Trails Map[PDF 1.9 MB], a Kāpiti Coast Walks[PDF 3.35 MB] brochure, and a Kāpiti Coast Cycling[PDF 2.33 MB] map. 
Plus, we've also got a bunch of other bush, river and 'off the beaten track' paths that you might want to check out, which are included in the list below. For a different view of Kāpiti activities including our cycling network, you can access the Cycleways, Walkways and Bridleways page on our Kāpiti Coast NZ website. You can find other walks and trails on the Wellington Regional Trails website. 
If you're keen to get your hands on a hard copy of this map, pick one up from our reception (175 Rimu Road, Paraparaumu), the Coastlands Aquatic centre, Te Newhanga Kāpiti Community Centre or the Otaki library.
---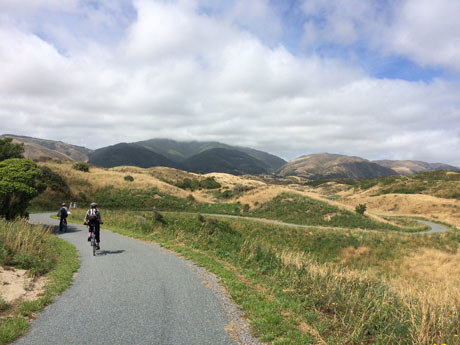 Te Ara o Whareroa – Queen Elizabeth Park Cycleway
Bike or walk from Paekākāriki through the dunes of Queen Elizabeth Park to Poplar Avenue in Raumati South.
Te Ara o Whareroa was officially blessed and opened at a public event on 23 January 2016. This shared pathway was developed by Greater Wellington Regional Council and is the best way to experience the undulating duneland of Queen Elizabeth Park.
---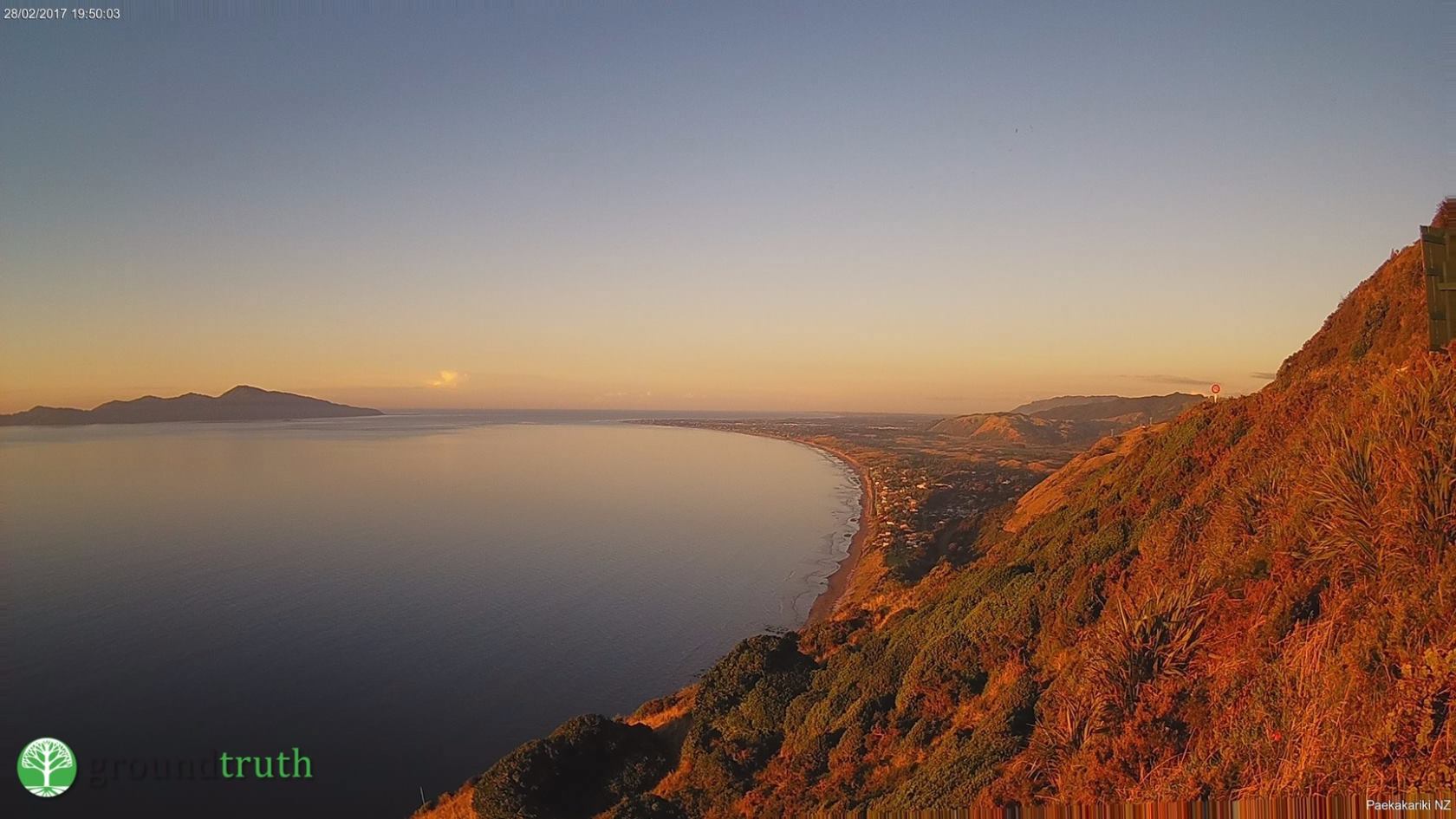 Te Araroa Walkway – Paekākāriki Escarpment
Walk this track from Paekākāriki to Pukerua Bay which runs high above State Highway 1 and the railway line, reaching 220 metres above sea level. There are spectacular views, and it is one of the highlights of the Te Araroa Trail. 
Remember to check the track status on our Service status page before you start your walk.
There are excellent public transport connections to the trailheads.Toilets and refreshments are available at either end of the track in Paekākāriki and Pukerua Bay. There are seats and interesting interpretive signs along the way but no amenities. 
Conditions of the resource consent and the agreement with private land owners and Kiwirail giving public access to the land are that no horses, dogs, bikes or motorised vehicles are permitted.
You can also check out Ngā Uruora's webcam overlooking the Kāpiti Coast at https://kapitibush.org.nz/webcam/.
---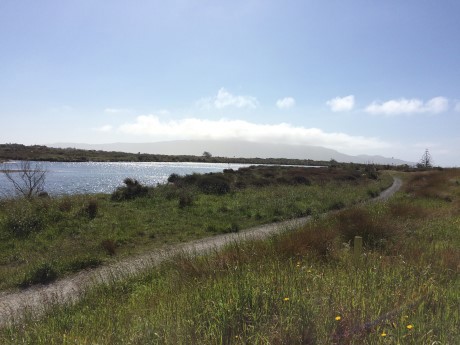 Waikanae River Trails
Waikanae River (North Bank)
Access: Karu Crescent, Fleetwood Grove, Nimmo Avenue West, Greenaway Road, Weggery Drive and Tutere Street.
This gentle walking track follows the north side of the river from SH1 to Te Arawai footbridge then on to the river mouth through numerous parks, reserves and private property. There are swimming spots and diverse bird life along the way. Note equestrian access is limited on north bank.
Distance/Time: 6km/2 hours 30 mins
Highlights: Bird life, restoration planting and the Otaihanga suspension bridge.
Waikanae River (South Bank)
Access: Otaihanga Domain, King Arthur Drive and on the south side of the SH1 bridge.
Track follows the south bank of the river through rural land and reserves. This is a popular horse trail.
Distance/time: 4.6km/1 hour 30 mins one way.
Highlights: Restoration plantings, a peaceful stroll, cooling off in the river, the Te Arawai footbridge and Otaraua Park.
---
Hemi Matenga Reserve (DOC)
Access: Tui Crescent
A moderate 50 min climb to viewpoint at top of ridge. After this it becomes a tramping track that is only suitable for experienced trampers.
Distance/Time: 5.4km loop/3 hours 30 mins.
For more information contact D.O.C. Phone 04 296 1112 or visit DOC website.
---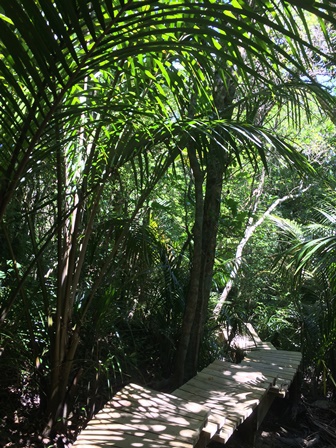 Barry Hadfield Nikau Reserve
Walk the track through the Barry Hadfield Nikau Reserve, which covers 11 hectares of regionally significant Kohekohe/Nikau forest remnant.
Access: From the north, turn off SH1 at the Lindale turnoff (north of Paraparaumu) and the reserve is on your left with a car park before the road swings round underneath SH1.
From the south, take the Lindale turnoff north of Paraparaumu, but follow the sign at the roundabout to Nikau Valley, then take the first left which is a short road which turns into the Nikau Reserve carpark.
Distance/time: 30 minutes return on the easy loop, with a steep 20 minute climb to the lookout at the top of the ridge.
From the car park the track climbs 120 metres past pillars of Nikau Palms from the carpark at the bottom to a picnic area at the top. Once there, a panoramic vista takes in the coastal plains, townships, Kapiti Island and the coast north where Mt Taranaki is visible on clear days.
Highlights: It's home to a number of native birds including fantail, grey warbler, tui, bellbird and kereru. The reserve is an important link in a chain of forest remnants between the Tararua Ranges and Kapiti Island.
---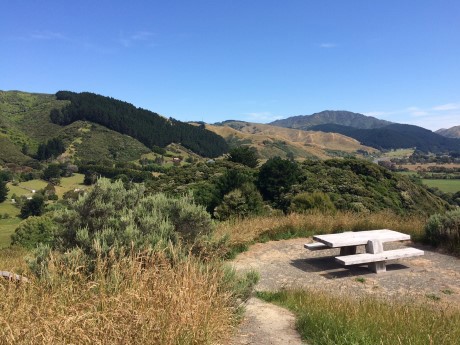 Mataihuka Walkway
Access: Via Raumati Escarpment Reserve - 0.5km up Waterfall Road off SH1.
From the car park on Waterfall Road, follow the track 15mins up to the June Rowland lookout. Continue along the ridgeline to the stone cairn. Return along the same route.
Steep in places. Walkers only. no horses, dogs, bikes or motorised vehicles are permitted.
Distance/Time: 2km/1-1 hour 30 mins return
Highlights: Extensive coastal views, regenerating native bush.
---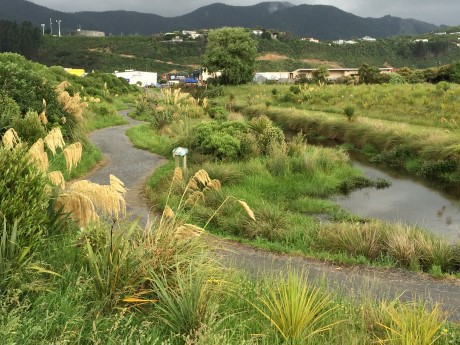 Wharemauku Stream
Access: Rimu Road (at civic precinct), Matatua Road or Kiwi Road.
An easy path  for walkers and cyclists that runs between Paraparaumu Town Centre and Raumati Beach. and connects to the M2PP Share Pathway. You can also connect to Paraparaumu Beach via the fork in the track near the end of the airport runway. Public buses connect Paraparaumu to Raumati Beach and Paraparaumu to Paraparaumu Beach, providing options for your return journey
Distance/Time: 2km  walking 45 mins–1 hour, bike 15–25min (one way)
Highlights: Grab a picnic from the town centre and enjoy it along the way, airplane watching near the airport.
---
Chrystalls Bend Walkway
Opening times: Monday to Friday, 5pm until dusk. Saturday, noon until dusk. Sunday and public holidays, dawn until dusk.
Access: From SH1 just north of the bridge.
Distance/Time: 2km to lagoon/30 mins.
Highlights: Picturesque Chrystalls Lagoon and Waimanu Footbridge surrounded by young native bush.
For more information on this project please visit Greater Wellington Regional Council website.
---

Coast35
35 kilometres of wide and easy-grade off-road shared trail that runs all the way from Paekākāriki to Ōtaki. 
Distance/Time: 35km from Paekākāriki to Ōtaki
Highlights: It is sealed south of Peka Peka, making it suitable for wheelchairs and prams too. Dogs are welcome on leads and horses are permitted on most sections.