Recipients 2023
The Kāpiti Good Sorts Awards, held at a special event on 30 August, honoured the local legends who work tirelessly to make a difference for others within the community. The awards are based on public nominations and recognise individual residents who've made a lasting impact on people's lives.
Thank you to everyone who took the time to nominate hardworking members of the community – we had a record number of nominations this year – and we extend our warmest congratulations to all of the winners.
Malcolm Dyer – Taonga Maumahara Mayoral Award
Malcolm Dyer was a much loved GP and Royal College teacher who was also heavily involved in sport in the community.
He was an active member of the Kāpiti Running and Tri Club and served on the committee for many years. As a runner and multi-sporter, he was a fierce competitor and took part in many events around the North Island including at Waikanae, Waitarere, and Taupo.
As well as being a GP, Malcolm was also a mentor and appraiser of other doctors in Kāpiti, always giving his best to everything he did.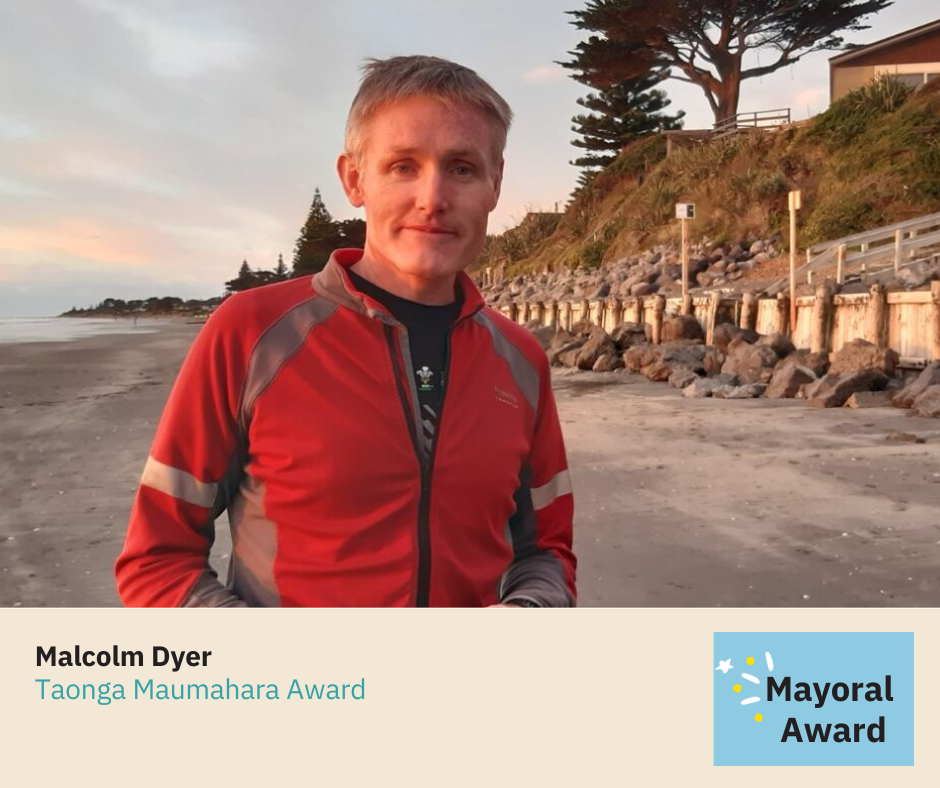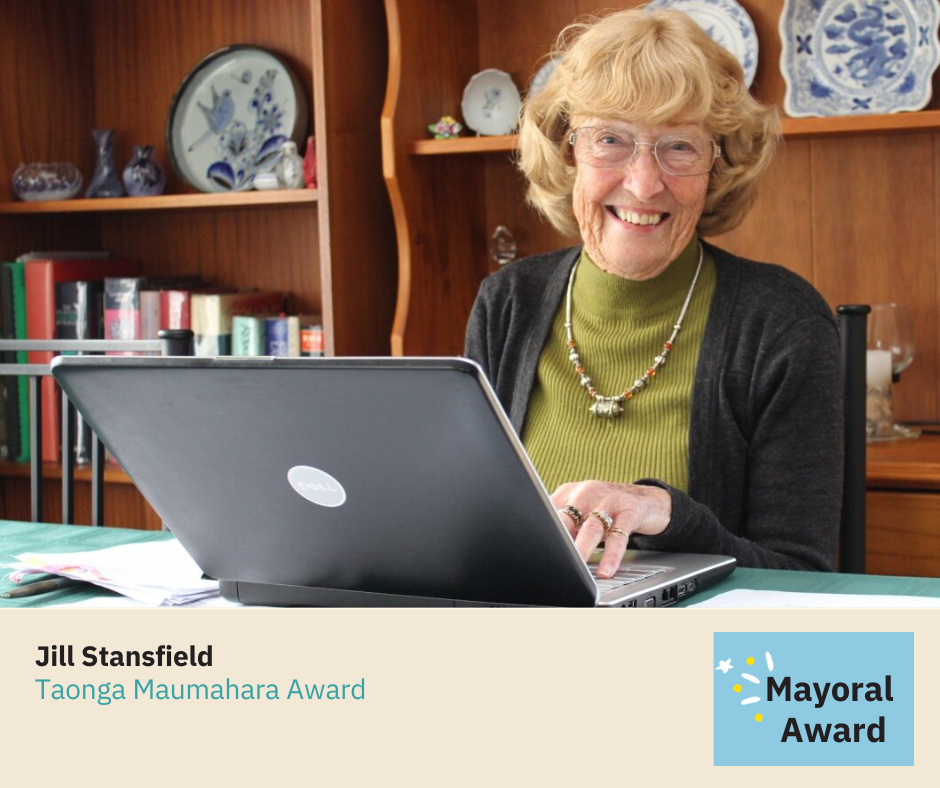 Jill Stansfield – Taonga Maumahara Mayoral Award
Jill Stansfield will be known to many for her work as a supporter and advocate of older people in Kāpiti.
Her defining passion was Age Friendly Communities. She was a key figure on the Older Persons Council, was on the executive committee of Age Concern and wrote a regular column in the Kāpiti News.
Her teacher training and passion made her a force to be reckoned with. A decade ago she began the Age Friendly advocacy, brandishing the World Health Organisation's Age Friendly Cities checklist at every possible opportunity. The Kāpiti initiative was launched in 2015, and the Age Friendly Approach adopted by Council earlier this month.
Kash Edmonds – Rangatahi Mayoral Award
Kash is a truly remarkable young person achieving great things so others can benefit.
Kash and his family were the catalyst for the new all-accessible Lorna Irene playground. It's a space that truly brings all ages and abilities together in a safe and interactive way, which makes a huge difference to families just like Kash's across Kāpiti. The playground was recognised as Playground of the Year at the Recreation Aotearoa NZ Parks Awards.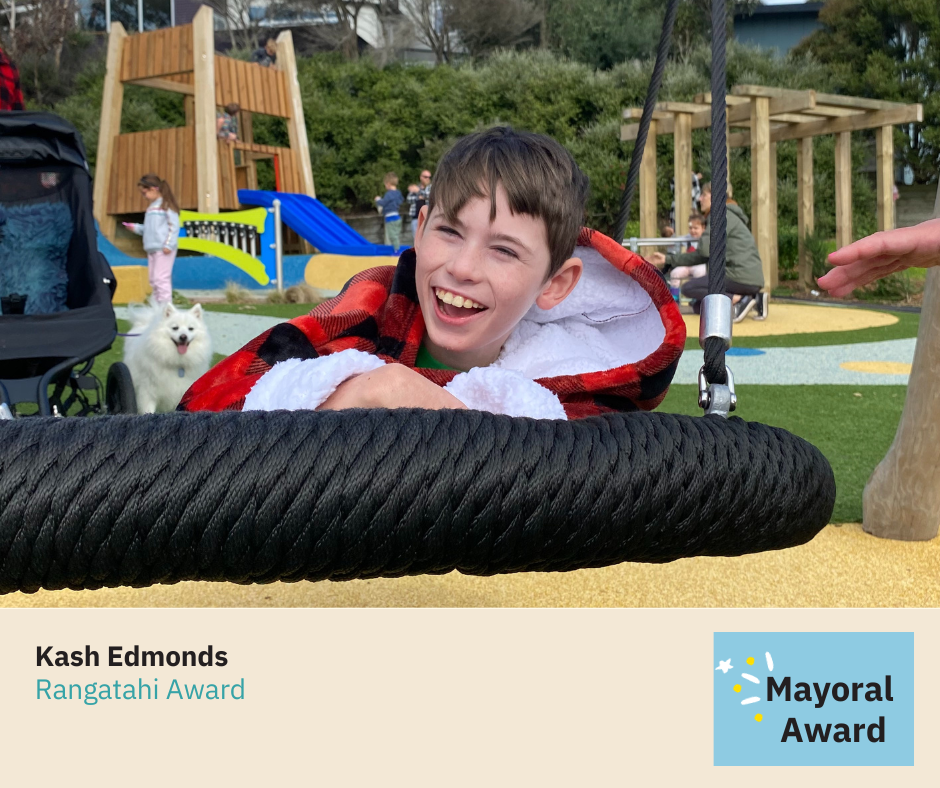 Rebecca Bond – Good Sorts Award
Rebecca runs Kāpiti Art studio, a safe space where differently abled people can come together to create.
The studio is a lifeline for young artists and their caregivers, providing a sense of community for those who otherwise feel isolated, but also helping to break down barriers for them in the wider community.
Rebecca has helped many people in the community develop and grow and does so with energy and passion. The unique and interactive art installations also bring joy to the wider community.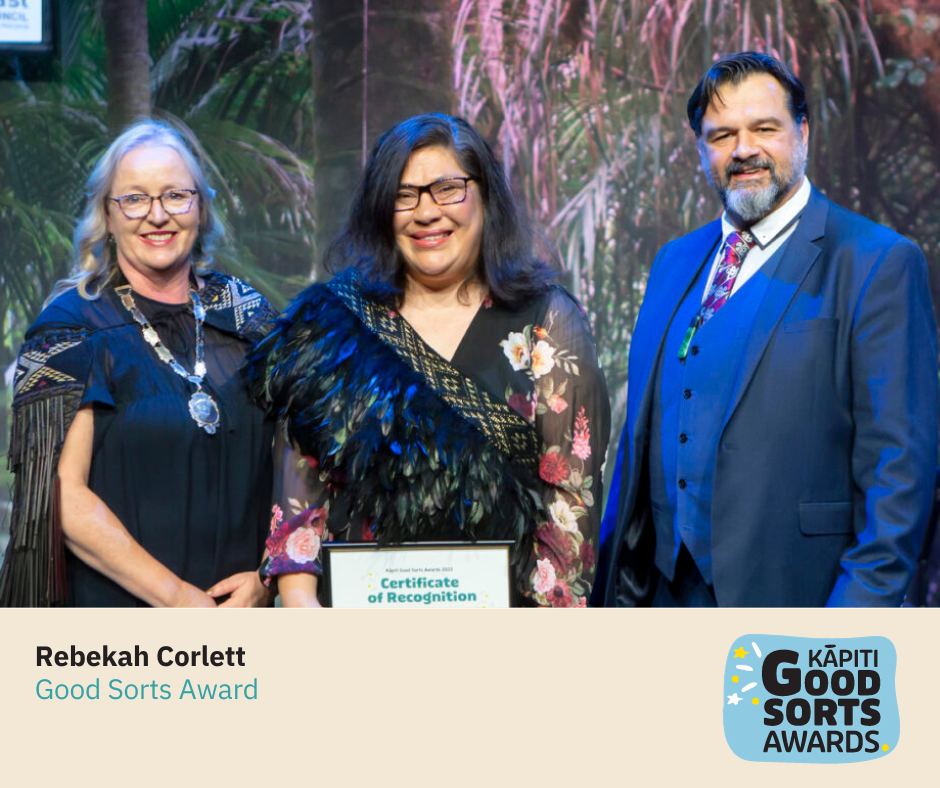 Rebekah Corlett – Good Sorts Award
Rebekah is a tireless advocate whose hard work touches many families here in Kāpiti and beyond.
A member of the Kāpiti Disability Advisory Group, she pushes hard for greater accessibility and inclusion for all disabled people and their whānau. She has a special focus on supporting Autism/Autistic families and promotes autism awareness and acceptance.
She is a supporter of many and a powerful advocate for equity in education for disabled students and helps their parents and families access valuable advice and resources.
She was made a member of the New Zealand Order of Merit for her services to education.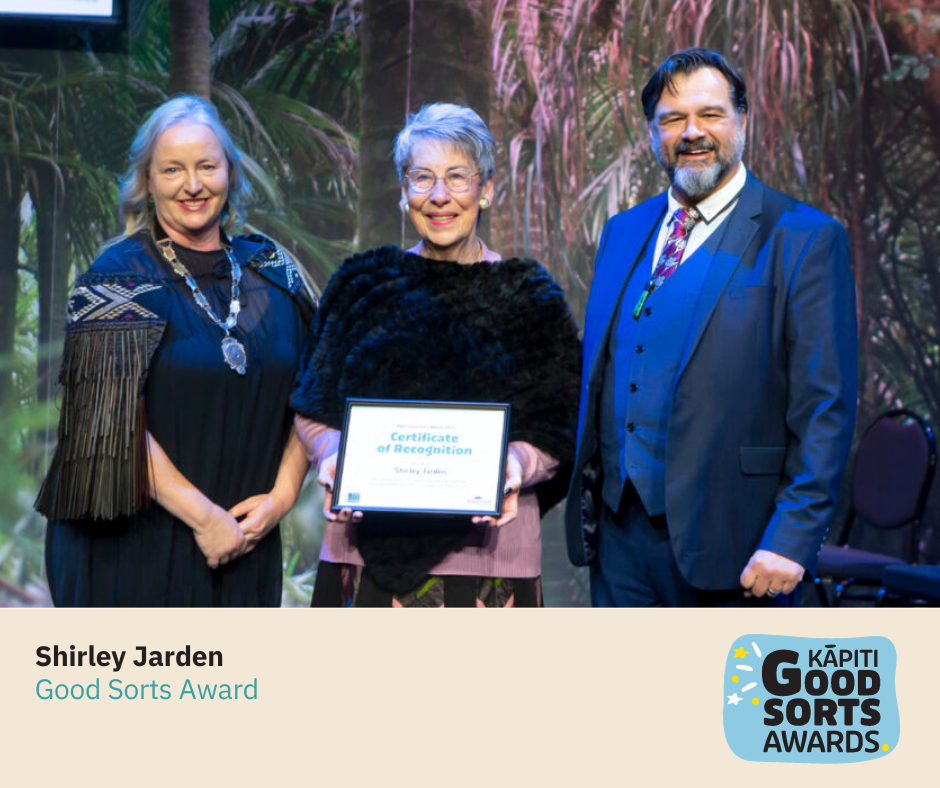 Shirley Jarden – Good Sorts Award
Shirley Jarden is a larger-than-life Kāpiti Good Sort who has been contributing to the Kāpiti Community for the past 25 years.
Among other things, Shirley volunteers for the Kāpiti Community Patrol recruiting and training new members. She has also been involved in the Life Flight Trust, coordinating volunteers on collection days.
Recently Shirley took it upon herself to initiate a fundraising venture to equip the patrol with its own defibrillator.
She is someone who is very generous with her time, and has helped many families, including vulnerable youth, through difficult times.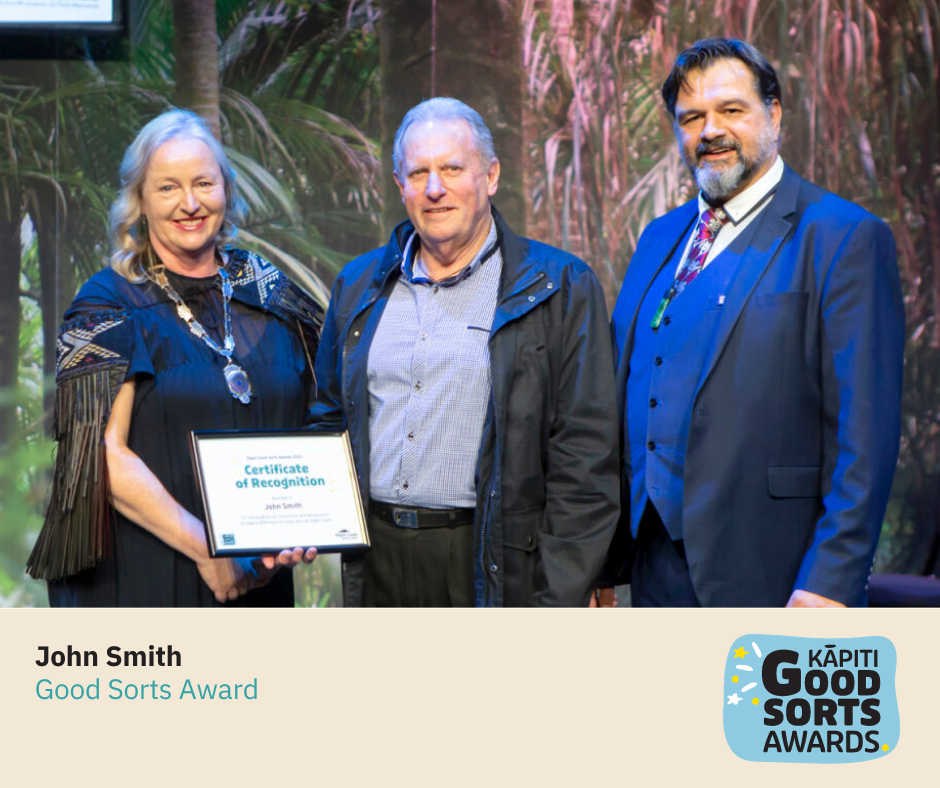 John Smith – Good Sorts Award
John was the driving force behind the recent rejuvenation of the Kāpiti Bears Rugby League Club. He's rallied considerable volunteer support from the league community to make some impressive changes to the club. The future is looking bright for the Kāpiti Bears.
He's now also sharing his skills and energy with the Kāpiti Boating club and is the current Commodore. Since joining he has been instrumental in strengthening the club's community involvement with a particular focus on making sure events are inclusive and cater for the diverse needs of the community.
John is an advocate of te ao Māori, and often incorporates mihi whakatau into club events as a way of making tangata whenua feel welcome and supporting te reo Māori.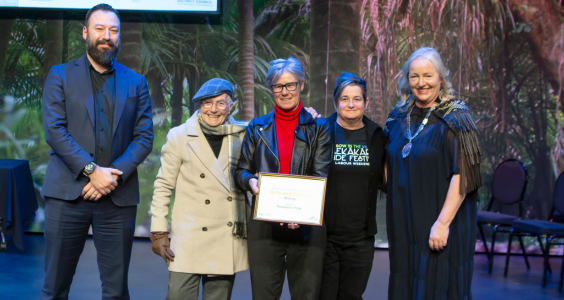 Arts and culture – Winner: Paekākāriki Pride
Paekākāriki Pride has helped to raise awareness of the needs, lives and realities of Rainbow communities in Kāpiti and to bring local community groups, whānau and businesses together in solidarity and support.
It provides safe spaces for young Rainbow people to express themselves and to find support and positive activities.
The Paekākāriki Pride Festival has been a highlight on the village calendar for six years. It takes place over Labour Weekend to bring our communities together in the spirit of love, and to bridge some of the gaps in understanding between the Rainbow communities, their families, and the wider community.
Runner up: Kāpiti Arts Studio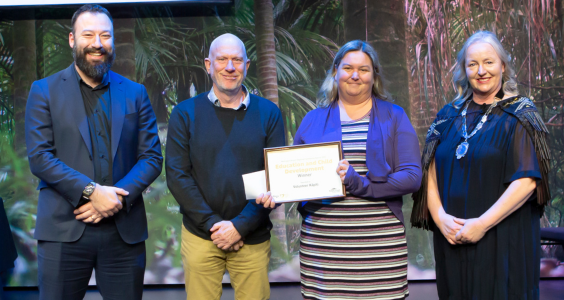 Education and child/youth development – Winner: Volunteer Kāpiti
Volunteer Kāpiti actively promotes, supports, and strengthens volunteering throughout the Kāpiti Coast, contributing to a connected and thriving Kāpiti community.
The team of staff and volunteers introduced the Governance mentoring programme in Kāpiti,. This has helped to build capacity and capability in the community.
It's now into its third iteration and is being used as an exemplar for other similar programmes across Aotearoa New Zealand.
Runner up: Ōtaki Market (Ōtaki Women's Community Club)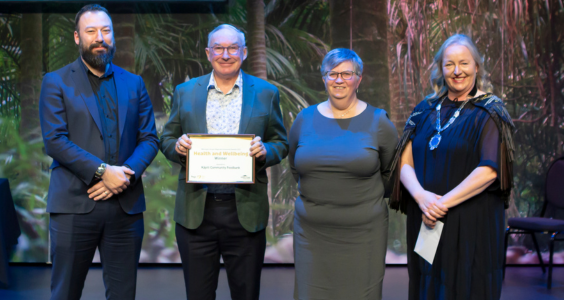 Health and wellbeing – Winner: Kāpiti Community Foodbank
Kāpiti Community Foodbank provides an emergency food parcel service to residents from Paekākāriki to Te Horo. They work in tandem with other agencies who refer their clients for food support, allowing the foodbank to operate efficiently across the District.
Runner up: Kāpiti Kindness Trust
Heritage and environment and Supreme Award – Winner: Whareroa Guardians Community Trust
Since 2015 the Whareroa Guardians Community Trust has fostered community conservation projects on the Kāpiti Coast.
They aim to improve native biodiversity on land and in the ocean by enhancing environmental restoration efforts, funding and managing biodiversity projects, and providing opportunities for public participation in biodiversity, conservation and management advocacy and for education.
As the Supreme Award winner for the Kāpiti Coast, Whareroa Guardians Community Trust will also go on to represent the district at the Wellington Regional Awards.
Runner up: Discover Kāpiti Heritage Group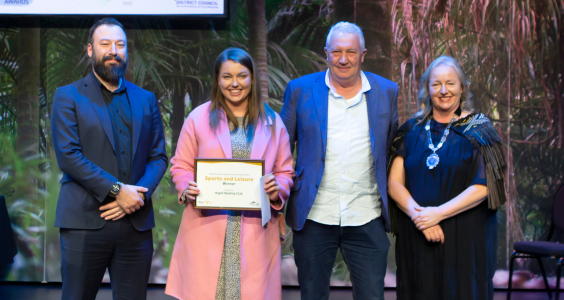 Sport and leisure – Winner: Kāpiti Boating Club
While the Kāpiti Boating Club is predominately a fishing, sailing, and recreational boating club, their motto is "more than just a club" – and they certainly are.
As well as boating-related activities, the club supports a number of charities and community events, including Kāpiti Women's Centre / Women's Refuge and Youth Mental Health support.
Runner up: Kāpiti Underwater Club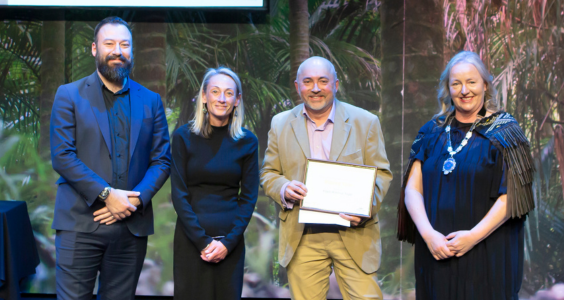 Rising star – Winner: Kāpiti Kindness Trust
The Kāpiti Kindness Trust is a new charity that aims to encourage acts of kindness within the community. It can also assist those in need in more practical terms.
They believe that kindness fuels connection and greater connection between people in our community, and that helping others will in turn lead to happier and more content people.
The Rising Star is selected form those who were either a runner up or winner for a Community Award.
It is for groups and organisations who are just starting up, and aims to support them in continuing their great mahi in the community.