Tangata Whenua - English Translation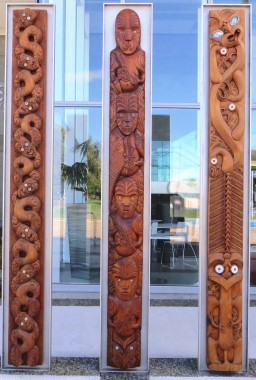 The tangata whenua of the District are Te Āti Awa ki Whakarongotai, Ngāti Raukawa, Ngāti Toa Rangatira, including their whānau and hapū.  In the 1820-1830s they were firmly established in the District and were signatories to the Treaty of Waitangi at the following location: on board the ship "The Ariel" at Port Nicholson in Wellington (29 April 1840), Queen Charlotte Sounds (4 May 1840), Rangitoto (d'Urville Island), (11 May 1840), Kāpiti Island (14 May 1840), Waikanae (16 May 1840), Ōtaki (19 May 1840), Manawatu (26 May 1840), Motungarara Island (4 June 1840), Guards Bay and Cloudy Bay (Te Koko-a-Kupe) in Te Tau Ihu (17 June 1840), Mana Island (19 June 1840), and again on Kāpiti Island (19 June 1840).
Although the history books cite us as being allies, we were more than that, we were strongly linked through whakapapa. Therefore, from this time until the present, the mana whenua have practised and continue to practise their kaitiaki/kaitiakitanga role. 
From their establishment and the subsequent Council establishment in the District they jointly developed their relationship with the Council by way of the 1994 Memorandum of Partnership. This Memorandum and reviewed and re-signed in 2008. From this partnership Te Whakaminenga o Kāpiti was created and is a forum for mutual decision-making and collaborative engagement on mutually agreed priorities.
Kaitiaki/Kaitiakitanga
Kaitiaki/Kaitiakitanga is a term that denotes the package of tikanga or practices which have a primary objective in sustaining the mauri of natural and physical resources. Inherent in the notion of kaitiaki/kaitiakitanga is the understanding that members of the present generation have responsibility, passed to them by preceding generations, to care for their natural environment by protecting mauri. Kaitiaki/Kaitiakitanga carries with it an obligation to ensure that a viable livelihood is passed on. Kaitiaki/Kaitiakitanga is inextricably linked to tino rangatiratanga as it may only be practised by those whānau, hapū or iwi who possess mana whenua in their iwi area.