Te Reo Māori
He reo whai mana ā-ture te reo Māori ki Aotearoa. Ehara ia i te reo nō whenua kē atu i tō tātou. Tōu reo, tō tātou reo.
E whā ngā mātāpono matua koia nei ngā pou toko i moemoea o te tangata whenua o te rohe nei. 
Ko Te Reo Māori te mātāpono tuarua. 
Koia tēnei ko te reo o te tangata whenua, te waka kawe i te tikanga, i te kawa me te taha wairua. He reo whaimana te reo Māori nō Aotearoa. He taonga kāmehameha tuku iho nā ō mātou tūpuna Māori. Me mātua poipoi te reo i ngā kokonga katoa o te hapori kia tūhauora anō. Me akiaki hoki ngā whakatupuranga kei te heke mai kia hāpai, kia kōrero i te reo.
Ko Te Tino Rangatira te mātāpono tuawhā.
Kia noho ko mātou tonu ngā Rangatira, ngā kaiwhakahaere i te katoa o ā mātou kawenga ā-iwi, o ā mātou kaupapa ā-iwi. E mau mai ana ki te wawata ngā whakaaro.  Koia tētehi o ngā whakaaro – kia āhei noa te tangata ki te kōrero Māori, ki te kōrero Pākehā, kāori he māharahara ki tāna e kōwhiri ai, e tū ai tātou hei hapori Reorua pakari tonu.
Te Reo Māori (along with New Zealand Sign) has special legal status as an official language of Aotearoa New Zealand, even though English is the most widely spoken language.
Mana Whenua base their vision for the Kāpiti Coast district on four principles, which include the importance of te Reo Māori, and that people feel comfortable using both te Reo Māori and te Reo Pākehā (English), supporting us as a bilingual community.
In the Long-term Plan 2021–41, Council restated their commitment to partnership with Mana Whenua, and that as part of this partnership we'll continue building capability and increasing knowledge and understanding of Te Reo Māori and Te Ao Māori.
---
Māori Language Week | Te Wiki o Te Reo Māori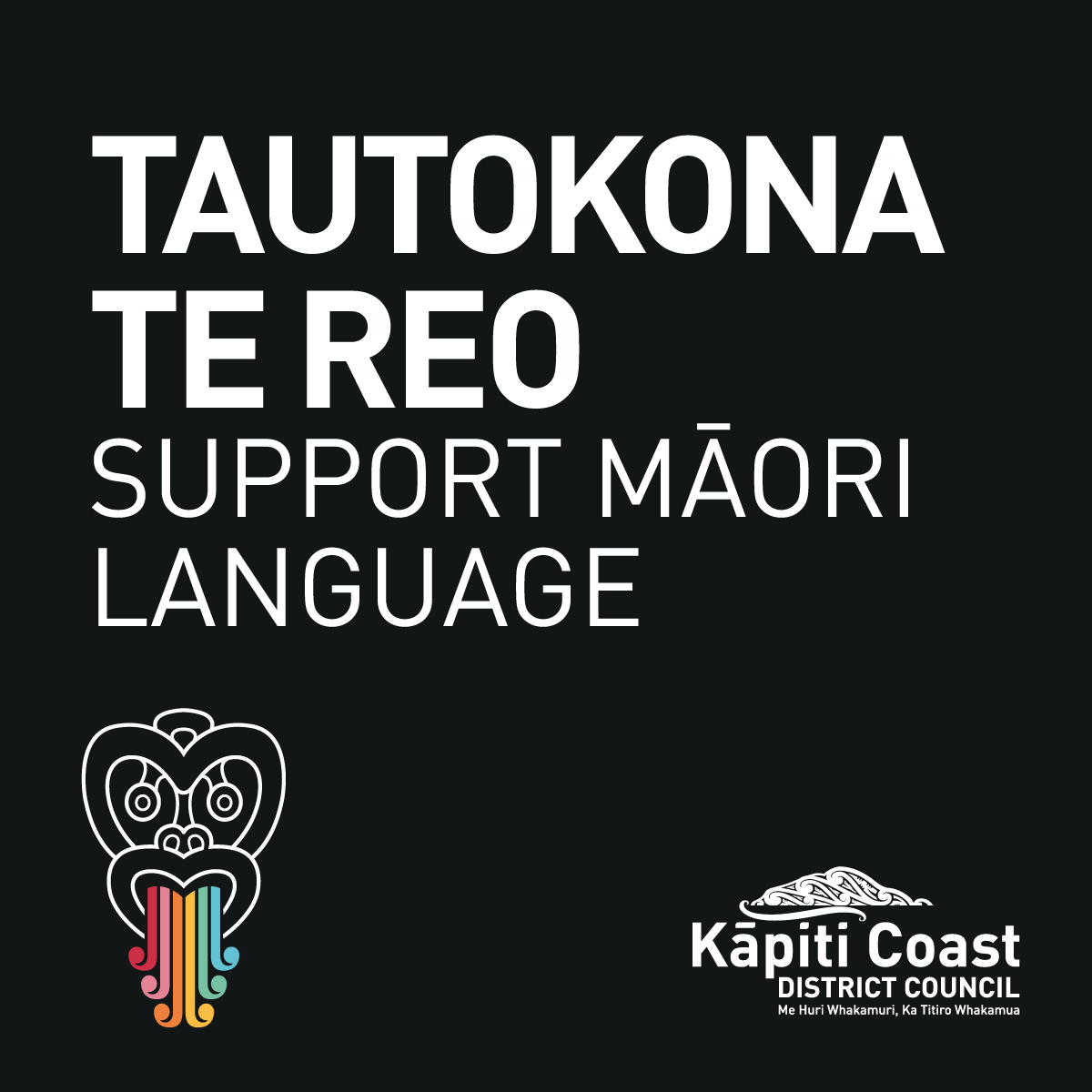 Te Wiki o Te Reo Māori has been celebrated each year since 1975. Māori Language Day is 14 September and commemorates the presentation of the 1972 Māori language petition to Parliament.
Why a week? Why not a year? Why not a decade? A century?
New Zealand is revitalising the Māori language and part of that is celebrating our success and promoting te Reo Māori. Te Wiki o Te Reo Māori is an opportunity for concentrated celebration, promotion and encouragement. And every minute of every hour of every day is a Māori language minute – we can choose to use te Reo Māori – every time we do, even just a 'Kia ora!' contributes to revitalisation.
Te Wiki o Te Reo Māori is a major fixture on the national calendar providing an opportunity for concentrated promotion, raising awareness and giving an opportunity for expert and advanced speakers to encourage others on their te reo Māori journey.
Head to ReoMāori.co.nz for more information and for downloadable resources for your workplace. You can also check out what events are on. 
Goals of Te Wiki o Te Reo Māori
Create a positive environment for the use of Māori language.
Promote Māori language initiatives and events.
Encourage non-Māori speaking New Zealanders to use reo Māori.
Encourage speakers of Māori to support others who are just starting out.
Encourage community, business, government and media organisations to participate.
Promote resources to make Māori language more accessible.
Contribute to awareness of the Crown Māori Language Strategy and the Māori and iwi strategy that work together for revitalisation.  
---
Māori Language Moment
The Māori Language Moment is marked annually at midday on Māori Language Day, 14 September. Everyone is encouraged to speak, sing, listen, read or learn te Reo Māori at the same time, to set a new world record for the greatest number of people speaking and celebrating an endangered Indigenous language at the same time.  
You can find out more at ReoMāori.co.nz. 
---
Mahuru Māori
Mahuru Māori began in 2017 to promote the use of te Reo Māori through September. While Mahuru is often translated as September, following the Maramataka (Māori lunar calendar), in 2021 Mahuru runs 7 September to 6 October, so this celebration of te Reo Māori follows these dates.  
During Mahuru Māori you can create your own personal wero (challenge) to include more Te Reo Māori in your day. It can be anything that helps you speak more Māori – an hour, half the day, all day every day, or using Māori greetings and farewells. Check out the Mahuru Māori challenge finder or the Māori Phrase a Day Facebook group for ideas, and get a team together with friends, whānau or workmates. 
---
What can I do?
Mā tātou katoa te reo Māori e whakarauora:

Whakatauhia te reo Māori ki te wāhi mahi me te hapori
Whakahau i ētahi atu ki te kōrero, ki te ako hoki i te reo Māori; whakauruamai hoki te reo Māori ki tōu ao
Kia tika tonu te whakahua i te kupu Māori i ngā wā e kōrero Pākehā ana
Ahakoa iti, akona, kōrerohia
Kia nui ake te ako ka kōrero ai
Whāia te ara poutama o te reo ka tohatoha ai.

Everyone can contribute to te Reo Māori revitalisation:

Make te Reo Māori welcome at work and in the community.
Encourage others to use and learn te Reo Māori; welcome Māori language into your life.
Pronounce Māori words correctly when speaking English.
Learn a little, use a little.
Learn more, and use what you know.
Keep improving your language, and share what you know.
---
Our resources