Whakahoatanga Manatu | Memorandum of Partnership
Kāpiti Coast District Council is absolutely committed to its partnership with Te Āti Awa ki Whakarongotai, Ngāti Raukawa and Ngāti Toa Rangatira and the Memorandum of Partnership it holds with them. 
This involves a commitment to working via Te Whakaminenga o Kāpiti, the partnership mechanism for advancing matters of mutual interest. The council is committed to working directly with each iwi and relevant hapū on matters relevant to their role as kaitiaki and of specific interest within their rohe. The council will continue to work to advance the agreed strategic work programme and to work with iwi to respond to the interests and concerns of Māori residents. It will also seek creative ways to advance wider understanding of tangata whenua history, interests and vision for the wider community.
Achievements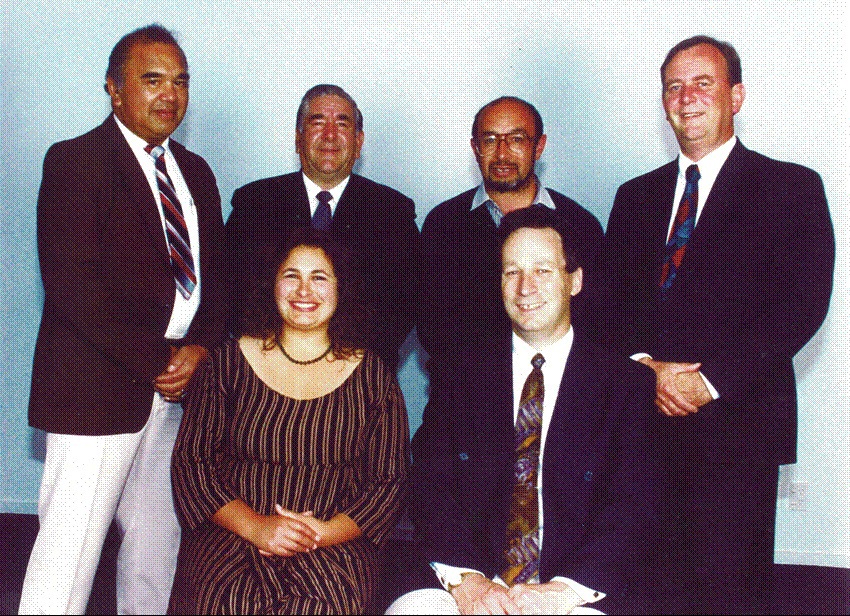 The Initial Te Whakaminenga o Kāpiti Committee 1994 (from left) the late Te Pehi Parata, Te Āti Awa ki Whakarongotai, Cr Harold Thomas, John Barrett, Te Āti Awa ki Whakarongotai, the late Mayor Brett Ambler, Miria Pomare, Ngāti Toa Rangatira and Glen Innes, General Manager (absent Rupene Waaka, Ngāti Raukawa ki te Tonga)
Memorandum of Partnership re-signed each triennium
Published and launched The History of Te Whakaminenga o Kāpiti 19 June 2007
Coastal Strategy developed in partnership with Iwi
Photographic Archive of Tāonga
Advocated the need to retain the knowledge of decoration in wharenui and buildings associated with marae. Extensive photographic archiving undertaken
Annual marae maintenance grants
Māori Economic Development projects
Annual Commissioners Training: two iwi members nominated to complete the training annually
Matariki is celebrated annually
Maramataka calendar published and distributed
Quarterly newsletter informing the community on activities and projects that iwi and council collaborate on
Treaty of Waitangi advocated the need to increase awareness of the Treaty within Council, courses are explored and offered to staff
Te Reo Māori – advocating for greater promotion of Te Reo Māori within the Kāpiti Coast community
Civic Citizenship Ceremony held annually at marae from the district