Electric vehicle (EV) charging network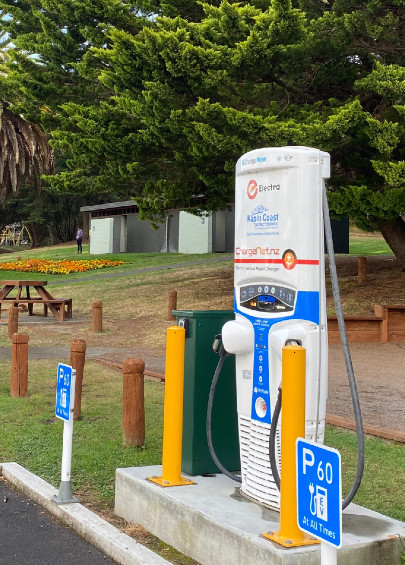 Kāpiti has a growing network of electric vehicle (EV) charging locations, supporting sustainable, low-carbon transport options.
A strong recharging network helps make switching from petrol to electric more accessible, and enables higher electric vehicle capacity on the roads with reduced queues and wait times for chargers.
Some of our charging locations are the result of a trans-regional partnership between ChargeNet, Electra, the Kāpiti Coast and Horowhenua District Councils, and the Energy Efficiency and Conservation Authority (EECA), who provided funding support through the Low Emission Vehicle Contestable fund. Others have been added by private companies, such as the SparkPlug (trial site) near the Waikanae Train station.
---
Locations
Charging stations in Kāpiti can be found in:
Paekākāriki
Raumati Beach
Paraparaumu
Waikanae Beach
Waikanae
Ōtaki.
Check Waka Kotahi NZ Transport Agency's Electric vehicle charging stations journey planner, PlugShare, or Drive Electric to find current lists of charging stations.
---
Benefits of EVs
Converting to an electric vehicle has numerous benefits for vehicle owners and our environment. EVs use a large electric battery powering an electric motor, do not use any petrol, and produce no exhaust so are far kinder to the environment. In New Zealand, 80 percent of our electricity supply comes from renewable sources, making EVs even friendlier to the environment.
Travelling by electricity is cheaper than petrol. EECA calculates the cost as equivalent to 30 cents a litre, about seven times cheaper than petrol. This can save EV drivers a few thousand dollars a year, quickly paying off any higher car purchase price. Finally, fewer moving parts means electric cars have less maintenance cost.
The Gen Less website also answers common questions about EVs, like whether the New Zealand electricity grid can support EVs, or what the overall carbon footprint of an EV might be.
---