Paraparaumu wastewater treatment plant consenting
Waikanae, Paraparaumu and Raumati are served by a single wastewater treatment plant in Paraparaumu, which was upgraded in 2001/02. At the same time, the oxidation ponds (now Pharazyn Reserve) at Waikanae were closed, and all Waikanae wastewater pumped to Paraparaumu for treatment.
There are 15 pumping stations in Waikanae and Paraparaumu and Raumati communities are served by 105 pumping stations. The Paraparaumu Wastewater Treatment Plant uses biological nutrient removal, one of the most advanced treatment processes in New Zealand. The plant treats approximately 10 million litres of wastewater every day.
Resource consents were granted for 20 years and expire in March 2022, and we're are working through applying for new consents.
Find out about the Paraparaumu Wastewater Treatment Plant.
---
Background
Paraparaumu wastewater treatment plant (WWTP) consenting project involves preparing resource consent applications to operate the treatment plant. The wastewater treatment plant has five consents, covering discharges to:
air, associated with plant odours and operating a boiler
land, via an unlined storage basin used to store untreated wastewater in wet weather when unusually high amounts of wastewater reach the plant (this occurs approximately two or three times a year)
the Mazengarb Stream (this discharge makes up a high proportion of the stream's flow).
All these consents expire in March 2022.
This project will identify the best long-term solution for the plant and its discharges. Laws and standards, and community views about the environment, have all changed since the last consents were granted. This means our current treatment method will not meet future requirements, given our growth and higher standards.
We'll lodge an application for interim consents to extend the existing situation. These interim consents will give us the time to identify the best long-term solution, and to fund, design and construct that solution.
---
Process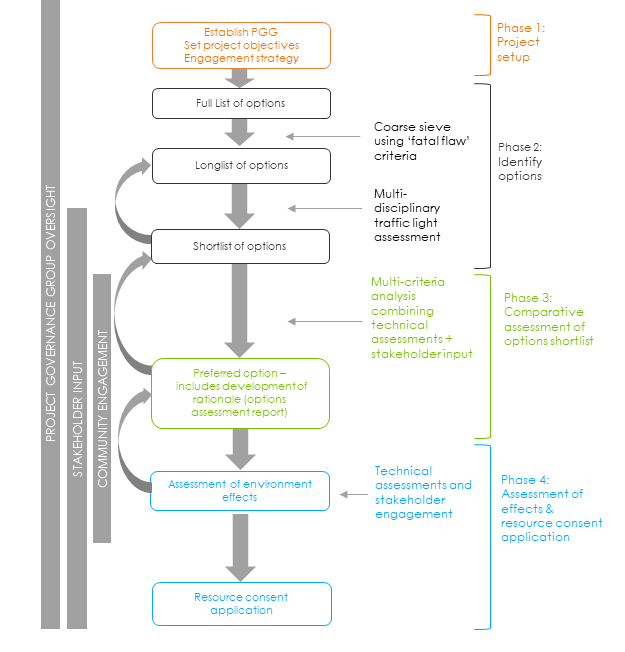 ---
Options
The longlist of options includes combinations of the following.
Surface water discharge options
No change (discharge to Mazengarb Stream).
Higher level of treatment (discharge to Mazengarb Stream and Waikanae River).
Existing level of treatment (discharge to Waikanae River).
Split discharge to surface water (combination of discharge to Mazengarb Stream and Waikanae River).
Ocean discharge options
Discharge south of Marine Reserve.
Discharge north of Marine Reserve.
Long outfall with outlet beyond Kāpiti Island.
Most to coastal marine area, some to land.
Discharge to coastal marine area, with lower treatment.
Land application options
Discharge to land near coast.
Discharge to land in inland areas.
Part of discharge to inland with peak discharge to sea.
Part of discharge to inland and Mazengarb Stream
Part of discharge to inland and Waikanae River.
Groundwater/water supply network options
Discharge to shallow aquifer.
Bore injection into Waimea/Parata aquifers.
Bore injection into deep aquifers near Raumati.
Discharge to Waikanae River downriver of water supply intake.
---
Community engagement
We'll be working with our iwi partners and key stakeholders throughout the process. We'll engage with neighbours of the wastewater treatment plant in the early stages of the project, and with our district-wide community on the shortlist of options when it has been identified.
---