Kapakapanui School students get into environmental restoration
Published 17 Dec 2020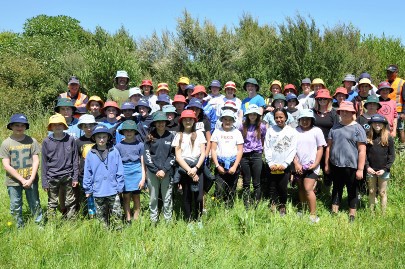 A group of budding young Waikanae conservationists have had a taste of on-the-ground environmental restoration on their local awa. 
Kāpiti Coast District Council staff were recently joined by 156 Kapakapanui School pupils to help maintain restoration planting on the Waikanae River. Working in two groups over two days with Council staff the young ecologists helped with weeding around plants and removing plastic protectors. 
Council Biodiversity manager Rob Cross says it is great to see a new generation be introduced to conservation work and hopefully catch the restoration bug. 
"Maintaining restoration plantings is crucial to their success and it was great to have so many helping hands at this time of year," Mr Cross says. "Council staff enjoyed working with the kids, who did heaps of useful work while learning why native plants are good for the river." 
Kapakapanui School principal Craig Vidulich says the working bee was part of a service learning programme which sees Year 7 and 8 pupils giving back to their community. 
"The Awa is important to our community and we enjoy providing our students with varied opportunities to use it for learning, recreation and also preserving," Mr Vidulich says. 
"The Awa is included in our school waiata, haka and pepeha and has a powerful connection to everyone who lives in Waikanae."