Kāpiti Road improvements completed to the benefit of all
The opening of the shared pathway on the south side of Kāpiti Road marks the completion of several years' work to improve pedestrian, motorist and cyclist safety along Kāpiti Road.
Councillor Bernie Randall says it's now easier and safer for everyone to get from the beach to the town centre.
"The most recent set of improvements to Kāpiti Road started back with the Expressway work. NZTA did a great job with that, but then there was an obvious disconnect between the new improved paths and road and the existing footpaths."
Over the past few years we've worked with NZTA and Electra to greatly improve Kāpiti Road.
Work has included putting the power underground, providing on-road cycle ways on both sides of the road, constructing a shared path on the south side, widening the road and indenting a bus stop to improve safety and traffic flows.
"We are so grateful to businesses and residents along the road and for the community for your patience as we carried out this work," says Councillor Randall.
Motorists are advised to take care while getting used to the new road layout.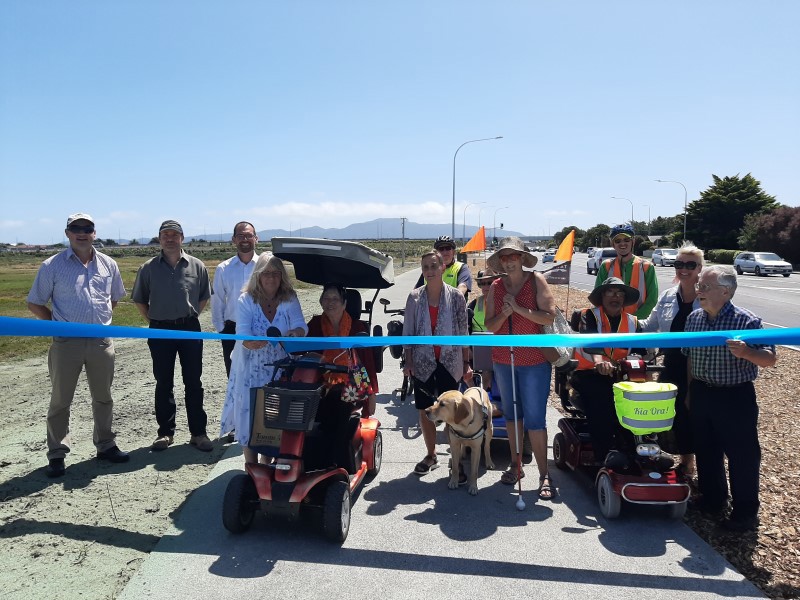 Members of the community, Council staff and elected members and a representative of Brian Perry Civil gathered to mark the opening of the new shared pathway on Kāpiti Rd on Monday. 
Pictured from left to right are: Stuart Kilmister, Chris Hodder, Max Biles, Kathy Spiers, Mayme Chanwai, Kay with Scotty the guide dog, Warwick Lamason, Bryan Miller, Sue Emirali, Eddie Garlick, Lynn Sleath, Angela Buswell and Bernie Randall.