Kāpiti Coast Aquatics – careers that build skills for life
Published 05 Aug 2021
As a coastal district, it's no surprise Kāpiti locals love the water, and our three public pools – Coastlands Aquatic Centre, Ōtaki Pool and Waikanae Pool.
We welcomed 317,000 visitors last year, with 97 percent satisfaction with our services. Around 3200 children registered for our Learn to Swim group classes, and private lessons also grew in popularity.
Our Aquafitness classes include Aquafit, AquaEase, AquaMove, AquaZumba and AquaYoga, providing low-impact exercise for all ages and abilities. We regularly bust out the inflatables and crank up the tunes at kids' events during school holidays, and true locals know you can't beat our summertime celebrations at Waikanae Pool. We pride ourselves on safe, accessible and clean facilities, offering affordable exercise and learn to swim opportunities for our community.
But our people are the true secret to Kāpiti Coast Aquatics' success.
We're looking for passionate, enthusiastic individuals to help deliver quality customer-focused experiences. You may be surprised at what a career in aquatics can give you, and where it can take you.
Breaking the "summer job" stereotype 
Far from a temporary gig for students, Kāpiti Coast Aquatics Manager Steve Millar says the industry offers many long-term career pathways, attracting people from many different stages of life.
"When we bring someone into our team, one of our biggest priorities is ensuring meaningful career pathways for them, whether they stay in aquatics long term or eventually transfer their skills," says Steve.
"Most people would be surprised what a day on the job looks like, and the skills you build to jump from task to task. You might be lifeguarding, teaching classes, planning and delivering a special event, covering reception, or doing basic maintenance work to keep our pools healthy. Every day is different."
Get paid to earn a qualification
All staff receive comprehensive on-the-job training, and we've teamed up with Skills Active and Swimming New Zealand to offer zero-fee qualifications and apprenticeships through the Government's Targeted Training Fund.
"It's an awesome opportunity to earn globally recognised qualifications while getting paid," says Steve.
"We support our team members to completion of the pathway starting with the Level 3 New Zealand Certificate in Aquatics specialising as a Pool Lifeguard or Swim Teacher, progressing to Level 4 Aquatics NZ Certificates for Senior Lifeguards or specialised Swim Teacher.
"The level 3 qualifications are a great foundation and designed to be completed in eight months on the job, the more comprehensive Level 4 NZ Certificates can take up to 2 years and formalises everything that you learn on the job. We currently have 12 employees becoming qualified swim teachers, and another 10 training as senior lifeguards."
Steve says the formal qualifications are popular, and he's keen to put as many new recruits through the process as possible.
"With this apprenticeship you gain advanced industry knowledge and practical skills that can take you anywhere. There aren't many jobs offering that. If staff are keen to learn, we're committed to supporting them through gaining a qualification."
Different strokes for different folks
Julian Carr, Team Leader
In his early 60s, Julian found himself at a crossroads after an unexpected redundancy.
With an impressive résumé including teaching, nursing, and significant business experience, he wasn't initially concerned about finding another busy job – until the phone sat silent following dozens of applications, he believes because of his age.
After a heart to heart with his son about priorities for his next step, including needing to reduce stress levels, Julian decided to join the Kāpiti Coast Aquatics team as a lifeguard. Since then, he's progressed to being a senior lifeguard and now a team leader.
"I wasn't much of a swimmer and had to train for two weeks to pass the entry test, but everything else you need to know you learn on the job," says Julian.
"I love the lifestyle and flexibility of working shifts. I'm warm and cosy walking around in shorts and sunglasses no matter what the weather's like and, most importantly, I leave work at work. There's no stress following me home.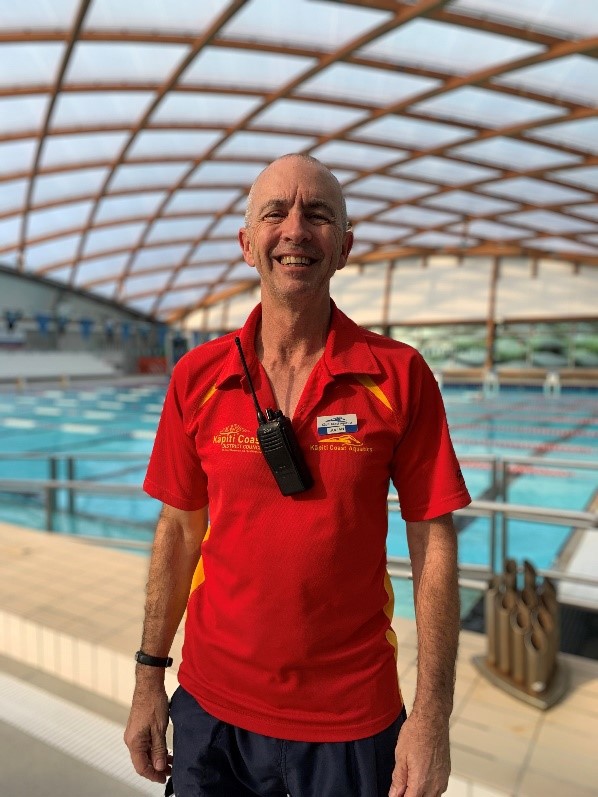 "We have a passionate, skilled team who I really enjoy working with, and three years in I'm still challenged and learning every day."
Julian has no plans to retire just yet and working poolside will keep him on his toes for a while.
"A career in aquatics can be anything you need it to be. You choose your own adventure – you just need the right attitude."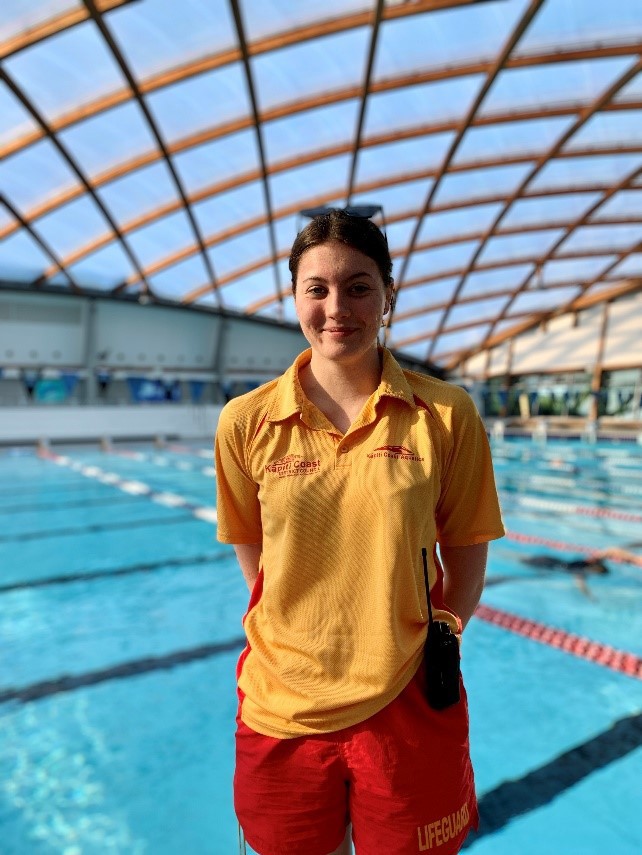 Stevie Shipman, Lifeguard
Eighteen-year-old lifeguard and competitive swimmer Stevie Shipman is impressively accomplished, partly because she finds opportunities in everything she does.
As a former Deputy Head Girl at Kāpiti College, national titleholder in backstroke, and Victoria University student, Stevie is working on a conjoint degree. She's making the most of her time working in the Kāpiti Coast Aquatics team.
"Swimming's my passion; I love pushing my limits, and having a challenge around every corner," says Stevie.
"Coastlands Aquatic Centre's a second home for me. My teams and managers are among the people who support me most.
"From lifeguarding and Learn to Swim lessons, running Sound Splash events and Aquafit, to supporting reception, most of the time I don't even feel like I'm working.
"I love that I can give back to young swimmers by sharing my knowledge, while taking the opportunities I'm given to learn and grow myself.
"Flexibility is a big drawcard for me; I'm in the pool training up to eight times a week – on top of my studies and other commitments. I can pick up early or late shifts, and work weekends and holidays that suit my schedule. I've also worked in other parts of Council as a result of the networks I've built in my work at the pools."
Stevie says you don't have to be the world's best swimmer to get the most from a job in aquatics – you need confidence and a willingness to learn.
What does the future hold for Stevie? She plans to finish her degrees, progress her lifeguard training, and work on her Learn to Swim qualifications to competitive swimming coaching levels.
"I work hard but I also get a lot from my job. Every time I work a shift, I know I'm learning something that will help me in the next step in my career."
Brenna Brown, Lifeguard
Like Stevie, young mum Brenna Brown began as a competitive swimmer, but she's now managing part-time lifeguarding with full-time parenting of three children under five years old.
Brenna's energy and zest for life is infectious. She grew up in Kāpiti and went to Paraparaumu College, putting herself through lifeguard training in Year 13. "I wanted to be a lifeguard, but didn't know they provided free training, so I paid for the qualification myself with mum and dad's help."
The then-manager at the aquatic centre saw her training. Impressed by her initiative and skills, he employed her on the spot. Next, she did a science degree at Victoria University while working full-time hours as a lifeguard at Karori Pool and lifeguarding casually at Coastlands Aquatic Centre.
After university, Brenna had three babies in quick succession. When her youngest started kindy two days a week, it freed her up to do something for herself.
"I like being social again and getting out of the house – the most important thing is my headspace. It's nice seeing the same people several times a week. I like engaging with customers – I missed that a lot. And my social skills are better now I have kids, so it's been good coming back and talking to people.
"I always loved swimming and being in and around the water. I like keeping kids safe. Now I've had my own, I've got a whole new level of understanding.
"I'm also really close to my grandparents, so I feel like I'm really good at talking to the elderly. A simple hello and a little bit of engagement can make their day."
She encourages other parents to consider lifeguarding for its flexibility, training options, and companionship.
"Lifeguarding gives you qualifications and you can do apprenticeships; the hours are flexible. I like the staff, everyone's friendly. It's so good to be socialising – that's most important for your state of mind as a young mum."
Thinking about your next jump?
We're recruiting and want to hear from anyone keen to dive into aquatics.
"We're not looking for Olympic swimmers – lifeguarding is about prevention. It's a bad day if you have to get in the water unexpectedly," says Steve.
"Lifeguards and swim teachers are observant, patient, and great with people. We offer a supportive and friendly work environment, and opportunities to upskill and carve a meaningful career, whatever your destination might be.
"If that sounds like something you'd like to talk more about, we'd love to hear from you."
Learn more by emailing [email protected] or search our job vacancies. Register your interest by Friday 20 August.