Civic and community awards honour Kāpiti volunteers
Published prior to 2016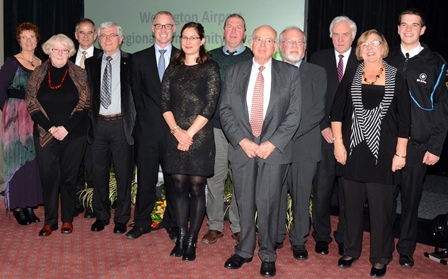 Kāpiti individuals and groups who have done outstanding voluntary work in the community were honoured with civic, community and mayoral awards yesterday.
At the awards night held at Paraparaumu Golf Club, Mayor Ross Church talked about the enormous contribution the award recipients make to the district each year.
"These are people who volunteer their time for the good of our community and it's wonderful for them to be acknowledged here tonight," he said.
Winners of each category in the Wellington Airport Regional Community Awards received certificates and cheques from Norrey Simmons of Wellington Community Trust. The runners up were presented with certificates and cheques from Wellington Airport's General Manager of Infrastructure Geoff Eban.
Winners of Civic Awards were given a plaque from Mayor Ross Church and the recipient of the Mayoral Award received a certificate.
The Civic Awards recognise those who provide service to the Kāpiti community through groups such as sports clubs, charities and welfare organisations or who have achieved outstandingly as individuals in their chosen field. Recipients this year were Al Kapa, Don Edhouse, Barbara Franks, Angelo Robinson and Janet Secker.
The Wellington Airport Regional Community Awards focus on volunteer groups in the categories of heritage & environment, health & wellbeing, sports & leisure, education & child/youth development, and arts & culture. Winners and runners up were as follows:
Heritage & Environment
Winner : Steam Incorporated
Runner up: Paekakariki Community Trust

Health & Wellbeing
Winner: Menzshed
Runner up: Lions Club Kapiti

Sports & Leisure
Winner: Paekakariki Surf Lifeguards
Runner up: Coastguard Kapiti

Education & Child Youth Development
Winner: Otaki Surf Livesaving Club Inc
Runner up: St John

Arts & Culture
Winner: Kapiti Coast Quilters, Community Quilts sub-group
Runner up: Kapiti Gospel Choir

Menzshed also won the Supreme Award and will represent Kāpiti in the regional community awards in Wellington.
Graham Brown was presented with aMayoral Award for his commitment to Coastguards Kapiti and 25 years as a JP.

WELLINGTON AIRPORT COMMUNITY REGIONAL AWARDS 2014
Winner of the Arts & Culture Category: the Kapiti Coast Quilters, Community Quilts sub-group
A sub-group of the Kapiti Coast Quilters Guild, known informally as Community Quilts, meets bi-monthly to make quilts to donate to deserving causes/families/individuals. The first donations were made to victims of the Paekakariki floods. Subsequent donations have been made to Christchurch earthquake victims, Pike River Disaster families, the Neonatal Unit and the Children's Ward of Wellington Hospital, Women's Refuge and individuals.
Members donate their time, remnants of fabric, threads and batting. In some instances, Guild members have donated whole quilt tops for completion by the Community Quilts Group. One member who has a long –arm quilting machine donates her time to individually create each quilt for donation. At the 2013 Kāpiti Arts Trail a large quilt was sold to raise funds for additional supplies such as backing fabric. In addition to the bi-monthly meetings Community Quilts members also complete work in their own homes.
The giving of a quilt is a tangible expression of love, care and concern, and quilts provide on-going warmth and comfort. The Guild regularly receives messages from recipients who are overwhelmed with gratitude at being given something handmade by people who are completely unknown to them.
Winner of the Education and Child Youth Development category: Otaki Surf Lifesaving Club
The Otaki Surf Lifesaving Club has served the community and visitors to Otaki for 59 years and in that time has performed over 486 rescues in the surf at Otaki Beach plus hundreds of first aid treatments and searches, along with thousands of preventative actions.
There are now 43 patrolling lifeguards with 11 new ones recently qualifying. 14 members have also completed first aid courses.
The club has trained over 400 lifeguards and coached more than 80 junior ones (13 & under) to have fun at the beach and in the water. These youngsters develop skills over time to become some of our best lifeguards.
The club has also educated thousands of people in surf awareness and lifesaving techniques e.g. to schools and Scouts groups.
Additionally, it makes presentations and speeches to Rotary clubs, Societies and Community Groups about the history of the club and current activities.
Surf lifesaving requires discipline and dedication and lifeguards, volunteer managers and coaches give this year after year. The surf lifesaving motto is 'in it for life'.
Winner of the Health & Wellbeing category: Menzshed
Menzshed started in 2010 with 25 members.
The purpose of Menzshed is to provide an environment for the health and wellbeing of men to pursue their personal growth and develop a greater understanding of their role in the community and family. There are now over 70 men from the wider Kāpiti area who have signed up as members.
Menzshed Kapiti gives options for men who have retired, are about to retire or for whatever reason are not in full-time employment and who find that they have some time on their hands since giving up work. They want to be involved in the community but are not sure how to, or they have lost touch with workmates and miss the company they enjoyed when they worked. They may also miss the satisfaction of working on a project or the family home has been sold and they no longer have a workshop to work in.
As well as the on-going work to develop Menzshed, a significant number of community projects and activities have been completed during the last year. These include:

30 nesting boxes for little blue penguins along the QE Park dunes
a public seat installed in front of the Waikanae Health Centre
two seats for the Ōtaki Rotary Group to install at the Ōtaki river estuary
a steel frame made for Waikanae Surf Club trailers for storing surf boards
a mini golf putting set made for the local Alzheimer's Group
20 weta motels for DOC
a large BBQ table for Waikanae Volunteer Fire Brigade
a large cottage playhouse for Waikanae Montessori pre-school.
Winner of the Heritage & Environment category: Steam Incorporated
Steam Incorporated was initially established in 1972 to ensure the preservation and restoration of selected steam locomotives that were fast disappearing from the New Zealand transport scene. A second, but equally important, objective is to be able to operate restored carriages from the steam era on the main lines to give people insight into transport from the first half of the 20th century.
The society acts as a working museum of railway equipment from that period and is a registered charity. It also provides opportunities to local colleges for job experience and skills training.
Volunteers make up 97% of operations including the excursion organisers and crew, plus staff involved in the running of the depot at Paekakariki. Volunteers bring their skills to the organisation and learn new skills from other members.
Steam Incorporated has run successful excursions on the main line including Wellington shuttles (December 2013), depot open days and participation in the first Kapiti Heritage Day. It has also successfully completed a 12-year restoration of an AB608 Passchendaele – NZ's only mobile WW1 memorial.
Winner of the Sport & Leisure Category: the Paekakariki Surf Lifeguards
The Paekakariki Surf Lifeguards have members from as far afield as Palmerston North and Wainuiomata and are well respected members of the district. They voluntarily patrol Paekakariki Beach from November through to March each year to provide a safe area for our community to swim in.
They also provide lifeguard support at local events like the Queen Elizabeth Park Festival, the Kāpiti Women's Triathlon, Ocean Swims and the Rotary Duck Race.
They have a strong Junior Surf programme which coaches kids in the 7-14 year old age bracket. This a great breeding ground for young athletes and future lifeguards. The Junior Surf component makes up a membership of around 200 kids and their families.
Paekakariki Surf Lifeguards also make up the majority of the Central Region Call Out Squad which is called upon by the Police call centre to assist with water searches throughout the year. Again, this is all volunteer work and the long hauls on the road to various locations (including Otaki, Wanganui, Wairarapa and Wellington) are at the expense of these volunteers.
Their U19 women's boat crew have won a national title, two of their IRB crews have won national titles and several other members (who all have to be actively patrolling and be qualified lifeguards) have had podium finishes at national events. This is testament to their dedication to both the community and their training.
They celebrated 100 years of Paekakariki Surf Lifeguards in October last year and Radio New Zealand did a piece on their contributions to surf lifesaving and the wider Kapiti community (being the first rural lifesaving club in the country).
KAPITI COAST CIVIC AWARDS 2014
Al Kapa
Al Kapa has spent 10 years working as a child, youth & family teacher aid at Paekakariki school, Kena Kena School and Kāpiti College. He has also worked at Kāpiti Youth Support for the last two years. Youth in these areas have gained a lot from Al's work i.e. keeping safe and out of trouble. Many of the children he has worked with would be running wild without his help.
Al has also turned the tides for the Kāpiti Bears rugby league club and for the sport in the Wellington area. He is on the Wellington Rugby League School Boy Board and coaches junior teams, as well as managing senior teams. Some of the players he has been involved with are now in Wellington rep teams and have gone onto NRL League teams.
Al has had health issues for years but never complains. His favourite saying is 'Ke te Pai' – he just gets on with things.
Al's contribution in Kapiti helps make Council Kaumatua's job easy and this includes the way he helps the Police and our community.
Barbara Franks
Barbara is extremely dedicated to her community and this includes involvement in the Waitohu Home & School Committee, Ōtaki Athletics Club, the Waitohu Board of Trustees, the Ōtaki Village Promotions Group and administration person for Otaki Cub Scout Pack…and that's just a few!
When it comes to people who contribute to, and make a positive difference within communities, Barbara is as good as they get. Maine Curtis the principal of Waitohu school, says: "I have the deepest respect for both the contribution Barbara has made and continues to make, as well as the extremely positive, intelligent and loving way in which she makes it."
As well as all her voluntary work, Barbara holds down a 3-day a week job where she is well known for her skills as a spreadsheet queen and sorting out income and expenses after fundraising events which gives the groups involved the ability to see what has worked and what has not.
Barbara brings to her roles a mix of common sense, astute business and organisational acumen, a readiness to laugh and forgive, openness to new ideas and a phenomenal work ethic.
In Barbara, the Otaki Village Promotions Group had someone they felt could help organise the hugely successful Otaki Kite Festival. This is the second time this festival has been held and it needed to expand in term of participants and visitors. Barbara's strong organisational skills and calmness under adverse circumstances helped achieve this.
Angelo Robinson
Angelo Robinson has inspired scores of young people over the last 30 years.
Angelo had a basketball career around the world before playing for the Wellington Saints and then coaching them to their first ever NBL title. He started coaching on the Kapiti Coast in 1989 with the Kapiti College Basketball team and then established Hoop Club with friend and fellow Wellington Saints legend Kenny McFadden.
Angelo expects all who attend to give back to the community with the young adults picking up refereeing and scoreboard duties for college games as well as supporting charity events like the Youth Quest walk.
Angelo is also Director of Coaching for the Kapiti Basketball Association which has, over the years, produced some quality players who have gone on to play in the NBL.
However for Angelo, it is not all about the big players - it is about fostering a different mind-set, something he believes is much needed here. He feels Kiwi kids have the ability but that they need the belief and knowledge that they can do whatever it is they want to do. He doesn't let any of his kids say "they can't" in his presence. In this way, he inspires kids to achieve their true potential.
Janet Secker
Janet has enriched the minds and souls of many people in Kapiti.
For 18 years, she has freely and willingly shared her knowledge and love of the arts, especially literature, with those of all ages and walks of life.
Janet has opened up opportunities for people in our community to perform and to learn more about the arts. She has made it possible for many, who might not otherwise have had the chance, to share their love of literature and learning with like-minded individuals.
Janet has served on many committees which support and further the Arts.
She also had a leading role in the Sheila Winn Festival of Shakespeare in Schools - one of the highlights of the NZ theatrical and educational year - and she founded this festival in Kapiti.
In addition, she is:

presenter of the 'Focus on the Arts' weekly programme at Coast Access Radio
President of the Kapiti Workers' Educational Association
Secretary and Chair of the Committee of Friends of Kapiti Libraries
regular reader and supporter of the Tea & Tales programme at the libraries
member of the Creative Communities Scheme Allocation Subcommittee.
Don Edhouse
Don has been dedicated to retail in Ōtaki for the last 64 years.
His father founded Edhouse Store in 1923 and in 1950, Don took over the reins and has continued the business up to the present day serving the local and wider community.
He has employed many locals during this time and has always provided an exemplary environment for all his staff.
He has also been involved with Rotary Ōtaki for many years.