Arts Trail popular with locals and visitors
Published prior to 2016
The second weekend of the Kāpiti Arts Trail was as popular as the first, with locals and people from outside the district visiting more than 100 artists who participated in the event.
"I loved the arts trail and the two-weekend format worked well by all accounts," Mayor Ross Church says.
"I had more time to look at art over both weekends and the artists I talked to said they were able to spend longer with each person discussing artworks then they did at previous trails. Many artists also had visitors returning the second weekend to look at works they had seen during the first weekend."
"It was absolutely fantastic," says Waikanae Beach artist Michelle Retimana. "I had really positive comments from visitors that it was good to have two weekends to choose from and some looked at half the artists over the first weekend, then the other half during the second. People seemed very relaxed - they were taking their time to look around, not feeling they had to rush from site to site. I had record sales and visitors."
Visitors to the trail can give their feedback about the event by completing an online survey at kapiticoast.govt.nz/arts-trail by Friday 20 November and go in the draw to win a $200 arts trail voucher.
Exact numbers of visitors to the arts trail are still being collated.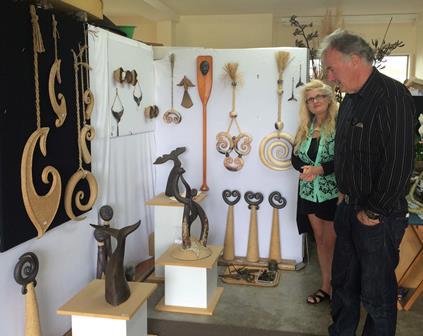 Waikanae Beach artist Michelle Retimana talks to Mayor Ross Church about her artwork.