Coastlands Aquatic Centre a winner
Published prior to 2016
Coastlands Aquatic Centre is an outstanding facility – and that's official!
The pool has been awarded this year's New Zealand Recreation Association (NZRA) Outstanding Pool Award. The award recognises the excellence, innovation and effectiveness of pools throughout New Zealand.
Neil Tonkin Chair of the NZRA Awards committee says the centre reflects excellence in community engagement, programming and innovative solutions to problems.
"I was particularly impressed by the level of innovation and engagement of the Coastlands Aquatic Centre with its community. It is clear that centre management not only pursues what the community wants from the centre, but, most importantly, does something about providing it.
"I'm not aware of any public recreation facility that so comprehensively responds to community needs."
Mayor Ross Church says pool management and staff can be justifiably proud of their efforts
"With Coastlands Aquatic Centre, we set out along with the Kapiti Aquatic Centre Trust, to use our funds wisely to create a truly community-focussed facility that would cater for young and old and people of all abilities. This award confirms we have succeeded. I whole-heartedly congratulate the centre management and staff."
Parks and Recreation Manager Alison Law says the aquatics team are grateful for the support of customers and proud to share this award with them, many of who have personally benefited from the opening of the facility.
"Seventy per cent of our customers who responded to a survey said the opening of the centre has led to an increase in their physical activity. Almost half said they hadn't taken part in water-based physical activity before the centre opened. It's so rewarding to hear that sort of feedback."
Some facts
• 202,237 customers visited Coastlands Aquatic Centre in the last financial year
• During holidays, over 30% of visitors are from outside of the Kapiti District
• Learn to swim programmes have more than 500 participants and growing
• Coastlands Aquatic Centre consistently rates very highly in customer satisfaction surveys
The NZRA Award caps a successful run for the facility since it opened. The Coastlands Aquatic Centre was a recent finalist in the Wellington Gold Awards Vibrant category, was awarded the Supreme Award at the New Zealand Wood timber design awards (2014) for the double curved transparent roof and the Council has received EECA and Green Ribbon awards for its work to cut emissions, which include the low energy-use features of the aquatic centre.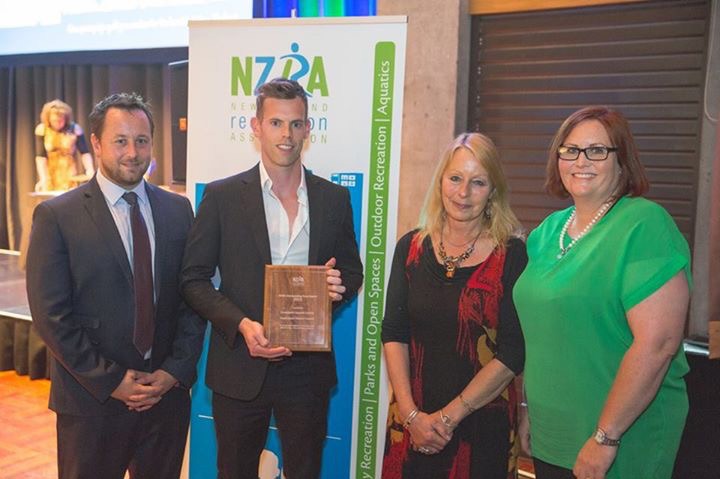 Photo: Members of the Kāpiti Coast Aquatics team at the New Zealand Recreation Association (NZRA) awards ceremony.