Kāpiti Coast District Council receives international award
Published prior to 2016
Kāpiti Coast District Council has received an international award from the International Association for Public Participation (IAP2) for the Kāpiti Town Centres and Connectors Transformation project.
The Encouragement Award was presented jointly to Council and Beca, consultant on the project, in recognition of excellence in the field of public participation; demonstrated through the development and implementation of an outstanding project.
During 2014, the community, business and Council worked together to develop plans for Paraparaumu and Waikanae town centres – concepts to provide the transformation sought.
The transformation of the two town centres is one of Council's key initiatives in FutureKāpiti – Long term plan 2015-35, and enhancing community engagement is one of Council's key focus areas.
Community engagement on the project included innovative mechanisms to assist the community identify and prioritise what was important to them in the planning for the futures of the Paraparaumu and Waikanae town centres.
The project used a fun LEGO Town built to scale to encourage community involvement. A volunteer, community effort, it imagined the Paraparaumu Town Centre in 2035. Jake Roos, coordinator of the LEGO Town Centre, says "Both the builders and Menzshed deserve a round of applause for their huge contribution."
In addition, drop in sessions with the two communities were held, local schools were visited to determine their movement through the towns and possible improvements, regular meetings took place with the Te Ati Awa Town Centre working group - formed for this project, and email newsletters were sent to subscribers.
Judges made the following comments:
"This project clearly went beyond what was statutory and have successfully brought the community along in visioning their town's future. Many stakeholders and businesses requested the ways they wanted to be engaged. The Lego Town was a great technique to work with all ages and to share the messages/vision to the whole community."
"Highly visual and interactive techniques were used and the all ages, co-building aspect of Lego Town was an excellent visual addition."
"The Kāpiti Coast District Council engaged citizens in a meaningful way that went beyond its normal public participation practice; and got a better plan as a result."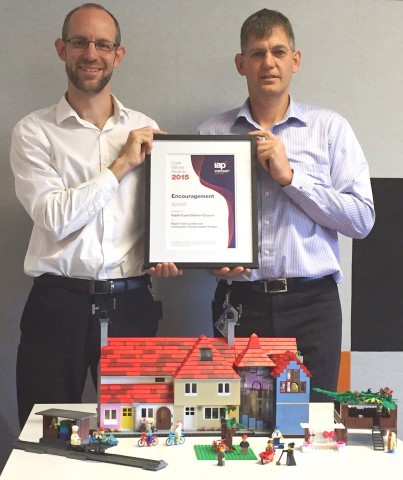 Caption: Jake Roos (LEGO Town Centre coordinator) and Phil Stroud (Town Centre project manager) – both of Kāpiti Coast District Council with the IAP2 Encouragement Award.