Kāpiti school students gives sport a go at Junior Winter Tournament
Published prior to 2016
Aspiring All Blacks, All Whites and Silver Ferns turned out in force to give sport a go in Kāpiti this week.

More than 870 children from 10 schools took to Te Ātiawa park and courts, Mazengarb Reserve and Kapiti Sports Turf in Paraparaumu for the annual Junior Winter Tournament on Tuesday 11 August.

Organised by the Kāpiti Coast District Council, the annual one-day sports tournament has 6 to 8-year-olds playing sports such as football, rippa rugby, hockey and netball.
Supporting the school children were local sports clubs including Horowhenua-Kapiti Rugby Union, Capital Football, Netball Kapiti and Kapiti Coast Hockey Club.
Aquatic facilities' customer relations manager Brent Harvey said it was a great introduction for students to play a sport they might not usually play.

"The tournament is all about children in Kāpiti taking part in sport and the day of activities helps children with their co-ordination, confidence, balance and basic fitness," he said.

"It gives them a taste of active living, teaches them about sportsmanship and teamwork and in a space their familiar with at our facilities here in Kāpiti.
"The kids always have a ball and this year was no exception. It was great to see them out there having a go at a number of different sports and especially for the ones that haven't played that sport before, and that's what it is all about."
The Senior Winter Tournament to be hosted at the same venues on Wednesday 9 September will be focusing on the primary and intermediate schools students.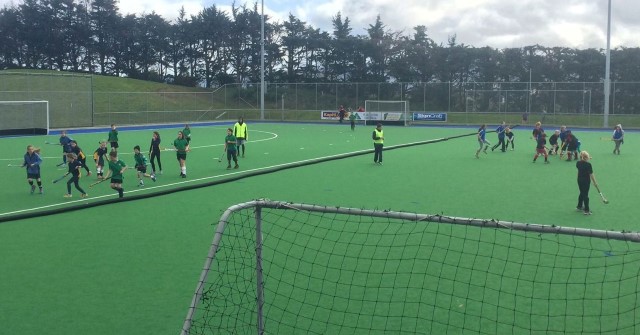 Kāpiti school children playing hockey at Kapiti Sports Turf for the annual Junior Winter Tournament.