Winners of libraries' poetry competition featured in eBook
Published prior to 2016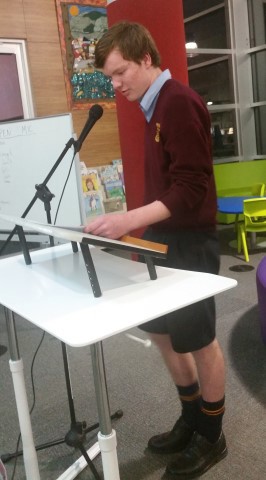 Rhymesters and writers from Kāpiti are featured in the libraries' newly launched poetry anthology.
Kāpiti Coast District Libraries released its third poetry collection at an open mic night at the Paraparaumu Library recently.
The event celebrated National Poetry Day and also marked the end of the libraries' "Laughing Out Loud – If You're a Poet We Want to Know It" competition.
More than 35 aspiring poets entered this year's competition and the winners were announced at the poetry reading in front of a crowd of 50-plus people.
Council's libraries and arts manager Leeann Morgan said the competition was about encouraging humorous poetry in its many forms and everyone who entered this year's competition is featured in the compilation of Kāpiti poetry.
"It was heartening to see such a good number of people take on the challenge of writing belly-laughing, foot-stampingly funny stanzas," she said.
"We want to celebrate our talented poets, so as well as hosting the open mic night at the library we're also recognising their flair for writing by publishing their prose in a poetry anthology.

"It's wonderful to be able to showcase the creative community we have here in Kāpiti and this year's book, which is in print as well as an eBook, is the perfect way to do that. We hope people will find something in it that will tickle their funny bones and make them smile," Mrs Morgan said.
The eBook can be found here: https://www.smashwords.com/books/view/571544
The winners of the "Laughing Out Loud" poetry competition are:
Adult category (age 19 and older)
1st place – My parrot talks to sparrows by Mercedes Webb-Pullman
2nd place – A monstrous task by Karen Peterson Butterworth
3rd place (equal) – Don't be ridiculous by Lesley Watkins and Ophelia burns her bra by Julie Burns
Teen category (age 13 to 18)
1st place – Mornings as a teenage boy by Jed Castle (pictured)
2nd place – I'm tired of school by Ballad Woodley-Hanan
3rd place – Laughing out loud by Patricia Simmons
Child category (age 6 to 12)
1st place – My dad is a fisherman by Saskia Young
2nd place – The farmer and the pig by Jenson Young
3rd place – Writing a poem by Abigail Davies