Kāpiti residents get behind the handle bars for Go By Bike Day
Published 10 Feb 2016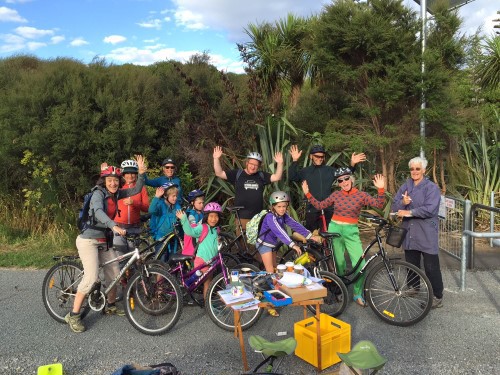 A resurgence in cycling was celebrated by Kāpiti bike riders today with a free breakfast for the annual Go by Bike Day.
More than a hundred Kāpiti residents joined in the national cycling event this morning (Wednesday 10 February) by swapping their cars and cycling to work or school.
The dedicated bike riders who joined in the cycle celebration were able to enjoy a free breakfast on the way at Paraparaumu Library or a breakfast snack at a pit-stop station at Te Ara o Whareroa cycleway in Queen Elizabeth Park.
Mayor Ross Church said efforts to encourage cycling were important in Kāpiti and it was great to see the community embracing the event.
"There's been a real resurgence in cycling in Kāpiti as we continue to expand our network of safe off-road cycling routes," he said.
"We're committed to developing healthy sustainable transport options for the Kāpiti Coast that will appeal to locals and visitors alike."
Members of Council's cycleways, walkways and bridleways (CWBs) team, as well as road safety representatives, were on hand this morning providing information on the growing CWB network in Kāpiti and giving out free cycle safety merchandise and equipment.
CWB advisory group member and founder of the Paekākāriki Bike Library, Jan Nisbet, also joined in the activities by volunteering at the station at Te Ara o Whareroa.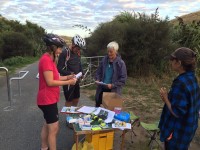 She had a two-minute survey for cyclists on the bike library concept and identifying priorities for the network surrounding the new cycleway at Te Ara o Whareroa, which is part of the estimated $5million Stride N' Ride package.
Through Stride N' Ride, the Council will improve key commuter connections to busy rail stations, schools, local centres and the new Kāpiti Expressway cycleway between Paekākāriki and Waikanae.
The package is part of the Urban Cycleways Programme, which enables key, high-value urban cycleway projects to get underway around the country over the next three years. The programme is a shared investment from local councils, the urban cycleways fund and the national land transport fund, administered by the NZ Transport Agency.