Great response to 'Welcome to Waikanae' sign competition
Published 14 Mar 2016
The Waikanae Community Board received more than a hundred entries for its 'Welcome to Waikanae' sign competition.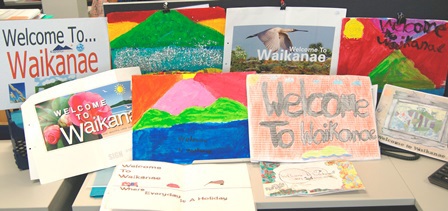 A total of 117 designs for new signs were received with 87 of these from Waikanae school pupils. The winning design will be used for new SH1 signs to replace the current ones.
"We were delighted with the high calibre of the designs and it's going to be very hard to choose just one winner," Waikanae Community Board chair Eric Gregory says. "It's great to see so many people getting involved with a community project like this, particularly the response from children."
John Brunton, Associate Principal at Kapanui School - which entered 30 designs - says his pupils had been involved in looking at what Waikanae could look like in the future and that the 'Welcome to Waikanae' sign was part of that.
"The sign is going to be around for a long time and who knows, one of our pupils' designs could be the one chosen."

Judging of the designs will take place next Wednesday by Mr Gregory, other Waikanae Community Board members, Mayor Ross Church, Waikanae Ward Councillor Michael Scott, Sue Lusk of Destination Waikanae and Ann-Maree Ellison of Te Ātiawa Town Centres Working Group.

The winner will be announced on Monday 21 March on our website at www.kapiticoast.govt.nz/waikanaesign