Kudos for Council at EECA awards
Published 20 May 2016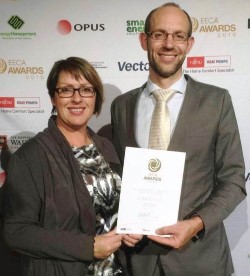 Kāpiti Coast District Council was recognised for its programme of transport efficiencies and driver training at the Energy Efficiency & Conservation Authority (EECA) awards earlier this week.
Council was commended in the Public Sector category of the awards, which are held every two years.
EECA judges said excellent leadership had led to a comprehensive group of long-term interlinked projects which were reducing the council's carbon footprint and saving ratepayers' money.

"Being responsible spenders of ratepayers' money and guardians of our environment, we need to keep looking at ways of increasing our energy efficiency," Chair of the Environment & Community Development Committee, Councillor Penny Gaylor, says.
"It's great to get ECCA's acknowledgement of our success in this area."

The Council made energy savings through vehicle maintenance, reduced mileage and educating staff on how to be more fuel efficient when driving. Walking, cycling and taking public transport were also promoted as good alternatives to driving cars. This campaign achieved a 12% reduction in petrol and diesel use in 2014/15, saving $20,000 and 56 tonnes of carbon dioxide.
The Council's electric refuse collection truck (a world-first) also contributed to this saving.

More recently, a new 32 kilowatt grid-tied, solar electric system, installed at the Paraparaumu wastewater treatment plant last year, is expected to generate 40,000 kilowatt-hours of energy per year saving six tonnes of greenhouse gas emissions and $6,500 in energy costs each year.

The EECA Awards honoured winners in ten categories for a range of projects that demonstrate excellence in energy efficiency and renewable energy across business, community and the public.
In 2014, the Council won:
theNZ Community Award for its range of projects to improve residents' energy efficiency and awareness i.e. our free Eco Design Service, the Greenest Neighbourhood competition, Energise Ōtaki and work with schools/student groups
thePublic Sector Award for its carbon and energy management scheme (making it the first Council in the country to gain CEMARS certification for managing/reducing greenhouse gas emissions).
In the same year, it was highly commended in the Energy Management Award for CO2 reduction and energy efficiency initiatives which underlie all of its operations – from its own facilities to community schemes.