Partnership will develop youth in Kāpiti
Published 14 Jun 2016
The Lions Club of Waikanae and youth education provider Zeal have signed a Memorandum of Understanding (MoU) which will see the two organisations work together, with the Council, to develop young people in the district.
The MoU outlines how a $100,000 donation from the Waikanae Lions over five years will be spent on the new youth development centre. The first $20,000 will go towards fitting out the centre early next year, with the rest of the donation ear-marked to help fund creative workshops for young people.
"This is an outstanding gesture from the Lions and we are looking forward to working with them and Zeal to support and develop our young people," Mayor Ross Church says.
Lions Club of Waikanae President, Terry Burch, says he is delighted to be able to help young people in the community.
"We believe the centre will help develop youth as the future leaders of our community and it will be great to be part of that."
Zeal CEO Brook Turner says the signing of the five-year agreement will ensure the youth development centre gets the wider support of the Kāpiti community and gives Lions' club members an opportunity to invest in the district's young people for the long term.
"We are humbled by the monetary contribution from Lions, but equally excited at the prospect of tapping into the wisdom and expertise of the club for the foreseeable future. This is what community development is meant to look like."
The Council is contributing $735,000 towards the operation of the centre in the first three years and a one-off capital contribution of $250,000 to the fit out and adaptation of the building which is located next to the Paraparaumu Pak 'n Save supermarket. This work is set to begin in late 2016 or early 2017.
The youth development centre is one of the priority projects identified in the long term plan 2015-35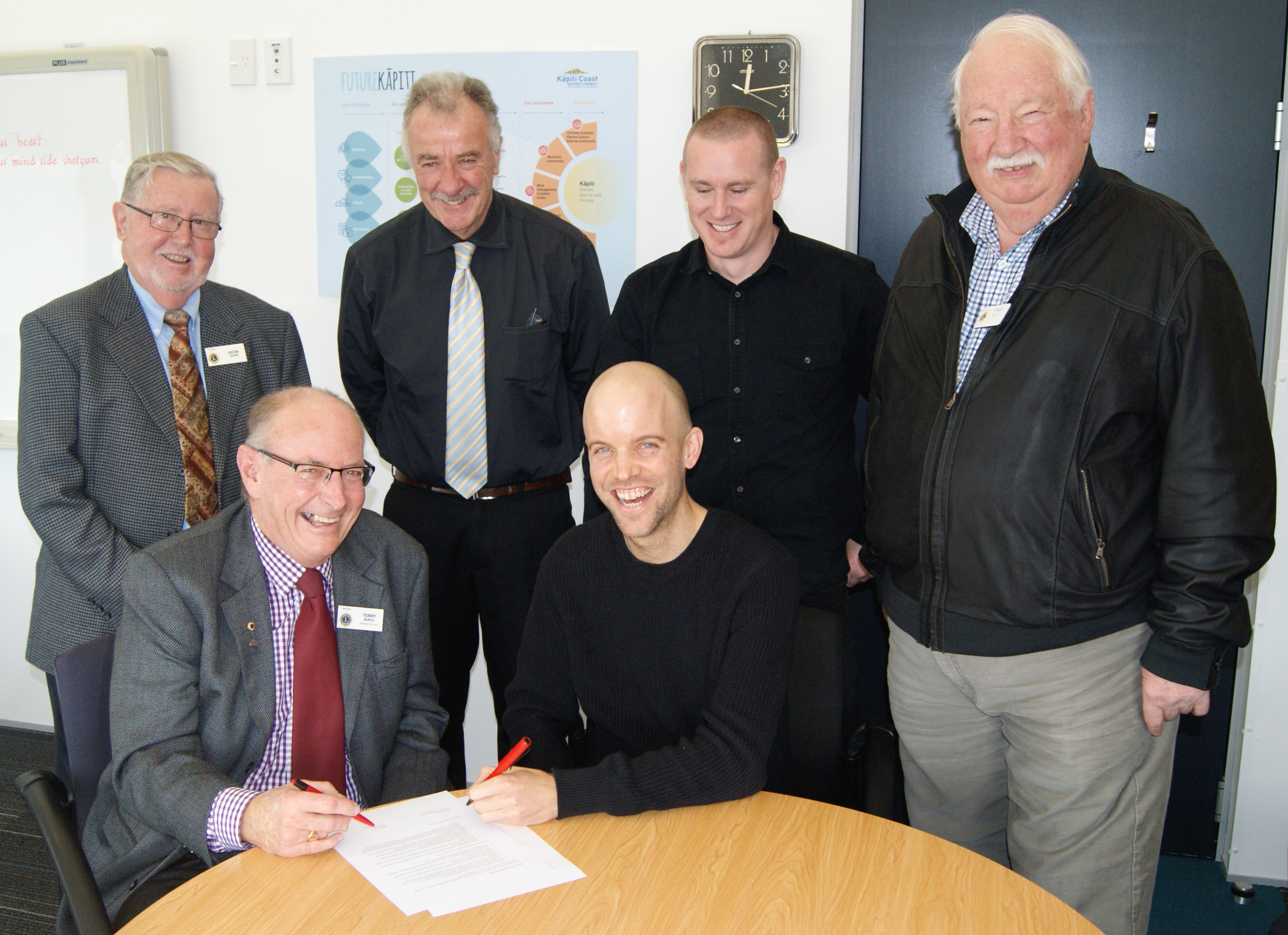 Back row L to R – Kevin Aickin (Chairman of the Waikanae Lions membership & promotion committee), Mayor Ross Church, David Orchard (Regional Manager Zeal Kapiti) and Paul Bevan (Waikanae Lions incoming president).
Front row - Lions Club of Waikanae President Terry Burch (left) and Zeal CEO Brook Turner.