School patrols march for road safety
Published 05 Dec 2016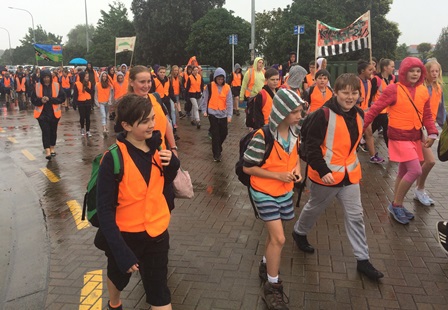 Pupils from Kāpiti primary schools braved heavy rain to parade through Paraparaumu town centre today, celebrating their hard work to keep roads safe around their schools.
Year 5 to 8 pupils from ten schools took part in the Orange Day School Patrol Parade, hosted by the council and police, wearing high-visibility orange vests and waving banners promoting positive road safety messages.
The pupils, joined by their teachers, parents, police and council staff, marched from Coastlands Aquatic Centre, along Iver Trask Place and across Rimu Road to the cinema/food court entrance at Coastlands.
Once inside the cinema complex, Mayor K Gurunathan presented the school patrol of the year trophy to Raumati Beach Primary School.
"Coming out in this rain shows the spirit you have," he said. "You didn't all win a trophy, but you're all winners. You care about the safety of your friends. Well done for the sterling effort you've put into road safety this year and for your commitment."
School Education Police Officer, Senior Constable Sue Bush, who trained the school patrols with Constable Andrea Noble, thanked the pupils for their assistance.
"We'd like to thank you for everything you've done for us and look forward to seeing you next year keeping our road crossings safe."
Judging of the road safety banners and a presentation of awards to individual school patrollers of the year then took place, followed by a movie and lunch.

School patrol of the year: Raumati Beach Primary School
Road safety message banner winner: Waikanae Primary School
School patrollers of the year:
Ōtaki College - Katie Williamson
Ōtaki Primary School - Keela Rautao
Te Kura-ā-Iwi o Whaka and Waitohu School - Manaia Smith-Bennett
Kapanui School - Hannah Hadfield
Waikanae Primary School - Dylan Jaggi
Paraparaumu Primary School - Mae Morris-Travers
Kenakena School - Sean Moody
Paraparaumu Beach Primary School - Charlie Waterhouse & Matthew Waterhouse
Raumati Beach Primary School - Kyra Wright
Raumati South School - Max Hosking