Second series of self-publishing workshops on offer in Kāpiti
Published 15 Feb 2016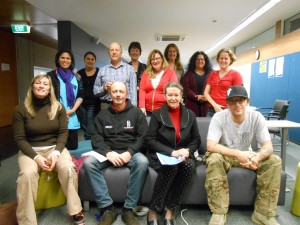 A second series of self-publishing workshops is on offer at Paraparaumu Library this month.
Kāpiti Coast District Libraries is giving budding writers another opportunity to learn how to become independent authors following the success of a self-publishing course run last year.
Libraries and Arts Manager Leeann Morgan says the first series of workshops went well with a number of participants becoming independent authors.
"We had some wonderful feedback with people telling us the hands-on, step-by-step workshops were practical and useful and we'd made something that can seem overwhelming become simple," she says.
"We show people where to start and guide them through to get to the end. Some workshop attendees have gone on to self-publish books ranging from children's fiction through to adult non-fiction."
The series starts with a comprehensive three-hour workshop on Saturday 27 February followed by ten practical workshops offering in-depth information on various elements of self-publishing.
"We have a thriving, creative community in Kāpiti. We want to enable our community to tell their stories. Independent publishing gives writers the ability to deliver their stories to as big or small an audience as they choose," Mrs Morgan says.
After the first three-hour workshop, the ten practical workshops will have a more focused approach to various elements of independent publishing.
Topics covered include; book covers and author branding, how to use different writing software packages, how to format eBooks, different distributors, social media marketing, websites, newsletters, using publishing technology and tools such as Scrivener, Smashwords, Createspace, and uploading a formatted manuscript to online retail platform and stores.
"It doesn't just stop there," Mrs Morgan says. "After the workshops we have monthly meetings for anyone who has done the course. It's a wonderful way for writers to support and encourage each other.
"We want to create a welcoming environment where people can come along, share and continue to learn after the course has finished."
Spaces on the workshops ($40 each) are limited. Register online at kapiticoast.govt.nz/libraries/publishing or email [email protected].