Work starts on shared cycleway/walkway on Mazengarb Road
Published 11 Mar 2016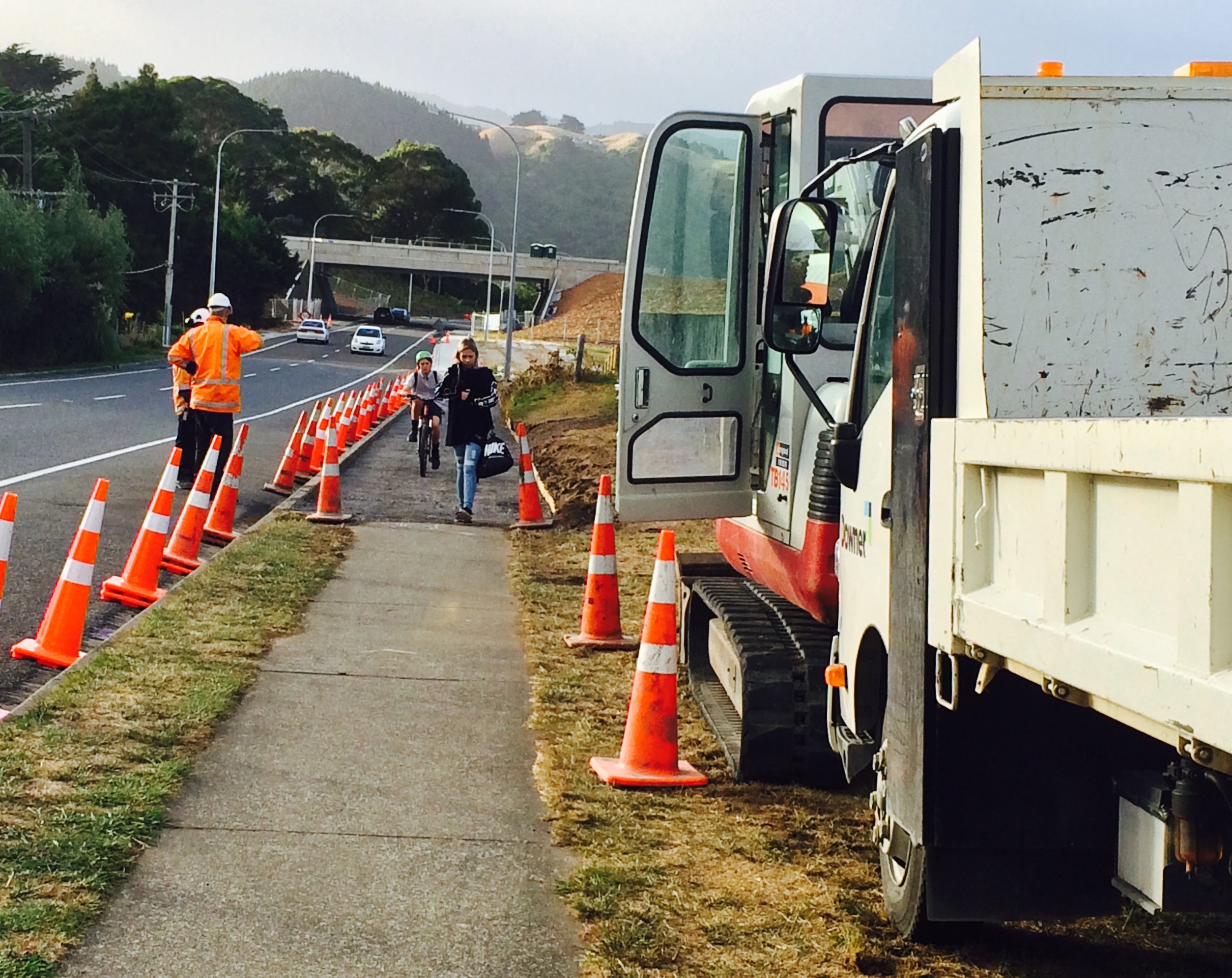 Work has begun on the first stage of a new shared path on Mazengarb Road that will connect to the new shared cycleway beside the Kāpiti Expressway.
It is the first of a network of off-road links being developed by the council under the Stride N' Ride programme.
The $5million Stride N' Ride package will deliver over 30 kilometres of off-road shared paths and on-road cycleways between Paekākāriki and Waikanae that connects the Expressway cycleway to busy rail stations, schools and town centres.
The programme is supported by investment from the Government's Urban Cycleways Fund and will focus on creating linkages to the new expressway cycleway through the arterial routes of Poplar Avenue, Raumati Road, Kapiti Road, Mazengarb, Otaihanga and Te Moana Roads.
Mayor Ross Church says the extensive network of shared walkways and cycleway planned for the district will increase the appeal of living in Kāpiti and contribute to the already numerous lifestyle benefits.
"It is essential that any modern district these days provides opportunities for off-road, sustainable travel, such as cycling and walking. Globally there is increasing demand for cycle, walkway and bridleway (CWB) networks because of the multiple benefits of non-vehicle travel.
Council has been committed for some time to developing a district wide CWB network but now with the construction of the Kāpiti Expressway, further opportunities have arisen. This really is very exciting."
The Mazengarb shared path will be constructed in three stages over the next two months at a cost of $170,000.00.
The first stage will be from the intersection of Realm Drive to the M2PP expressway site works. Stage two will start from the M2PP expressway site works to Makarini Street and stage three will be outside Paraparaumu College. Each stage is expected to take about a week.
The work will involve removing the existing footpaths and laying a wider, 2.5m footpath that can be comfortably shared between pedestrians and cyclists. Power poles were shifted last week in preparation for the start of construction.