Better connection for cyclists and pedestrians between Paraparaumu Beach and Town Centre
Published 17 Mar 2017
A new 2.5 metre wide shared path on the south side of Kāpiti Road between Magrath Avenue and the Airport Control Tower will make it easier to walk and cycle between Paraparaumu town centre and the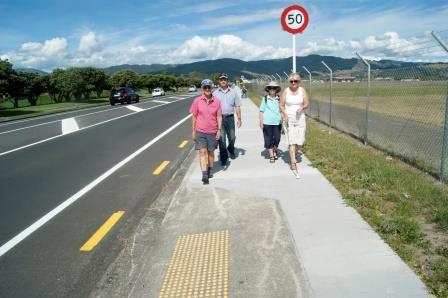 beach.
Group Manager Infrastructure Services Sean Mallon says the newly completed section of shared path on Kāpiti Road will provide better off-road cycling connections between Paraparaumu Beach and Rimu Road, and to and from the Mackays to Peka Peka Cycleway, Walkway and Bridleway.
"This is part of a series of improvements the Council is making to Kāpiti Road to ensure people can move freely between the Paraparaumu Beach area and the town centre on foot, by bike or mobility scooter.
Mr Mallon says the new 600-metre section of shared path, which follows the recently completed section of shared path on Kāpiti Road between Arawhata Road and Ngahina Street, will be extended east towards the beach in the next financial year where space allows.
The shared path improvements have been delivered through Stride 'n' Ride Kāpiti Coast – a three-way investment from Council, the Urban Cycleways Fund and the National Land Transport Fund (both funds administered by the NZ Transport Agency).
Shared paths can be used by a variety of users and are wider than the standard 1.5m-wide footpath. All users must use shared pathways fairly and safely and need to be considerate of others.
For more information about the Council's work to make it safer and easier to walk and cycle around Kāpiti, visit www.kapiticoast.govt.nz/stridenride
Photo caption: Members of the Kāpiti Coast District Council's Cycleway, Walkway and Bridleway Advisory Group inspect the recently completed shared path on Kapiti Road. Pictured from left to right: Jan Nisbet, Stuart Kilmister - Kāpiti Coast District Council CWB Programme Manager, Feriel Falconer and Sue Emirali.
17 March 2017