Civic and Community Awards recognise local volunteers
Published 18 Jul 2017
Volunteer groups and individuals have been honoured for their dedication to the community in this year's Kāpiti Coast Civic and Community Awards.
At a function in the Council's Civic Building in Paraparaumu, four Civic Awards were presented by Mayor K Gurunathan. Six groups received a Wellington Airport Regional Community Award from Wellington Community Trust's Nick Thomas and six more groups were acknowledged as highly commended by Jackie Holley of Wellington International Airport.
"The evening for me was a journey into the heart of what it is to be a Kiwi," said Mayor K Gurunathan.
"Non-profit organisations contributed $6billion to our social economy last year, with the labour of volunteers adding another $3.5billion. The generous people and community groups of the Kāpiti district, some of whom we've honoured tonight, contribute significantly to this."
"We are very lucky to have these people and groups in our community, they are a big part of what makes the Kāpiti Coast such a great place to live."
"When all the hakas are done and the dust settles on our rugby fields, this is what being a Kiwi is all about," said Mayor Gurunathan.
The Civic Awards recognise those who have contributed to the community through hard work or who have achieved outstandingly as individuals in their chosen field. Recipients of these awards were Don Liddle, Julie Anne Rooney, Peter Kentish and Marj Nutting, while John Topliff received the Mayoral Award.
The Wellington Airport Regional Community Awards focus on volunteer groups in the categories of Heritage & Environment, Health & Wellbeing, Arts & Culture, Sports & Leisure, Education & Child/Youth Development and Rising Star. Winners and those highly commended in these awards were:
Heritage & Environment
Winner Guardians of the Kāpiti Marine Reserve (also Supreme Award Winner and will represent Kāpiti in the regional award)
Highly commended Energise Ōtaki
Health & Wellbeing
Winner Ōtaki Women's Community Club
Highly commended Waikanae Cameo Society Incorporated
Sports & Leisure
Winner Kāpiti Basketball Association Inc.
Highly commended Ōtaki Taekwondo Club
Education & Child/Youth Development
Winner Paraparaumu College SEAR Action Group
Highly commended Kapiti Youth Support One Stop
Arts & Culture
Winner Kāpiti Womens Choir
Highly commended Ōtaki Historical Society Inc.
Rising Star
Winner Coastella
Highly commended Arms of Angels
MORE INFORMATION
Civic Award winners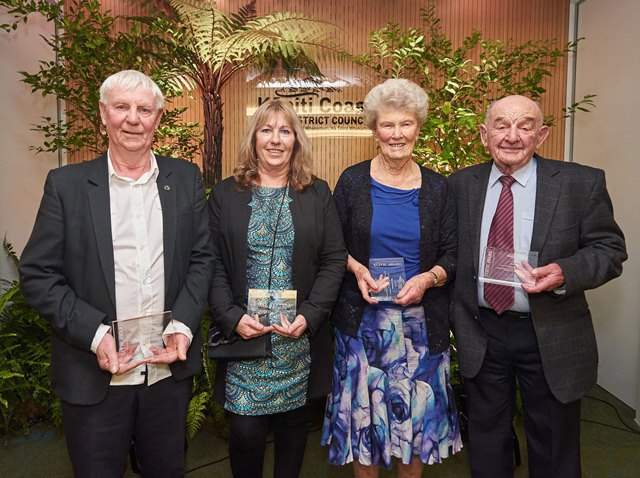 (L-R) Peter Kentish, Julie Anne Rooney, Marj Nutting, Don Liddle
Don Liddle:
Twenty years ago, Don Liddle was one of the instigators and initiators of the Waikanae Lion's Garden Trail. He has been involved directly in every annual Lions Garden Trail since it started, even providing his home as a venue during the trail for casual meals and personally organising the Cancer Society fundraising raffles and the plant prize competition. The Garden Trail has generated $600,000 over the years. This represents the largest portion of the Lions Club's donations to regional and national charities and community organisations. It has attracted more than 30,000 people over this 20-year period. Don was also a key driver and influencer in the establishment of the Waikanae Swimming Pool. The pool has become the summer hub for locals and people from further afield. Don donated at cost all the trees and shrubs that form part of the pool landscaping.
Julie Anne Rooney:
In 1989, Julie Anne Rooney was seriously hurt in a car accident. The recovery was long and hard, and she had to teach herself to walk again. However, she didn't let this deter her and volunteered her time at the Paekākāriki Kohanga Reo and local primary school. While in constant pain, Julie always had a big smile. While recovering from her injuries, she decided to go back to school to study accounting. She volunteered at Small Business Accounting Kapiti Coast during her studies, and once completed, starting working there. She is now the owner of the business. Julie has also had a long standing relationship with the Kāpiti Bears Rugby League Team from 1990 – 2017, working tirelessly as the club treasurer, without seeking payment for her work. She has opened her home to many local kids that have found themselves in strife, offering them a safe haven. Julie is also generous with her accounting skills and has helped the local Kohanga Reo work through some financial difficulties to keep operating. She says she does this all for the sake of our mokopuna and whānau and also for our community. Julie believes in the proverb - Mā te haapori hei whakatipu te tamaiti (It takes a community to raise a child).
Peter Kentish:
Peter Kentish has worked tirelessly behind the scenes supporting conservation and restoration work on the Kāpiti Coast. On most weeks, he volunteers for Ngā Uruora on Tuesday, for the Kaitawa Reserve on Thursday and for Whareroa farm on Sunday. He attends weekend working bees for Ngā Uruora and Te Araroa when these are held. On days in between, he often attends meetings on behalf of the groups he belongs to. He is always willing to use his van to transport plants and equipment or people. His easy-going personality means he gets on with a wide range of people and this can be very helpful when dealing with people such as neighbouring land owners. He also has a knack of drawing in new volunteers, which has been useful for all organisations he belongs to, and it is said he has never turned down a request for help. Peter is on the committee of Ngā Uruora and Forest & Bird's Kapiti Mana Branch. Over his years of volunteering, Peter's work has helped enhance the environment in a number of areas on the Kāpiti Coast. He is highly valued by members of the groups he works tirelessly in. Despite being 70 years of age, Peter would put in an almost full-time work week undertaking conservation work.
Marj Nutting:
Marj starting working at Te Horo School in 1966 and has finally retired 50 years later at the age of 87, though only because of failing eyesight. Throughout this time she has kept the school spick and span. Marj's cleaning job was often a real family affair. Once a term in the holidays her family would congregate at the school with picnic lunches and cleaning equipment, and proceed to give the classrooms a very thorough polishing of floors, washing of windows and cleaning of the carpet, so the children went back to a shiny environment. Marj was also the school bus driver for 30 years. She was always very careful and conscientious and made children remain seated so they were safe. Parents wrote to say they were very grateful that Marj would always pick their young kids up at their gate. She was very considerate of the little ones. Marj was also noted as one of the most beautifully-groomed bus drivers ever. Because she knew all the families in the school well, if a child was running late she would wait a few minutes for them. Marj would also attend all the school functions, sports days and agricultural show days, where she would present the ribbons. When she retired the school put on a special afternoon tea for her, and children had written songs about their respect and love for her. Marj has been a very kind, unassuming and hardworking member of our community for 50 years. She has also been a long-time member of the St Margaret's Ladies Group, which meets regularly in people's homes.
Mayoral award
John Topliff:
John has been a leading light in the development of Kaitawa Reserve since 1996, and, in 1999 was named the first Chairman of Friends of the Waikanae River. John has spent countless hours clearing and preparing sites, along with planting and maintaining them, and has supervised many primary and secondary school planting days. John is a long standing member of Forest & Bird and was awarded the coveted 'Old Blue Award' for his outstanding conservation work on the Kāpiti Coast. He has become a respected authority and facilitator between local residents, Greater Wellington Regional Council and Kāpiti Coast District Council on ecological restoration of the river corridor.


Wellington Airport Regional Community Award winners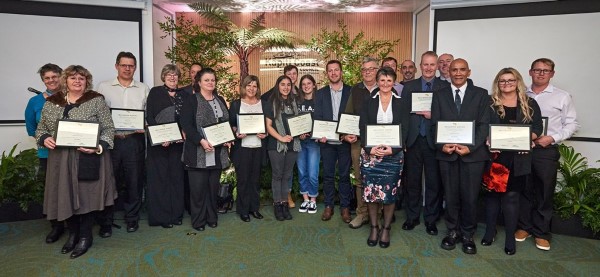 Arts & Culture winner - Kāpiti Women's Choir
Kāpiti Women's Choir has been performing in rest homes, retirement villages and other community groups in Kāpiti for 30 years. The choir, which is directed by Ann-Marie Stapp, consists of 25 women at present, with ages ranging from 50 to 90, and sings a wide repertoire from Liszt to Abba. Volunteers are the lifeblood of the Kāpiti Women's Choir – both the director and pianist are also volunteers. It is a huge commitment for them to attend weekly rehearsals and twice monthly performances without remuneration, but they love what they do. Every member contributes extra in some way, providing services such as administration, teaching, vocal production sourcing, caring for music, and providing transport to performances. The choir was booked for the whole year by March, however, extra performances are given at times of special need.
Education & Child/Youth Development winner - Paraparaumu College's Societal Environment & Animal Rights Action Group (SEAR)
SEAR is made up of three sections that specialise in Societal, Environmental and Animal Rights. Volunteers have the opportunity to join in on different tasks or projects undertaken by the group. The driving force behind SEAR was to create a central hub that supports any organisation willing to make a positive difference, and to make more efficient use of their volunteers and resources. Some of the main environmental issues they want to have an impact on are recycling, sea and water pollution, and general waste solutions. They also support human rights issues through can-drives for the underprivileged and helping with educational needs. The group's accomplishments include starting a recycling programme in the college to greatly reducing waste, as well as educating young people on the necessity of looking after the environment for our future generations.
Health & Wellbeing winner - Ōtaki Women's Community Club
The Ōtaki Women's Community Club is a group of women whose motto is to "serve the community without personal reward". They run a weekend market in Ōtaki every Sunday in summer and every second weekend during winter, charging stallholders for space and putting all of the funds back into the community. This market is set up and managed by volunteers within the group, some of whom have to be there at around 6am to direct stall holders, and some who stay at the market all day running both market and the sausage sizzle. They have been running this market for the last 21 years, and since 2011 the group has given $77,000 back to the community. The market attracts passing traffic to stop and have a browse, which can lead them into other shops and cafes, another added bonus for this community. In Addition to this they also run other fundraising events, such as Hearts nights and golf tournaments. The group also gives their time to help with the cancer, MS, RSA Poppy Day, and Red Cross collections.
Heritage & Environment category winner - Guardians of the Kāpiti Marine Reserve
Guardians of the Kāpiti Marine Reserve promote the conservation and protection of the Kāpiti Marine Reserve (KMR) and surrounding environment, which includes undertaking, promoting and supporting education, science research and monitoring activities. The group writes that there is a real feeling of excitement about the reserve amongst the local community, with local councillors, schools, the boat club, the waka ama club, sea scouts and many other groups and individuals becoming involved and supporting their kaupapa. Without the group's action and advocacy, things like the boundary markers would still not be fixed, the local community-based compliance and monitoring effort would not be happening, and none of the other activities undertaken. They have held well-attended public meetings to discuss community concerns about the Marine Reserve, and delivered a series of marine science lectures focused on current research projects in the reserve.
Sport & Leisure category winner - Kapiti Basketball Association Inc.
The purpose of Kapiti Basketball is to make basketball the sport of choice for the residents of Kāpiti. The aim is to create a youth-centric basketball program in the region to increase both sport participation rates and healthy development of the area's youth, as well as youth access to representative basketball at both a regional and national level. KBA has forged a strong partnership with Hoop Club Kapiti to further facilitate and improve participation rates and to nurture the region's basketball talent. In 2016, the membership increased to 200, and the u15 boys team qualified for the Basketball NZ Nationals, the first time a team from Kāpiti has qualified for the event. This year has seen a particular focus on building strong foundations, with an emphasis on increasing participation rates at primary school ages, and providing programs to ensure that the participants at this level develop a love of the game and opportunities to develop as people.
Rising Star category winner - Coastella
Coastella Music Festival is a boutique music festival on the Kāpiti Coast, which ran for the second time in 2017. The family friendly event attracted over 2500 people in its second year, with nearly 100 performers (21 from the Kāpiti Coast) on show. The festival was run by a team of 80 and over a 100 volunteers, without whom this magical event could not happen. As well as music at the festival, they offer a Funzone for kids, which attracted over 500 children. The Funzone, which was predominantly built and operated by volunteers, had a pallet maze, circus performers and actors, craft workshops, book readings, soccer drills with Ben Sigmund from the Wellington Phoenix, and performances from Craig Smith of Wonky Donkey fame.