Council invites Kāpiti residents to experience Otaraua Park
Published 10 Mar 2017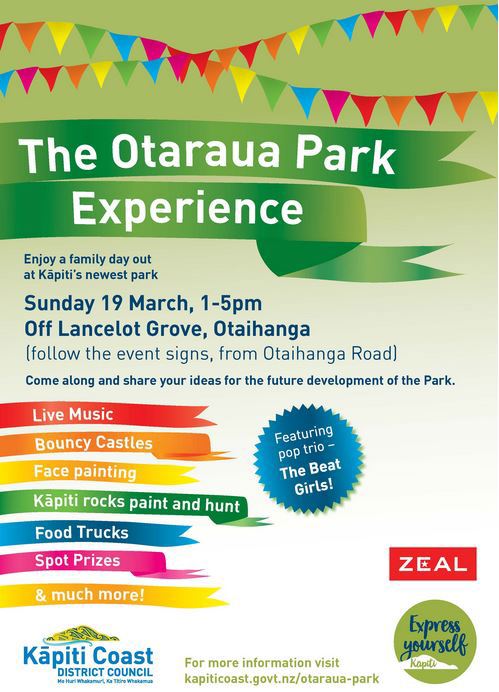 Kāpiti residents have a chance to check out the newest park in the district next week.
Kāpiti Coast District Council is inviting the community to the Otaraua Park Experience between 1 and 5pm on Sunday 19 March.
Parks and Recreation Manager Alison Law says the Council is encouraging people to enjoy an afternoon of family-friendly activities and share their ideas for the future development of Otaraua Park.
"As the district's newest park, Otaraua Park will be unfamiliar to many people in the community.  We already have a management plan[PDF 6.82 MB], but we need a plan for Otaraua Park's long-term development so it meets the needs of all users and we need the community's help to do this," she says.
A plan for Otaraua Park is identified as a key activity in the first three years of the Council's FutureKāpiti Long term plan 2015–35.
"We're taking this opportunity to introduce people to the park. It covers an extensive area and has the potential to provide for the enjoyment of a wide range of recreational and sporting opportunities, as well as having areas for preservation and restoration."
Ms Law says it's important people get a feeling for the park and its potential so they can share their ideas for its future development. 
"For most people, a bit of a drive or cycle ride to get to the park is involved, so we're encouraging them to come along on the 19th and enjoy live music, food and activities when they get there.  With the Beat Girls playing – it should be a lively afternoon."
The Otaraua Park Experience is one of a range of opportunities for people to share their ideas for the future development of the park. More information is available on the Council's website at www.kapiticoast.govt.nz/otaraua-park 
10 March 2017