Footage from the Kāpiti Marine Reserve now on display at Kāpiti i-SITE
Published 19 May 2017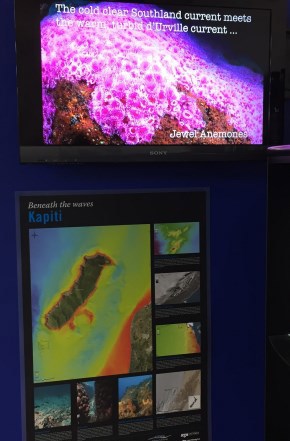 Visitors to the Kāpiti i-SITE visitor information centre can now view dynamic underwater video footage from the Kāpiti Marine Reserve following the recent installation of a permanent display.
The i-SITE display showcases the Reserve's abundant sea life which includes blue moki, kingfish, seals and dolphins and provides information about the rules and regulations that protect the Reserve's rich marine environment.
Kāpiti Coast District Councillor and Guardians of the Kāpiti Marine Reserve committee member, Angela Buswell, says Kāpiti Marine Reserve is rated by the Department of Conservation as one of their top ten coastal gems.
"The Reserve and surrounding marine environment is a huge draw card for visitors to the Kāpiti Coast and is one of our district's greatest natural assets and it's great to be able to share it with people.
The Kāpiti Marine Reserve is located between Paraparaumu and Waikanae beaches and Kāpiti Island. It was established in 1992 to protect nationally significant recreation, education, ecological and scientific resources. The Department of Conservation is responsible for managing the Reserve.
"As a long time diver I have been very fortunate to experience our local marine life first hand," says Councillor Buswell.
"The Kāpiti i-SITE display is a fantastic learning resource which will inspire visitors to our district and local residents to get out on the water and experience the amazing marine life that inhabits the protected waters around Kāpiti Island."
The Kāpiti i-SITE visitor information centre is situated beside the Mediterranean Food Warehouse in Coastlands Shoppingtown, Paraparaumu. The i-SITE provides national, regional and local information as well as bookings for transport, accommodation and activities. Opening hours are Monday to Friday 9am to 5pm and Saturday and Sunday 10am to 4pm.