Opportunity to check property details are up to date before revaluation
Published 11 Sep 2017
This year's rating revaluation is a good chance for property owners to check their property details are up to date.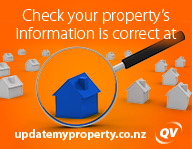 Property rating valuations are one factor used by councils to distribute rates across the region and councils are required to ensure property values in the district are revalued at least every three years. Kāpiti Coast District Council has engaged independent valuers Quotable Value (QV) to carry out this work.
If you have recently made improvements to your property that didn't require a building consent then QV won't know about the value you have added. You can check your general property information and make corrections as well as advising QV of improvements on the website www.updatemyproperty.co.nz. Alternatively, contact QV on 0800 787 284.
More about the Kāpiti Coast District revaluation:
QV will notify ratepayers of their new rating valuation in late October 2017. Property owners that wish to object to their new valuation will have until early December 2017 to do so, free of charge. The new valuations will be used for rating purposes from 1 July 2018.
It's important to remember that increasing the rateable value of a property does not automatically result in the equivalent rates increase for that property. The total amount of rates collected by the Council each year are allocated across the community using a combination of land value, capital value and fixed charges, with differential rates applied in some cases. Typically, where a property's revaluation exceeds the average revaluation increase in an area, the property will have a slightly higher rates increase than the average. Conversely, a property that has a revaluation below the average revaluation increase for that area will have a slightly lower rates increase than the average
Rating values are not individual market valuations of every property like those undertaken by private valuers. Instead, for rating purposes the values are determined using a range of factors, including analysing resource and building consents and the sales of properties over the last three years. Rating values are then set for all properties at a common effective date.
Once QV has completed their updated valuations for the district these will be independently audited by the Office of the Valuer General and need to meet rigorous quality standards before they're certified.