Pupil wins bike for Movin' March!
Published 05 May 2017
Kena Kena School pupil Willow Bardsley was presented with a bike today for her participation in Movin' March, an annual initiative that encourages kids to cycle, walk, scooter or skateboard to school.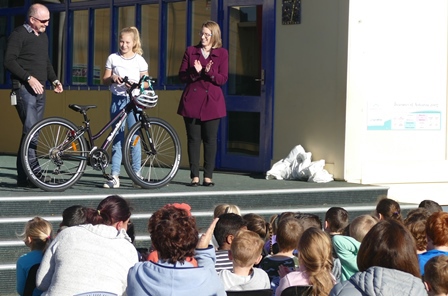 "We had 886 entries from six schools in Kāpiti which was a fantastic effort," says Greater Wellington Regional Council's School Travel Co-ordinator, Nicky Morrison, who organised the initiative with support from Kāpiti Coast District Council.
"The pupils have to fill in a passport during the month to show how many times they travel to school in an active way. We're also encouraging them to think more long-term about the kinds of transport they use and hopefully get them to see the benefits of sustainable modes."
Willow says she was "really pleased" to win the bike.
"I didn't believe my Dad when he told me I'd won, but when I realised it was true got very excited to be getting a new bike!"