Spark Plugs on Kāpiti Coast
Published 29 Sep 2017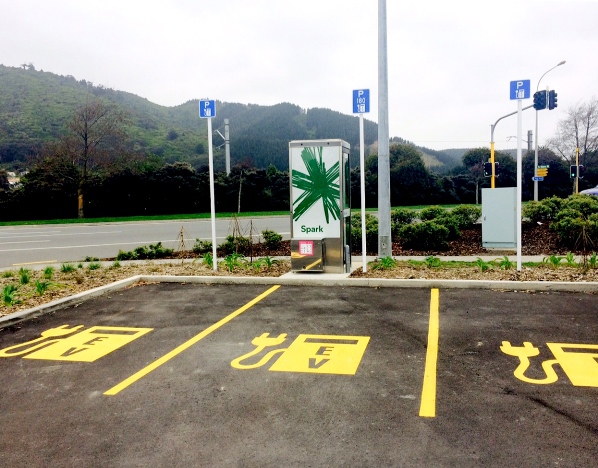 Electric Vehicle (EV) users can now park and charge their cars at the Greater Wellington Regional Council carpark in Waikanae as a result of Spark and the Kāpiti Coast District Council partnering to bring the first Spark Plug EV charger to the district in a region-wide programme.
The Spark Plug comes as part of a nationwide initiative adding EV chargers to existing Spark phone boxes, which have been an iconic piece of New Zealand culture for decades. More are planned to be installed across Wellington City and in Kāpiti after the Waikanae Park n Ride EV charger is trialled. The new chargers will be free for anyone to use for the first 12 months.
Kāpiti Coast Mayor K Gurunathan says that the Council is pleased to support the development of public charging infrastructure to help more people make the transition to EVs.
"Not only will this reduce carbon emissions, it will make it easier for EV owners, both residents and visitors, to enjoy the fabulous Kāpiti Coast. Personally, I'm looking forward to trading-in my hybrid car for a full-electric one in the near future."
These chargers will provide a top-up of 20-40 kilometres from a 60-minute charge, depending on the car. The boost will give EV drivers the confidence to go further, combating the fear that a person won't be able to reach or return from a destination – a leading obstacle to widespread EV use.
Spark Ventures CEO Ed Hyde says that the initial pilot in Auckland has been such a success that he is excited to partner with the Kāpiti Coast District Council in delivering more EV chargers to New Zealanders. Spark is committed to building the necessary infrastructure to help lower our carbon footprint.
"Partnering with the Kāpiti Coast District Council allows us to deliver Spark Plugs to help make Kāpiti accessible and user-friendly for EV drivers."