Summer rain in Kāpiti
Published 03 Feb 2017
Friday 10 February
Ōtaki Gorge Road is now open!
Thursday 9 February
Repair work on the river tracks is complete now and Otaihanga Domain roads and tracks are fully open.
Tuesday 7 February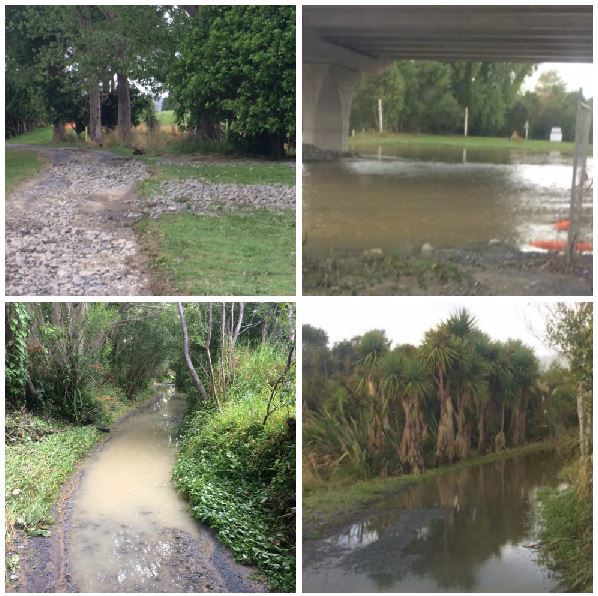 Otaihanga Domain will remain closed to vehicles until further notice.
The tracks aren't closed but the Council is urging people to take care as there is still washout, potholes and silt build-up in some areas.
Work will be getting underway this week to repair the river tracks and to remove debris and logs from the domain.
There will need to be a few consecutive days of fine weather to dry the domain out and for clean-up efforts to be completed fully.
The public is advised to take care as trucks and machinery will be in the area. 
Parts of the shared path alongside the river may be also be temporarily closed for other flood protection work being completed by Greater Wellington Regional Council.
Ōtaki Gorge Road will remain closed this week while work continues to clear the slip sites.
Saturday 4 February
Ōtaki Gorge Road will remain closed over Waitangi weekend and into the working week, as the slips on the road are taking longer to clear than initially thought. A dropout at the first slip (500m past Blue Bluff),where the edge of the road has crumbled away, has also developed due to the weight of the slip material. It will need to be repaired with a retaining wall, but safety mesh fencing is in place as a temporary measure. We are hoping to open the road by Friday next week, weather dependent.
Friday 3 February
Ōtaki Gorge Road and Otaihanga Domain will remain closed into the weekend after a night of downpours in Kāpiti.
Heavy rain on Thursday night caused some flooding in Kāpiti, particularly in the north of the district, with the Ōtaki River mouth topping seven metres.
Kāpiti Coast District Council's operations teams has been busy clearing slips, unblocking sumps and pumping sodden properties and Council facilities throughout the district today.
Group Manager Infrastructure Services Sean Mallon says the Council's staff and contractors have been working hard to ensure popular parks, roads and tracks are open ahead of the long weekend.
"We did to make it to a number of properties in Ōtaki last night before the worst of the weather settled in to carry out sandbagging. Today we've been back pumping out a few homes that had flood water in them."
The Council has also backfilled and created a temporary road at Rangiora Road in Waikanae after a substantial washout cleared it overnight.
Another crew of Council contractors have also been clearing three slips at Ōtaki Gorge today, with up to an estimated 500m3 of rock and debris.
Ōtaki Gorge Road will remain closed tonight as the road is blocked at 13.5 kilometres from the State Highway, near the swing bridge.
"We'll be working on this until dark and will be back into it in the morning trying to get a track through as soon as we can, but we are somewhat reliant on the weather and conditions," Mr Mallon says.
"We know Ōtaki Gorge Road leads to popular recreational facilities within the Tararua Forest Park, especially over a long weekend, and we are working hard to restore this access for our residents and visitors to the district as well."
Parks and Recreation Manager Alison Law says staff have been checking popular cycleways, walkways and bridleways in the district and have closed Otaihanga Domain.

"It's a shame we have to close the domain before a long weekend, but our team has been down to check the access and tracks this afternoon and for safety reasons we're not able to open it," she says.

"You are able to get to the tracks along Waikanae River but we are warning people to take care as there's washouts, potholes and silt build up.
"Will need a few consecutive days of fine weather to dry the domain out and then clean-up will begin in earnest."
The areas impacted by the weather in Ōtaki were Convent Road, Bennetts Road, Wairongomai Road, Atkinson Ave, Kapiti Lane, Marine Parade and Rangiuru Road.
Also impacted was Te Horo Beach Road, Makora Road in Otaihanga, Toru Road in Paraparaumu and there have been minor slips on the Paekākāriki Hill Road and Akatarawa Road.
Ōtaki Ward Councillor James Cootes says Council staff have been working with Greater Wellington Regional Council to carry out some emergency flood protection work in Te Horo.
"As elected members we've been advocating for some time now for this work to happen, so despite the inconvenience the weather brought it was great news to those in Te Horo to hear it enabled the work to start," he says.
"I'm thankful to the staff who I've heard did a great job out in the middle of the night in appalling conditions assisting residents. This year councillors will be looking into our stormwater network and prioritising the worst affected areas."