Ōtaki splash pad design picked
Published 10 Feb 2017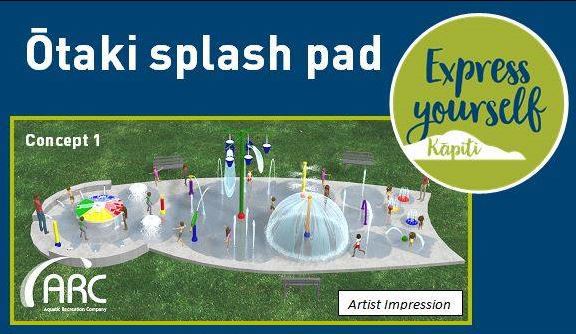 Ōtaki will be home to a new community-designed splash pad for next summer.
Kāpiti residents have helped shaped the design of the free-to-use outdoor water park destined for Haruatai Park, next to Ōtaki Pool.
More than 400 people provided feedback through completing online surveys, filling in paper forms at the pool and through face-to-face chats with Kāpiti Coast Aquatics staff.
The Council's Parks and Recreation Manager Alison Law says there's been an overwhelming response from the community to first picking a preferred concept design and then what water play equipment they would like.
"A whopping 75 per cent said they preferred the design concept that has no main central structure and instead lots of different standalone waters features," Ms Law says.
"We can't wait to build something that our community has helped design, and it will be ready in time for next summer. The splash pad is going to be a great asset for the local community and for Ōtaki visitors alike."
What features will be incorporated in the splash pad design will be finalised over the next few weeks.
The splash pad construction will align with the pool's rebuild – which is one of four key initiatives selected by the Council and community for development as part of FutureKāpiti – Long term plan 2015 - 35.
The pool will be closed from Friday 24 February for approximately eight months while work is carried out. The pool hall will be rebuilt, access into the building improved, a ramp added to the pool and filtration systems separated.
"The pool is an important facility for Ōtaki residents and the wider community. We're committed to upgrading the complex and further enhancing the family-friendly facilities available in Ōtaki," Ms Law says.


10 February 2017