Coastlands Aquatic Centre reopened after maintenance work
Published 31 Jan 2017
The Coastlands Aquatic Centre main pool has opened again ahead of schedule!
Aquafit classes will be resuming Tuesday

20 February 2017
---
The Coastlands Aquatic Centre will be reopening next week after a three week closure for maintenance work.
Work on the centre's main pool has gone well with a hole in the vinyl liner, or 'Myrtha', repaired.
The liner underneath the pool's moveable floor rollers have also been reinforced to prevent the same issue happening again of a roller wheel seizing and tearing a hole in the liner.
While the pool was empty, further improvements were also made, including adding north to south lines on the bottom of the pool to help swimmers.
More than 1.5 million litres of water was drained over 24 hours for the work and it took another 43 hours for the pool to be refilled and a few days for it to be reheated.
The pool has been closed since 3 February for the work and will reopen next week, to be advised on the Council's website and Facebook.
17 February 2017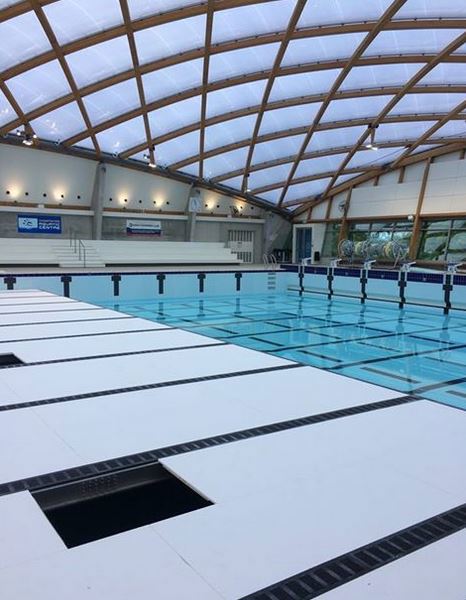 ---
Maintenance work at the Coastlands Aquatic Centre is going well with repairs to the hole in the vinyl pool liner, or 'Myrtha', fixed and the refilling of the main pool underway.
The Council is on track to be reopening at 5.30am Wednesday 22 February and welcoming back our wonderful customers!
14 Feburary 2017
---
Coastlands Aquatic Centre's main pool is closing for maintenance work.
The pool will be closed from 8am Friday 3 February and reopening 5.30am Wednesday 22 February.
Kāpiti Coast District Council Parks and Recreation Manager Alison Law says there is a hole in the vinyl pool liner, or 'Myrtha', and the concrete slab under the liner is exposed.
"The slab's not designed to be in contact with chlorinated water and the liner makes the pool watertight, protecting the slab," she says.
"However the pool's not leaking, which may be a common belief. The main pool will be closed for up to three weeks to allow us to inspect the pool and carry out the required repair works."
The programmes pool, toddlers' pool, hydroslide, spa and sauna and Plunge Café will remain open and lessons in the Pak 'n Save Programmes Pool will not be affected.
"We understand this is an inconvenience and frustrating in the height of summer and we're sorry about that, but we do want to get this sorted as soon as we can," Ms Law says.
Lane swimming is still available at Waikanae Pool and Ōtaki Pool. Term 1 lessons in the programmes pool will be starting 7 February and Monday lessons will start on the 13 February due to Waitangi weekend.
31 January 2017