Movement on Mahara Gallery Redevelopment Project
Published 02 Nov 2018
Kāpiti Coast District Councillors have appointed Athfield Architects to move forward with designs for the Mahara Gallery Redevelopment Project.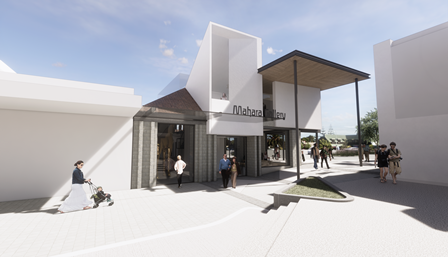 "We're pleased to welcome Athfield Architects on board and we're excited to take the next steps on this project. Athfield Architects took part in a detailed tender process and showed they have the right experience to move this project forward alongside the Council and our community," says Group Manager Regulatory Services Natasha Tod.
"The Gallery is an important community asset and we consulted on the redevelopment as part of the Long term plan 2018-38. Council remains committed to the $5.206 million budget project, with a third of the total costs coming from Council. The next steps are to progress the designs to enable the Mahara Gallery Trust to complete their fundraising for the remainder of the project's budget."
Waikanae Ward Councillor Michael Scott described the Athfield concept as inspirational and innovative, taking the best of the current building and creatively developing a concept for the District's Gallery on the current site.
"The entire arts community will be very pleased to see the project progress. It's a very exciting project and I'd like to acknowledge everyone that has been involved to move the project to this point – the Mahara Gallery Trust, the Field Collection Trustees, the steering group and staff."
"We know people are anxious to see this project move along. As part of the design development we'll be working with the Waikanae Community Board, stakeholders and the wider community to make sure the redevelopment reflects community needs, and helps increase the vibrancy of the Waikanae town centre."
Mahara Gallery Trust Board Chairman Professor Les Holborow says the appointment is a welcome step forward in the project, which seeks to provide improved public gallery space and enable the Gallery to house and display the nationally-significant Field Collection, on offer to the Gallery on condition it is upgraded to museum-standard.
"We were pleased to work with the Council and the Field Collection Trust to select a preferred architectural firm to recommend to the Council. We're satisfied that we have a design which, when realised, can become the cornerstone building for the Council's plans for Waikanae to become a cultural hub and complement the Council's plans for the town centre upgrade.
Nick Strachan from Athfield Architects also shares this thoughts on their successful proposal. "We're thrilled with the endorsement of our design, which captures both the collective memory of the Mahara Gallery(1976 Waikanae Library) building, and creates new, flexible spaces for community interaction, and display of treasured artworks & taonga. We'd also like to acknowledge the long standing support from the Kāpiti Coast community, who've waited patiently for this project to gain momentum."
The gallery redevelopment is expected begin in 2021.
Images supplied by Athfield Architects Limited