Saint Andrew's Church and Hall, Reikorangi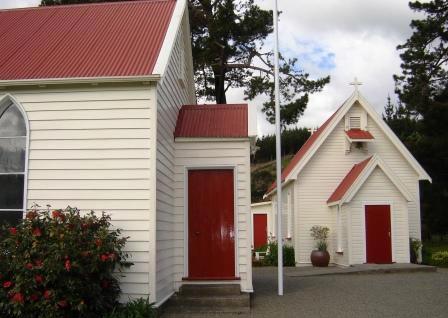 5 Akatarawa Road, Reikōrangi
For over 100 years, St. Andrew's Church has been an ongoing testimony to the devotion and community spirit of local Anglicans.
Between 1892 and 1893 Reikorangi was surveyed and the 'Church Acre' was laid out to include a school, town hall, church, churchyard and a store. The land was donated by the Parata family. With a growing population and only a rough track to reach Waikanae (then known as Parata Village), the need for a church became urgent. In 1959 a vestry and chancel were added. The church's bell, from the wreck of the Devon in Wellington harbour in 1913, still calls the people of the valley to worship.
The hall is registered as an Historic Place – Category I. It was built in 1862 at Parewanui, Rangitikei as a Presbyterian Church. Because of an intertribal dispute it was prepared as a refuge, with musket ports at each side, although it was never used for this purpose. It was re-sited three times before being installed as a church hall at Reikorangi in 2001.
Photo gallery
Click the thumbnail to enlarge the image.

Download a brochure
Click on a link below to download or print a copy of each heritage trail brochure.
Ōtaki and Te Horo[PDF 2.41 MB] 
Waikanae[PDF 2.51 MB] 
Paraparaumu[PDF 1.67 MB] 
Paekākāriki[PDF 1.41 MB] 
Related links
Supporters of the Kāpiti Coast Heritage Trail
Te Whakaminenga o Kāpiti
Kapiti Pakeke Lions
Kapiti Historical Society
Otaki Historical Society