Waikanae District Postal Services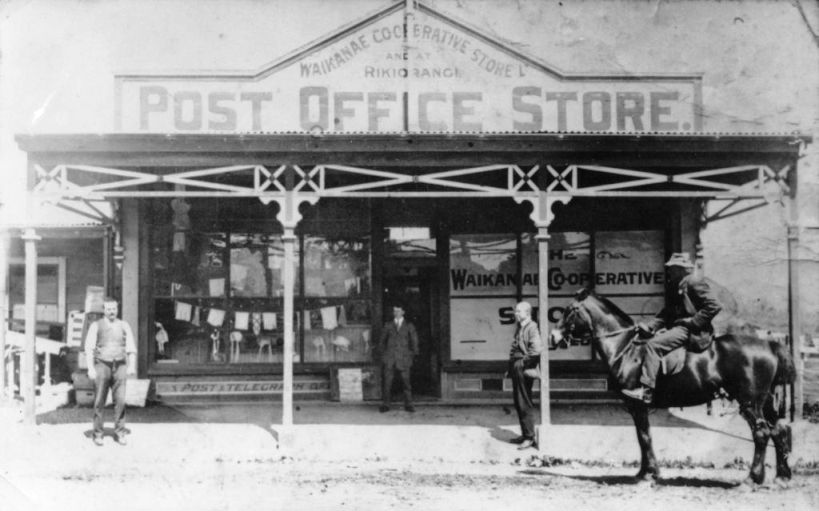 Waikanae co-operative and Post Office Store, 12 Elizabeth St, Waikanae. Chris MacLean Collection, Alexander Turnbull Library, NZ. Ref. 150358-1/2
Location:  Post Office Store, 12 Elizabeth Street, Waikanae
In 1841, letter carriers on foot began the first postal service on the coastal route between Wellington and Whanganui. From 1847, Armed Police based at Waikanae carried the mail. Later, Thomas Wilson opened Waikanae Post Office in the Ferry Inn on the south bank of the river. From 1865, regular coach services carried mail and passengers between Wellington and Whanganui.
In 1885, Henry Walton opened a trading post with a post office near the present Walton Avenue not far from where the coaches crossed Waikanae River and for a while this area was known as Waltonville. After the Wellington-Manawatu railway line opened in 1886, all coach services stopped. In 1894, the Post Office was moved to a new store near the railway line, with telephone services added.
Post Office, 9 Elizabeth St, Waikanae - Kapiti Coast Museum
The Waikanae Post Office opened at 9 Elizabeth St in 1907 and operated until 1982, when a new post office opened in Mahara Place. A group of  telecommunications enthusiasts took the old Post Office building to house a collection of communications items. In 1983, the Horowhenua County Council offered the use of the building to house a museum (Waikanae Museum, incorporated in 1983). NZ Post and Telegraph donated historic telephone and telegraph equipment, including the old Waikanae Telephone Exchange.
In 1993, the museum was renamed the Kapiti Coast Museum Inc, and is now a Category 2 New Zealand Historic Places trust building.
Visit Kapiti Coast Museum's website and Facebook page for more information.
Photo gallery
Click the thumbnail to enlarge the image.

Download a brochure
Click on a link below to download or print a copy of each heritage trail brochure.
Ōtaki and Te Horo[PDF 2.41 MB] 
Waikanae[PDF 2.51 MB] 
Paraparaumu[PDF 1.67 MB] 
Paekākāriki[PDF 1.41 MB] 
Related links
Supporters of the Kāpiti Coast Heritage Trail
Te Whakaminenga o Kāpiti
Kapiti Pakeke Lions
Kapiti Historical Society
Otaki Historical Society