Antenno
Antenno's a free mobile app that sends you Council-related notifications about the places you care about, including alerts, major water outages, roadworks, closures, Council events, rates and registration reminders, consultations and more.
You choose the places you want to be alerted about, so we're not bothering you with things that don't affect you. This might include your neighbourhood, workplace or where your kids go to school. It's up to you! You can also opt out of topics that don't interest to you.
Antenno sends information directly to your mobile phone.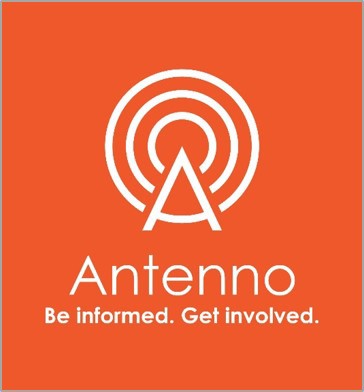 ---
Adding places so you're alerted
Once you've downloaded Antenno, you can set up places important to you, so we send you any notifications about those places. Your places could be your home, your children's school, or your local sports field. We recommend adding all places of interest, so you receive notifications for all the things you might be interested in, or that might affect your neighbourhood.
Antenno sends you relevant information for places you care about. If we sent you everything for the district, your Antenno posts would look like a social media feed that you need to sift through to find messages relevant to you. If something comes up that affects the whole district, you'll still receive a notification.
In our video Parks Officer Mark shows you how to add something to your places.
Sports ground closures
Only want sports ground closure notifications for a particular park? Add that park as one of 'your places'. So if you want to get alerts about Mazengarb Reserve closures, just add Mazengarb Reserve to your places.
Opting in and out of places and topics
You can opt in or out of a place or topic. You decide what type of information you want to receive from us.
At this stage you can't opt back into a topic once you've opted out, but very soon you'll be able to.
---
Receiving notifications
You need a wifi connection or mobile data to receive Antenno notifications. If you're somewhere without wifi and don't have your mobile data on, your new posts will pop up once you're connected again.
How we decide what groups a notification goes to
When we have a notification to send, we check which parts of the district the message is relevant to. For example, notifications about:
a weather warning would be sent to tow whole district
flooding in a small area would be sent to just that area
an incident or road closure on State Highway 1 between Paraparaumu and Waikanae would be sent to the whole district, because that road's widely used
rates or dog registrations would be sent districtwide 
a Council event in Paekākāriki would only be sent to people signed up for Paekākāriki.
No notifications
Sometimes we don't have anything to alert you to for some time, for example if there haven't been any incidents or information relevant to your saved places. Don't worry – Antenno will let you know when something happens.
Understanding where a notification relates to
Each notification shows the place's nickname in the top left of your screen.
For example, if you've saved three places (your home, work and rental property) you'll see that for a rates reminder (a districtwide message) all three nicknames appear at the top, as this post is relevant to all three places.
If your rental property is in Waikanae Beach and you receive a water outage message for that place, it's because there's a water outage in Waikanae Beach and not at your home in Paraparaumu.
Thumbs up!
If you've found the post useful, you can thank us using the thumbs up icon. Future updates will allow for more interaction.
---
Alerting us about, or reporting something to us
Antenno's also a fast easy way to let us know about Council-related issues, for example graffiti that needs to be removed from a public place, or a tree that's fallen and is blocking a road. Just go to the app and add to 'Your reports' – the app will prompt you for the info we need.
Check out our video on how you can make a report using Antenno. 
For urgent reports outside of working hours (8am–5pm, Monday to Friday), please call us so we can respond immediately. Otherwise, your Antenno report will be processed on the next business day.
Where you are matters!
Other councils also use the Antenno app, so you need to be in our district to send us a report about something in the Kāpiti Coast district.
If you're at the beach, or at a specific address and the GPS isn't accurate enough to pinpoint your location, please override the GPS and just enter the address manually.
You can raise reports for the following issues:
Rubbish and recycling

Cleanup needed
Dumped rubbish
Public rubbish bin full

Water, drains & sewer

Blockage or flooding
Missing cover or grate
No water or low pressure
Pollution or smell
Sewer leak
Water leak

Health & environment
Parks & community facilities

Cleanup needed
Maintenance required
Public rubbish bin full
Public toilet cleaning / maintenance
Tree maintenance (public property)

Feedback & ideas

Feedback on a council service
Idea or suggestion

Graffiti & vandalism

Graffiti
Vandalism or damage

Parking

Abandoned vehicle
Complaint about parked vehicle

Roads & footpaths

Cleanup needed
Footpath damage or obstruction
Road damage or obstruction
Roadside tree maintenance
Street sign, marking or structure issue

Nuisances Illegal
Note: At the moment we're not able to accept some time-sensitive reports through Antenno, like dog attacks. If your report needs immediate attention, call us on 0800 486 486.
Antenno app support
For assistance and support with the mobile app, please touch base with the Antenno team on [email protected]