Fauna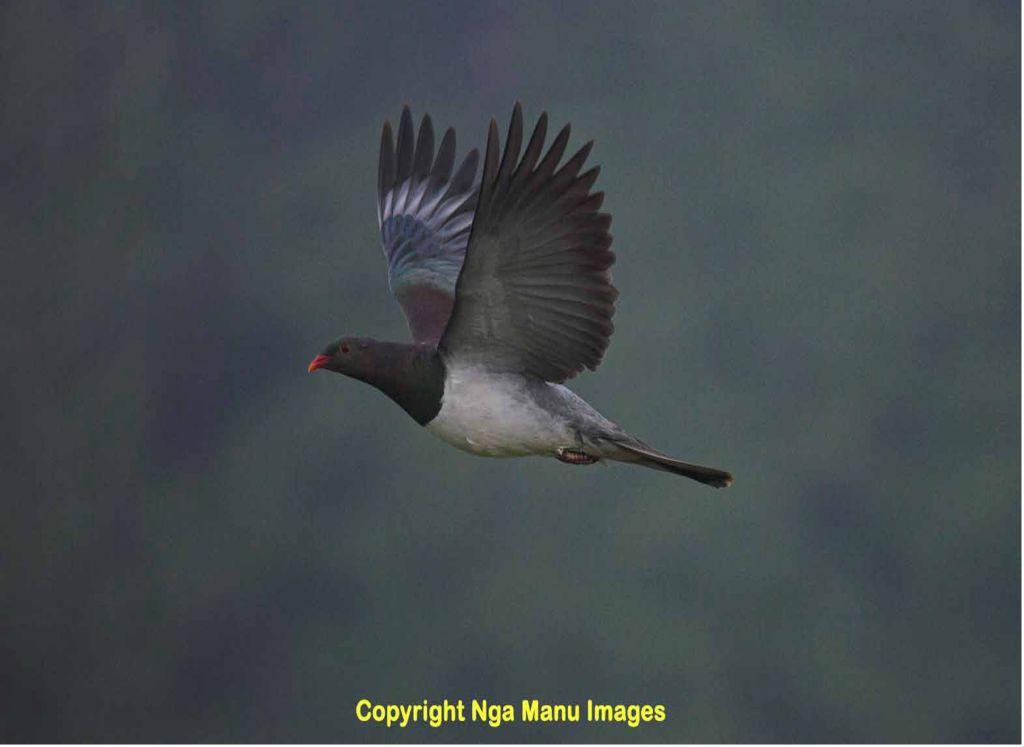 There are lots of fun ways to encourage and protect native wildlife around your place. 
Encourage native birds
Providing the right habitat is important. Bird feeders can encourage feathered visitors, but it is better to plant the trees they need for food and shelter. Find out about local bird species and plant with a view to providing a year-round supply of food.
If you do have a bird feeder, keep it clean to help minimise disease transmission between birds; put feeders in a safe location that cats cannot access; and leave out only natural, fresh foods to support good health.
Image: Kereru in flight. Courtesy of Nga Manu Images.
Protect wildlife from pets
A basic tension exists between cats and native fauna. Cats are highly efficient predators, well adapted for killing small mammals, birds, lizards and the like. New Zealand's native birds are particularly at risk as many species nest on the ground and are flightless or poor flyers.
If you have a cat, there are some simple measures that can be taken to help protect native wildlife. A belled collar on cats has been found to reduce catch rates by 50% or more. However, as cats prey on both native species and introduced mammals (like mice and rats), putting out some traps will help avoid increasing the threat rodents pose to native species. Open bells are more effective than closed 'ball-type' bells.
Neuter or spay your cat. 
Keep cats indoors between dusk and dawn. This is prime hunting time and it's also when local wildlife, like nocturnal insects and lizards or nesting birds, are more vulnerable. Unlike some predators, a cat's desire to hunt is not suppressed by adequate food.
If you feed birds, don't lure them onto the ground. Keep bird feeders away from shrubs and trees where cats hide.
If you live near a bush reserve, or other natural area with a lot of native birds, as a protection measure, consider not replacing your cat.
Dogs can also impact on native bird populations.  Helpful measures include:
Do not let your dog roam outside your property.
Keep your dog on a lead when exercising in areas like beaches, reserves and estuaries.
Be particularly aware of ground-nesting birds - such as dotterel and oystercatchers - and keep dogs away from nesting areas.
Control pest animals
Possums, rats and feral cats thrive in urban areas due to the abundance of food and shelter. They also pose a major threat to native plants and birds (not to mention your fruit trees and electrical wiring) through competition and predation. However their presence can go largely unnoticed as they are generally nocturnal. Trapping pest animals on your property can make a major contribution to local biodiversity – even more effective is a street or neighbourhood working together, like north Wellington Road in Paekakariki.
Make lizard or weta shelters
Easy-to-make lizard refuges or weta hotels can be rewarding additions to your garden, providing places for native fauna to hide and shelter.
DOC tips for attracting lizards include providing shelter in the form of dense planting, debris and stone walls; mulching to keep up humidity; controlling predators; providing food plants; and limiting the use of chemicals.